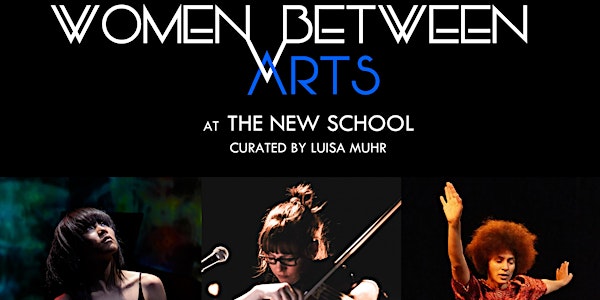 Women Between Arts | The New School | O E / Maccabee / Chi
When and where
Location
Mannes School of Music 55 West 13th Street Glass Box Theater, Ground Floor New York, NY 10011
Description
Featured Artists:
AUGUST 17, 2019 (3:30pm): AZUMI O E (with Carlo Costa and Sean Ali) | DINA MACCABEE | OXANA CHI (with Dr. Layla Zami and Mara Rosenbloom)

*** PLEASE NOTE THE CHANGE OF TIME: WE ARE NOW STARTING AT 3:30PM ***
All events will take place at The New School
Glass Box Theater, 55 W 13th St, New York, NY 10011
No cash at door. Please buy tickets in advance via Eventbrite.

Women Between Arts is produced by FENGARI Works.
Please visit www.womenbetweenarts.com for more information and a full list of featured artists.
We are proud to say that all profits made will go to the artists (3/4) and Women Between Arts (1/4).
---
Women Between Arts is NY's leading interdisciplinary womxn artists series curated by multi- and interdisciplinary artist Luisa Muhr at The New School (Glass Box Theater).
The series has been developed for professional artists who identify as womxn and non-binary people, their groups/ensembles/collaborators (including people of all genders and non-binary people), who work with any combination of music, theater, dance, poetry, performance art, installations, and/or visual arts in an unconventional way. Each event features three artists/groups and their work. The pieces are about 15 minutes each and there is a talk-back after the performances where audience members have the opportunity to learn more about the artists, their work, and their process.
Luisa's mission is to provide a platform for and encourage dialogue between strong, diverse womxn/non-binary artists who combine multiple art fields in order to create interdisciplinary work.
Women Between Arts is produced by FENGARI Works and was created with the support and encouragement of John Zorn and Richard Kessler (Dean of Mannes School of Music).

Women Between Arts follows the code of conduct of We Have Voice.