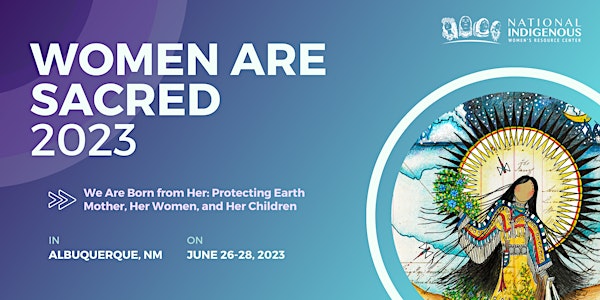 Women Are Sacred 2023 - Youth Track Registration
Women Are Sacred 2023 - Youth Track Registration
By National Indigenous Women's Resource Center
Location
Isleta Resort & Casino 11000 Broadway Boulevard Southeast Albuquerque, NM 87105
About this event
2 days 9 hours

Mobile eTicket
We Are Born from Her: Protecting Earth Mother, Her Women, and Her Children
This speaks to our Indigenous understanding of the sacredness, strength, and power of the feminine spirit that flows through Earth Mother, women, and children.
It is also a call out to name, acknowledge and act on the reality that violence against the Earth, as witnessed by climate change, violence against women, as witnessed by horrific violence against women and children is interconnected. It's about relationships. Violence requires the breaking of relationships and denial of spirit. Protecting Earth Mother, women, and children requires rebuilding, nurturing, and honoring our relationships. Reclaiming and uplifting the feminine spirit is at the heart of the survival of women, as Indigenous People, and our four-legged, rooted, winged, and water relatives.
The Women Are Sacred Conference represents the strength and resilience of our people and the tools and knowledge we have to make positive change. This conference is an opportunity to gather and build relationships, mourn our losses together, and also celebrate and honor the resilience, power, and spirit of the feminine, together. This is an opportunity to take action, to bring to life our shared vision for the future to end the violence and recreate peaceful, respectful relationships.
Complete Conference Details || WAS Covid Community Guidelines
Women Are Sacred Youth Track Description 2023
Agenda || Youth Waiver - Complete and Return to jbelgarde@niwrc.org
The NativeLove youth track is happening concurrently within the NIWRC Women Are Sacred Conference 2023. These workshops are meant to create a valuable space for young activists and community members. Ages of participants range from 13-17. Youth participants will be focusing on consenting youth/teen dating relationships, how to create boundaries, identify healthy relationships, and how to create healthy lifestyles for themselves and their communities. The sessions will further provide insight for youth to increase their understanding and share their thoughts about how navigating relationships by having meaningful discussions with their peers. By doing this they can participate in raising awareness about ending violence and to restore balance for what they each deserve: healthy relationships and healthy lifeways! Our goal is to inspire, empower, and mobilize Indigenous youth to advocate against violence against Native people of all ages, and among their peers to create social change with the strength of our Ancestors to be good relatives to one another and our homelands.
The secondary goal is to allow youth the opportunity to build skills around community care and community organizing to amplify their voices. The sessions are filled with culturally-themed interactive activities, workshops, indigenous games, peer-to-peer youth engagement, and arts/culture for connecting, healing, identifying resources, and growing the youth-led movement. Growing Native youth anti-violence advocates – these are Native seeds that sprout deep roots! The NativeLove Youth Track at Women Are Sacred 2023 will cultivate an environment of support, care, and growth. Youth will learn and discuss current issues like the Missing and Murdered Indigenous Relatives crisis and how it's related to Resource Extraction while drawing from the cultural knowledge and strength, languages, and resilience of our Ancestors and people to build skills to get involved and take action in their communities.
Kuudaawoehaa! Thank you to The Women Are Sacred, NativeLove Youth Track Committee members: Denise Neal (NIWRC), Marquel Musgrave (NIWRC), Heather Bruguel (NIWRC), Kendra Root (NIWRC), and Jovita Belgarde (NIWRC)
MAIN HOTEL INFO:
Isleta Resort and Casino | Booking Link
877-746-5382 or 505 848-1999 | Group code WAS0623
Deadline is Friday, May 26, 2023
Hotel(s) offering your special group rate: $121 USD
Book with this link for the group rate for Women Are Sacred Conference: https://res.windsurfercrs.com/ibe/details.aspx?hotelID=9679&lang=en-us&group=WAS0623&hgID=0&currID=1&dt1=8575&rooms=1&adults=1
METHOD OF RESERVATIONS
Guest room reservations will be made by individual attendees directly with Hotel reservations at (877) 747-5382 or (505) 848-1999, please have attendees mention the Meeting Group name, or the group code of WAS0623 to receive special rate. All reservations must be before Friday, May 26, 2023. No-shows or early departures will be charged one night's room and tax. All reservations must be guaranteed by a valid credit card. Individual cancellations must be made 72 hours prior to the arrival date, to avoid no-show charges. Rates cannot be changed at check-in or check-out for guests who fail to identify their affiliation at the time the reservation is made.
CUT-OFF DATE
The cut-off date is the last day that Hotel will accept guest room reservations for Meeting Group's program. The cut-off date is Friday, May 26, 2023 (the "Cut-Off Date"). Reservation requests received after the Cut-Off Date will be accepted by Hotel at its discretion if applicable guest rooms and rates are available. Guest room reservations made after the Cut-Off Date that exceed Meeting Group's guest room allocation as set forth above will be accepted only at Hotel's discretion. If the group room rate is not available after the Cut-Off Date, the current hotel retail guest room rates will apply. All surplus guest rooms will revert back to Hotel for general sales after the Cut-Off Date.
BACKUP HOTELS INFO:
Courtyard Albuquerque Airport | Booking Link
Last Day to Book: Sunday, June 4, 2023
Hotel(s) offering your special group rate: $121 USD
Book with this link for the group rate for Women Are Sacred Conference: https://www.marriott.com/events/start.mi?id=1680824446125&key=GRP
Sheraton Albuquerque Airport Hotel | Booking Link
Last Day to Book: Thursday, May 25, 2023
Hotel(s) offering your special group rate: $121 USD
Book with this link for the group rate for Women Are Sacred Conference: https://www.marriott.com/events/start.mi?id=1681844056387&key=GRP