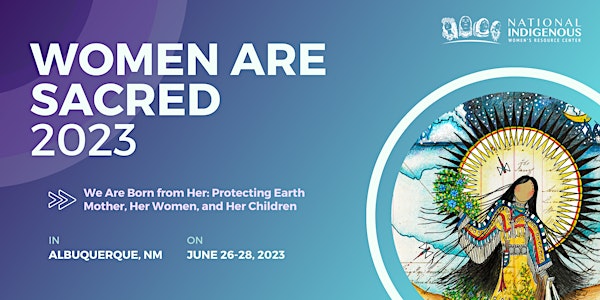 Women Are Sacred 2023 - Exhibitor and Vendor Registration
Be sure to read all content on this page prior to registering. There are no refunds.
By National Indigenous Women's Resource Center
Location
Isleta Resort & Casino 11000 Broadway Boulevard Southeast Albuquerque, NM 87105
About this event
2 days 9 hours

Mobile eTicket
We Are Born from Her: Protecting Earth Mother, Her Women, and Her Children
This speaks to our Indigenous understanding of the sacredness, strength, and power of the feminine spirit that flows through Earth Mother, women, and children.
It is also a call out to name, acknowledge and act on the reality that violence against the Earth, as witnessed by climate change, violence against women, as witnessed by horrific violence against women and children is interconnected. It's about relationships. Violence requires the breaking of relationships and denial of spirit. Protecting Earth Mother, women, and children requires rebuilding, nurturing, and honoring our relationships. Reclaiming and uplifting the feminine spirit is at the heart of the survival of women, as Indigenous People, and our four-legged, rooted, winged, and water relatives.
The Women Are Sacred Conference represents the strength and resilience of our people and the tools and knowledge we have to make positive change. This conference is an opportunity to gather and build relationships, mourn our losses together, and also celebrate and honor the resilience, power, and spirit of the feminine, together. This is an opportunity to take action, to bring to life our shared vision for the future to end the violence and recreate peaceful, respectful relationships.
Complete Conference Details | WAS Covid Community Guidelines
We are excited to open our call for vendors for our Women are Sacred Conference.
If you are interested in exhibiting, tabling or vending at this conference. Note: the hotel will provide one 6 foot table/space per vendor.
There are a limited number of spaces available so this will be on a first come first serve basis. The registration fees for this 2 ½ day event are as follows:
$500 - Corporations and for-profit organizations
$300 - Non-profit organizations
$200 - Tribal non-profit organizations
$150 - Tribal non-profit domestic violence organization
$100 - Individual Indigenous artisans
Please contact gpackard@niwrc.org if you have any questions or need more information. THANK YOU!
We look forward to seeing you in Isleta for WAS 2023!
Contract/Statement of Liability
This application for vendor/exhibit space was made and entered by and between The National Indigenous Women's Resource Center, hereinafter referred to as "NIWRC," and "Vendor/Exhibitor." Application for space and its acceptance constitutes a contract to use the space assigned. NIWRC retains the right to assign and/or change vendor/exhibit locations for the best interests of the Organization. The Vendor/Exhibitor indemnifies and agrees to hold harmless NIWRC and Isleta Resort and Casino, their officers, directors, employees, and agents, from and against any actions, losses, costs, damages, claims, and expenses (including attorney's fees) arising from any damage to property or bodily injury to Vendor/Exhibitor, their agents, representatives, employees by reason of the Vendor/Exhibitor's occupancy or use of the exhibition facilities. In accordance with these rules and regulations governing vendors/exhibits for the Women are Sacred 2023, the undersigned makes application for vendor/exhibit space and encloses the full fee for each space requested.
Refund Policy
When signed Vendor/Exhibitor Contract and PAYMENT is received, you will receive your vendor/exhibitor packet from NIWRC. This packet will include information on shipping, ordering of electricity, phone lines, etc. It is NIWRC's policy NOT TO REFUND Vendor/Exhibitor Contract fees for any reason including cancellation. ***If items are left in the vendor/exhibit booth area after closing of the conference each day, you do so at your own risk, and NIWRC will not be responsible for any thefts, lost items or damage.***
American Indian Arts and Crafts Act
The Indian Arts and Crafts Act of 1990 (P.L. 101-644) is a truth-in-advertising law that prohibits misrepresentation in marketing of Indian arts and crafts products within the United States. It is illegal to offer or display for sale, or sell any art or craft product in a manner that falsely suggests it is Indian produced, an Indian product, or the product of a particular Indian or Indian Tribe or Indian arts and crafts organization, resident within the United States. For a first time violation of the Act, an individual can face civil or criminal penalties up to a $250,000 fine or a 5-year prison term, or both. If a business violates the Act, it can face civil penalties or can be prosecuted and fined up to $1,000,000.
Under the Act, an Indian is defined as a member of any federally or officially State recognized Indian Tribe, or an individual certified as an Indian artisan by an Indian Tribe.
All products must be marketed truthfully regarding the Indian heritage and tribal affiliation of the producers, so as not to mislead the consumer. It is illegal to market an art or craft item using the name of a tribe if a member, or certified Indian artisan, of that tribe did not actually create the art or craft item. For example, products sold using a sign claiming "Indian Jewelry" would be a violation of the Indian Arts and Crafts Act if the jewelry was produced by someone other than a member, or certified Indian artisan, of an Indian tribe.
More information: https://www.doi.gov/iacb/act
You must agree to these terms in order to be approved as an exhibitor. Please acknowledge you read and agree to these terms at check-out.
Conference Location & Hotel Info
Isleta Resort and Casino | Booking Link
877-746-5382 or 505 848-1999 | Group code WAS0623
Deadline is Friday, May 26, 2023
Hotel(s) offering your special group rate: $121 USD
Book with this link for the group rate for Women Are Sacred Conference: https://res.windsurfercrs.com/ibe/details.aspx?hotelID=9679&lang=en-us&group=WAS0623&hgID=0&currID=1&dt1=8575&rooms=1&adults=1
METHOD OF RESERVATIONS
Guest room reservations will be made by individual attendees directly with Hotel reservations at (877) 747-5382 or (505) 848-1999, please have attendees mention the Meeting Group name, or the group code of WAS0623 to receive special rate. All reservations must be before Friday, May 26, 2023. No-shows or early departures will be charged one night's room and tax. All reservations must be guaranteed by a valid credit card. Individual cancellations must be made 72 hours prior to the arrival date, to avoid no-show charges. Rates cannot be changed at check-in or check-out for guests who fail to identify their affiliation at the time the reservation is made.
CUT-OFF DATE
The cut-off date is the last day that Hotel will accept guest room reservations for Meeting Group's program. The cut-off date is Friday, May 26, 2023 (the "Cut-Off Date"). Reservation requests received after the Cut-Off Date will be accepted by Hotel at its discretion if applicable guest rooms and rates are available. Guest room reservations made after the Cut-Off Date that exceed Meeting Group's guest room allocation as set forth above will be accepted only at Hotel's discretion. If the group room rate is not available after the Cut-Off Date, the current hotel retail guest room rates will apply. All surplus guest rooms will revert back to Hotel for general sales after the Cut-Off Date.
BACKUP HOTELS INFO:
Courtyard Albuquerque Airport | Booking Link
Last Day to Book: Sunday, June 4, 2023
Hotel(s) offering your special group rate: $121 USD
Book with this link for the group rate for Women Are Sacred Conference: https://www.marriott.com/events/start.mi?id=1680824446125&key=GRP
Sheraton Albuquerque Airport Hotel | Booking Link
Last Day to Book: Thursday, May 25, 2023
Hotel(s) offering your special group rate: $121 USD
Book with this link for the group rate for Women Are Sacred Conference: https://www.marriott.com/events/start.mi?id=1681844056387&key=GRP