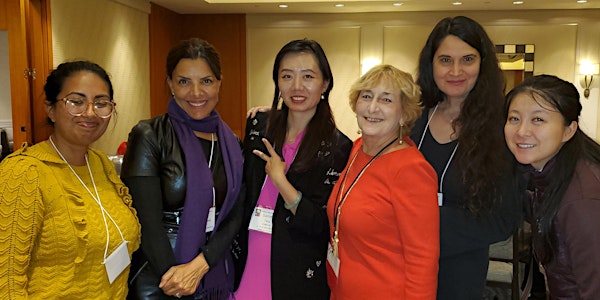 Women and Wine Wednesdays - Collaborative Networking
April is Financial Literacy Month. Join us for a lively discussion about the importance of financial literacy.
By MIT Sloan Boston Alumni Association
Date and time
Tuesday, April 4 · 6 - 9pm EDT
Location
Avery Bar, The Ritz Carlton 10 Avery Street Boston, MA 02111
Refund Policy
Contact the organizer to request a refund.
About this event
Sip, mingle and network. Our special guest, Tiffany Hu, Managing Director, State Street Global Advisors will join Audrey Daum, SM 1988, MITSBAA Board Member & SVP, Moors & Cabot for #FinancialLiteracyMonth. Tiffany will discuss her career path, including compliance and risk, and financial literacy. Together they will offer a brief perspective on the latest banking crisis and answer any questions. They will also discuss existing efforts to factor financial literacy into educational platforms for young people, and what resources are available to help adult (women) learn more about how to take control of their finances. Audrey will also discuss her recently published book "The Little Floofs' Book of Money" and why she created it for this young audience. Signed copies with a stuffed Floof will be available for purchase.
We are holding WWW on Tuesday evening because Passover begins the evening of Wednesday, April 5th.
Tuesday, April 4, 2023
6:00 p.m - 9:00 p.m. ET
The Ritz Carlton, Avery Bar
10 Avery Street, Boston, MA 02210
$20/per person
Audrey Daum is a Senior Vice President Investments in the Boston Office of Moors & Cabot. Audrey was a Director-Investments at Oppenheimer & Co. from Sept. 2010 through April 2017. Prior to Oppenheimer, Audrey was a Vice President in Wealth Management at Merrill Lynch. She also worked as a Senior Business Manager in Merrill Lynch's Headquarters in Princeton, NJ. Audrey's finance career started at Citibank NY in Corporate Finance where she remained for 8 years. As a Wealth Manager, she works with individuals and small business owners on portfolio management, estate and retirement planning, as well as providing seminars and educational tools for those families that need them. Audrey is a passionate advocate of financial literacy education. She holds an MBA in Finance and Corporate Strategy from MIT Sloan School of Management, spent two years at Harvard Graduate School of Arts & Sciences, and graduated with Top Honors from Northeastern University. Audrey has been named as a Five Star Wealth Manager in Boston Magazine from 2011 to present. She will be listed in March 2023 issue of "Boston Magazine". She is Past President and Treasurer of the MIT Sloan Boston Alumni Association (Boston & New York), Chair, Women's Events and Co-Chair of the Resilience Series. She has served on the Executive Council of Ellevate Networks, Boston Chapter, and has partnered with Invest In Girls. She recently published a book to help young children learn basic money concepts "The Little Floofs' Book of Money which can be found on Amazon.
Tiffany Hu is a CFA® Charterholder and a Managing Director at State Street Global Advisors (SSGA) and currently is the head of SSGA's Vendor Management, responsible for overseeing the firm's Third Party Risk Management (TPRM) program and managing market data vendors. Prior to SSGA, Tiffany worked at Arrowstreet Capital, Fidelity, and Goldman Sachs Investment Management division in a variety of compliance, risk, business controls and consulting roles. Tiffany started out her career as a Certified Public Accountant (CPA) and a Certified Internal Auditor (CIA) at McGladrey & Pullen, managing auditing financial statements audit and performing internal controls engagements.
Tiffany earned an MBA in Finance, Strategy and Entrepreneurship from Kellogg School of Management at Northwestern University, and an MA in Asian Studies and a Master of Accountancy from University of Illinois Urbana Champaign, and a BA in Chinese Literature from Peking University. She is a member of CFA Society Boston, a member of the Executive Committee of the Boston Economic Club, and a member of Boston Committee on Foreign Relations.
Hosted and sponsored by MIT Sloan Boston Alumni Association.
Our Women's Events Volunteer Committee includes:
Audrey Daum, SM '88, SBAA Board Co-Chair Women's Events, Chair, Women and Wine Wednesdays & Senior Vice President – Investments, Moors & Cabot, abdaum@me.com
Sun Altbach, MBA '11, CEO & President, PIC Therapeutics, sg.altbach@gmail.com
Monica Kothari, MBA '19, Regions Lead, Campus Strategy, Capital One, monicakothari23@gmail.com
Dr. Irena Lucifredi, PhD '05, President, SOFAR Acoustics, LLC, ilucifredi@sofaracoustics.com
Katie Manty, SM '02, VP, Omnichannel Strategy, kmmanty@yahoo.com
Tina Kruczynski, Program Manager, MITSBAA, tina@mitsloanboston.com
COVID-19 POLICY: MITSBAA is adhering to MIT and the CDC Guidelines. All registrants must self-attest to (a) full vaccination 14 days prior to this event, and (b) participation is voluntary and attendees are responsible for their own protection against Covid-19. We will provide hand sanitizer and masks to all attendees.
About the organizer
Welcome to the MIT Sloan Boston Alumni Association. Our mission is to build an extensive and vibrant MIT Sloan Alumni community across New England. We:
Promote continuing personal and professional development
Provide fulfilling social outlets and opportunities for giving back
Make a positive impact on the business world through world class conferences
We strive toward our mission by providing: world-class conferences, industry & academic speakers, career support, networking opportunities, recreational events and philanthropic projects.