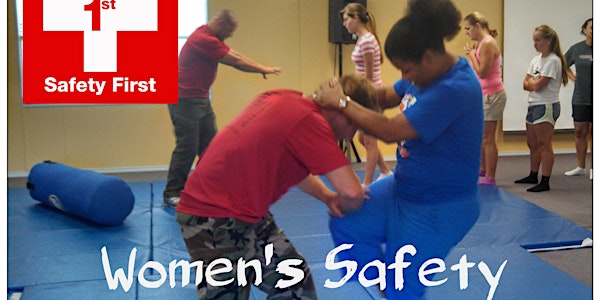 Women and Teen Girls Safety and Self-Defense Course
This specialty course is taught by highly trained law enforcement Swat Team officers/trainers who are a wealth of knowledge!
When and where
Location
Englewood Christian Church 4316 Barnes Rd South Jacksonville, FL 32207
About this event
This specialty course is taught by highly trained law enforcement Swat Team officers/trainers who are a wealth of knowledge! They teach it in a way that the everyday woman and teen girl can understand and employ. The course offers important information about prevention and how to avoid becoming a victim, as well as teaches tactical maneuvers that can be used by persons of any size (using body leverage / Jiu Jitzu techniques) to escape from holds and fight back if being attacked.  In today's world, this is highly valuable information. This course is for teen girls, college students, moms, single ladies, senior ladies and more.  Come join us and learn something new that could one day save your life.  
Location: Englewood Christian Church, 4316 Barnes Rd S, Jacksonville, FL
Date:  Sat, July 24, 9a-12p
Further Info: Upon registering for this class, you will receive an email confirmation to remind you of the specifics.  Wear comfortable clothing and feel free to bring in snacks, drink, etc to help keep you comfortable and focused throughout the class.  The environment is one of giving serious information, but it is relayed in a relaxed, comfortable and fun manner.  We hope to see you there.
Personal Testimony from a past participant:  "Thank you for organizing such an excellent, and more importantly, critically necessary for the women in our community. My objective in attending the class was to come away with a few self defense tactics that I could apply, if the situation presented itself. I left the class with so much more than that.  
One of the biggest impressions left on me, was the key insight on the importance of the power of the mind. In my opinion, the most meaningful part of the class, was the information on having a plan and being prepared, in order to minimize the likelihood of a situation where self defense tactics would be necessary. The advice shared during this part of class was worth the cost of registration.  
The class exceeded my expectations. To say that Joel and Tony were excellent would be an understatement.  They made the class engaging and informative. The tactics demonstrated were simple, yet effective. They created a safe and comfortable learning environment. As a result, I feel confident that I will be able to apply one, if not more, of the tactics shared today, should it become necessary.  
I would absolutely recommend this class. In fact, I found the class so valuable, I have already recommended it to other women.  
In my over ten years of experience working in the Training and Development industry, I have attended, participated in, and presented many classes. While it is common for me to come across experts in their respective fields presenting, it is rare for me to find experts that not only share their knowledge, but also have an awareness of the "science" on how people learn. Joel and Tony not only exhibited this awareness, they implemented all these principals successfully during the class.  I am very appreciative of the time they spent training us today. My only recommendation/request would be to someday offer a 'Part II/Intermediate Women's Self Defense Class.' I suspect there would be several repeat customers. Thank you for the opportunity to share feedback on the class.  
Best regards,
Emily H"
Cancellation/refund policy: If cancelling 8-14 days before the class date, 90% of your fee will be refunded. From 4-7 days before class date, 75% is refundable. From 2-3 days before class date, 50% is refundable. From 1 day prior to anytime after the date of the class, 0% is refundable/transferable.