Women and Minorities in IP Law: Careers, Challenges and Triumphs
Featured panelists from Archer Law, Fox Rothschild, Debevoise & Plimpton, BakerHolister, Ballard Spahr, Vanguard, and Comcast Cable.
About this event
Please join the Rutgers Intellectual Property Law Association (RIPLA) and the Rutgers Women's Law Caucus (WLC) as we explore different careers in Intellectual Property (IP) Law.
Our panel consists of a diverse array of female attorneys specializing in various intellectual property areas. Intellectual property covers fashion, entertainment, medicine, music, video games, art, technology, and more. At this event, you can expect to listen to the unique stories of leading figures in the IP community and learn about the challenges they faced as women. We will explore the evolving impact of women and minorities in the IP legal field over the last 30 years and highlight the ways in which our panelists triumphed as professionals. Most importantly, we will explore the potential job opportunities for individuals without a technical degree who would like to enter the IP field. Food and drinks will be served. Sufficient time will be left for questions and networking.
Title: Women and Minorities In IP Law: Careers, Challenges and Triumphs
Host Organizations: RIPLA and WLC
Date: 03/26/2019
Time: 6:00 PM - 8:30 PM
Location: Rutgers Law School-Clark Commons Bridge
217 N 5th St, Camden, NJ 08102
Dress: Business Casual
*Panel begins at 6 PM, so we ask that you arrive as close to 5:30 PM as possible. This event is free for everyone. Food and drinks will be provided.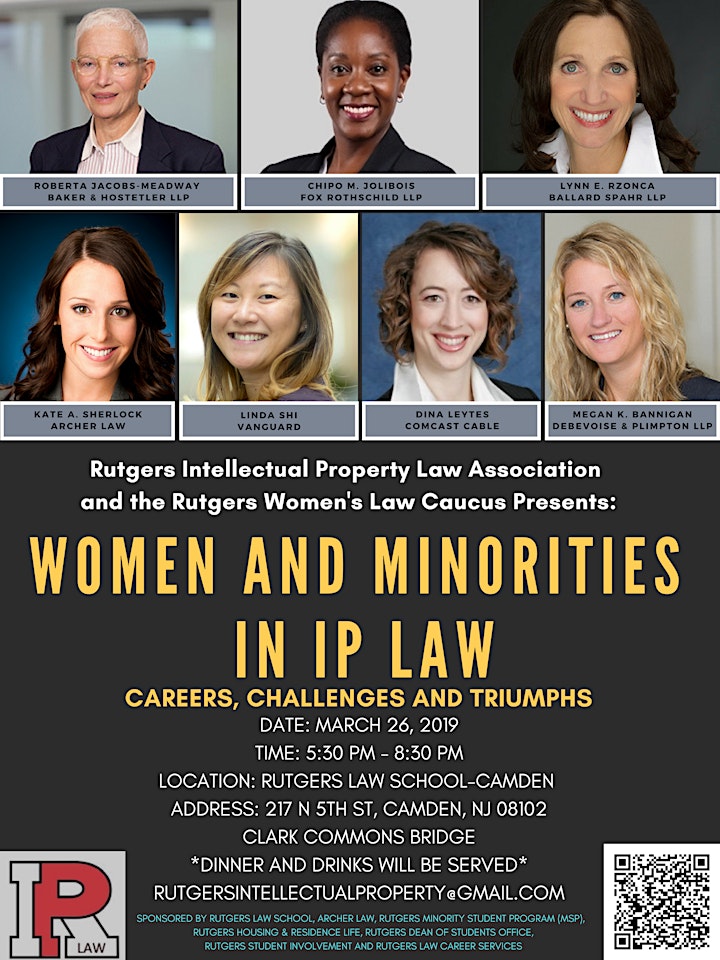 Organizer of Women and Minorities in IP Law: Careers, Challenges and Triumphs