About this Event
Step into an ongoing conversation many years and events in the making! Led by the Chief HR Officer of Workplace Change, Serilda Summers-McGee, and sponsored by the Entrepreneurs' Organization (EO), this event will feature game-changing business leaders thinking about their bottom line and their social impact.
More and more in recent times, many have become aware that women entrepreneurs and entrepreneurs of color balance the typical challenges and responsibilities of business ownership with additional responsibilities and oftentimes higher expectations placed upon them. During this conversation, we'll discuss how their trials and challenges have led them to develop new business approaches, ways of leading, and ways of evaluating success.
It has always been true that new, robust, game-changing ideas about leadership first take root in the margins. This conversation will center new ideas through incredible leaders that demand higher and better forms of accountability from all business owners and managers.
We will talk about:
Growing beyond a narrow "bottom line only" point of view in business
The business value of workplace climate, moral & health
Intentional inclusivity & its impact on businesses
Solving the stressors & problems of "business as usual"
Plus, we'll have breakfast and a chance for all attendees to connect with each other!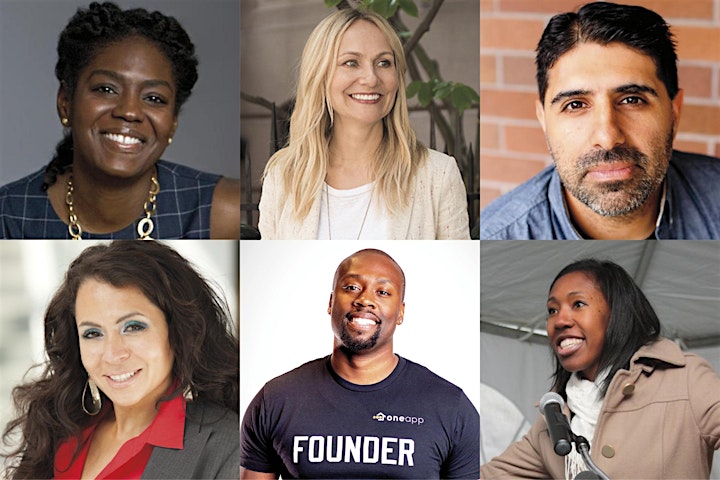 Meet the Speakers
Serilda Summers-McGee (leading/moderating) is the former head of HR for The City of Portland, and has held top roles at The Oregon Department of Education, The PDC, and Kaiser Permanente. She's the founder of Workplace Change, serving Portland's top companies and brands with culturally progressive HR strategies.
Sadie Lincoln, co-founder and CEO of barre3 — a fitness industry disruptor, focused on teaching people to be balanced in their body and empowered from within.
Hanif Fazal, CEO and co-founder of Center for Equity and Inclusion, whose clients include Meyer Memorial Trust, Portland Trailblazers, PGE, and more.
Victoria Lara is founder of Lara Media Services — the only Latina woman-owned creative agency in the Pacific Northwest, whose clients include Providence, Portland State, Metro, and many more.
Tyrone Poole is founder of tech upstart OneApp, a for-profit company aiming to use technology to solve inclusion and equity challenges in the housing market, providing a streamlined solution for rental applications.
Kali Thorne Ladd is an entrepreneur committed to educational revolution via love and inclusion. Co-founder and Executive Director of KairosPDX, her career spans from Peace Corps volunteer and teacher to top Education Advisor to Portland's Mayor.

Sponsored by Entrepreneurs' Organization
Oregon's most influential business network, Entrepreneurs' Organization (EO) Portland is run by entrepreneurs for entrepreneurs. EO is a global network of 14,000+ business owners in 188 chapters across 58 countries, and the Portland chapter has over 140 members. Our region is also home to chapters in Vancouver BC, Seattle, Denver, Sacramento, San Francisco, Phoenix, and Los Angeles.
At its core, EO Portland is a collection of like-minded entrepreneurs focused on business growth, personal development, and community engagement. Learn more here.