Description
Join Long Branch Baptist Church and Beyond Differences as we celebrate and empower Women Entrepreneurs on Thursday, September 21, 2017, at 12 noon at a luncheon featuring Dr. Julianne Malveaux.
A world-renowned African-American economist, author, social and political commentator, and businesswoman, Dr. Malveaux has long been recognized for her progressive and insightful observations. Her contributions to the public dialogue on issues such as race, culture, gender and their economic impacts are shaping public opinion in 21st-century America.
She is President Emerita of Bennett College and her popular writings have appeared in USA Today, Black Issues in Higher Education, Ms. Magazine, Essence Magazine, The Progressive, and elsewhere.
Additional speakers include Nancy Whitworth, Deputy City Manager of Economic Development, who will present "A Salute to Women Entrepreneurs," and several local entrepreneurs will share their stories of becoming successful business women.
Representatives from several relevant agencies will be available with information and resources for those who seek to explore economic development through entrepreneurship.
Tickets are $25 for an individual seat or $200 for a table of eight. If you prefer to buy tickets directly , please contact Ruby Coleman through Long Branch Baptist Church by calling (864)-422 0482.
Table Sponsorships ($200) will be recognized at the table and on the screen during the program.
Gold Sponsorships ($500) include one table of 8 for the luncheon, a logo printed in the event program and on the screen during the program, and recognition by the Mistress of Ceremonies during the event.
For more information about sponsorship, call Gaybriel Gibson at (864) 313-4699.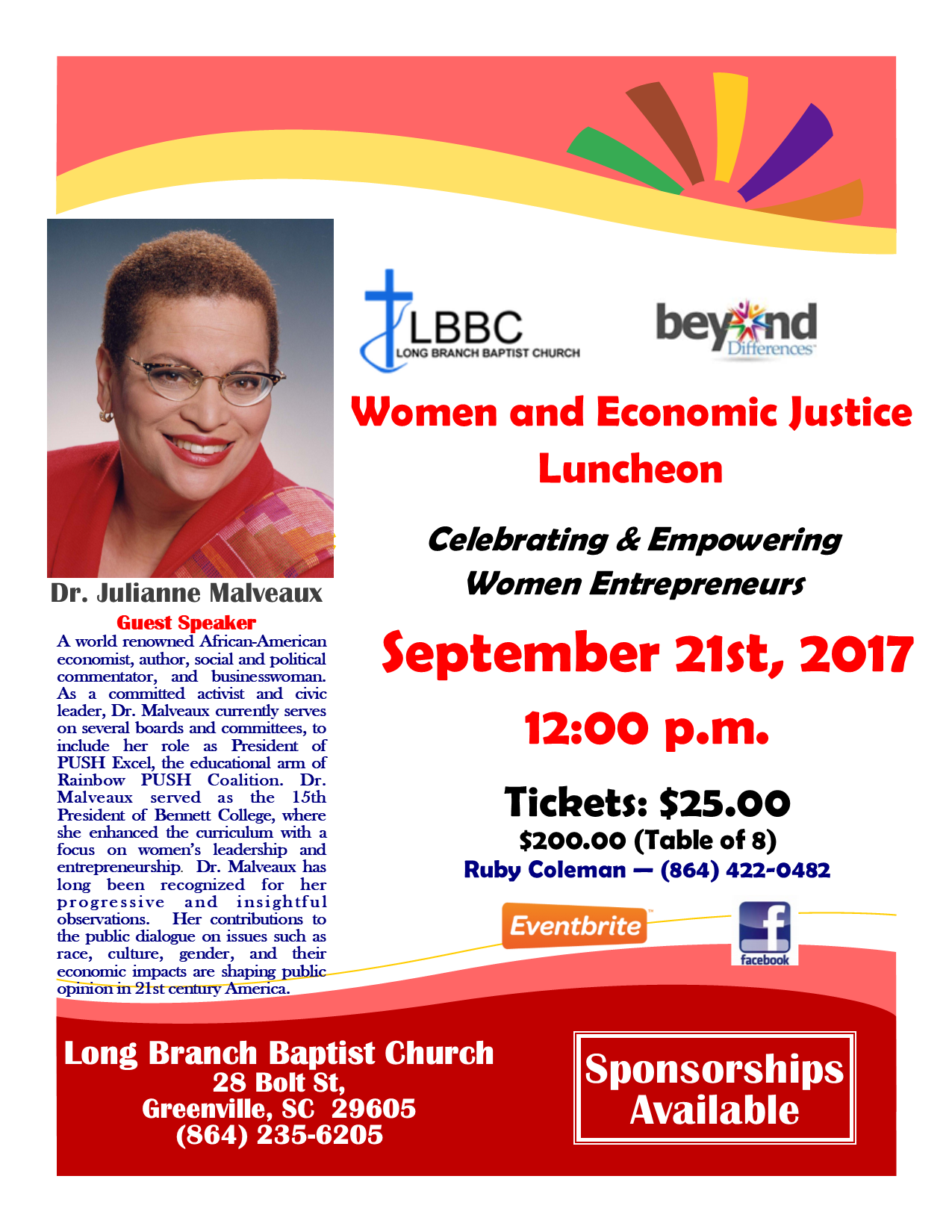 Date and Time
Location
Refund Policy