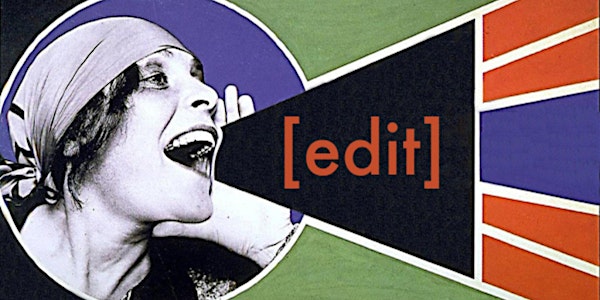 Women and Craft Wikipedia Edit-a-thon
When and where
Location
The Center for Craft, Creativity & Design 67 Broadway Asheville, NC 28801
Refund Policy
Contact the organizer to request a refund.
Description
Celebrate women's history month by joining CCCD and Art+Feminism to edit Wikipedia articles to include the influential work of women working in craft between 1941-1979. No experience necessary, Wiki experts on hand.
F.A.Q.'s
What is a Wiki Edit-a-thon?
According to Wikipedia, an edit-a thon is a special type of meetup to improve the encyclopedia. It is usually focused on a specific encyclopedia topic, and is a great way to attract new Wikipedians.
What special topic has The Center for Craft, Creativity & Design (CCCD) selected?
CCCD is joining Art+Feminism to celebrate women's history month (March) and our topic is Women in Craft.
What is Art + Feminism?
Art+Feminism is an international project improving content on women and the arts on Wikipedia, and encourages women's participation on the encyclopedia.
I have never edited anything on Wikipedia before, can I still come?
Yes, please do! We will have Wiki experts on hand to help with all the technical stuff, if you want to plan ahead and are feeling super ambitious, we recommend watching some of these instructional videos put out by Art+Feminism.
I don't know anything about craft or women can I still come?
Yes, we will have a list of recommended topics and ample books, magazines, and other source materials on hand. There will also be many people at the event who do know a lot about women and craft who will be happy to help.
Do I need to bring my own computer?
If you have a laptop please do bring it with you. If you don't have a laptop don't let that stop you, we will have a few extras and we encourage people to edit in teams.
Do I need to bring my own source materials?
We will provide books and magazines that can be used, however if you have any books, magazines, or newspapers that could be used as valid sources please do bring them with you.
What can I expect when I get there, will this be fun?
Yes, this will be fun. There will be music, smart people, interesting books and magazines, food and beverage – so how could it not be fun?
Editing makes me hungry and thirsty, what should I do?
We will provide ample food and drink to keep everyone happy and motivated.
What if I still have questions?
Please contact Anna at ahelgeson@craftcreativitydesign.org for more information.