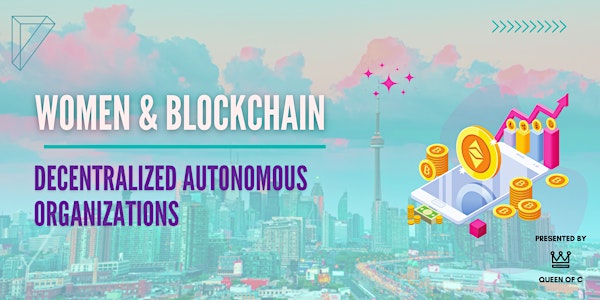 Women and Blockchain - Decentralized Autonomous Organizations
Join us, and a community of kind, curious and empowered womxn - let's chat about blockchain and decentralized autonomous organizations!
About this event
Wondering what all the hype is about the blockchain & decentralized autonomous organizations aka "DAOs"?
Feeling curious, but don't know what it is, how it works or how to get started?
Get excited because we've got you!
We want to welcome you to our Womxn in Blockchain series!
We are a group of womxn who gather monthly to learn about all things Web3 (think crypto, NFTs, & DAOs to name a few!)
We host monthly workshops and share everything we've learned about Web3! This month our series will be focused on decentralized autonomous organizations (DAOs) - which are the future of organizations and companies!
Our goal is to help you learn what DAOs are, why we think DAOs are the future of organizations and how can you join a DAO that's right for you!
Want to know what the future of organizations looks like? Sign up for this opportunity to connect and learn with a community of like-minded womxn!✨✨✨
FAQs
1. Do you need prior knowledge about DAOs to join?
Absolutely not! This event is for the crypto-enthusiasts, crypto-curious, and any woman looking to connect with a community of kind, curious and ambitious women to just learn something new!
About your hosts:
QOC
Our mission is to create a community of inspired, empowered, and connected womxn. We aspire to provide our members' with knowledge and experiences that will improve their lives and positively impact the world around us – without taking ourselves too seriously.
Mila Bozinov
Mila is a passionate entrepreneur, social provocateur & philanthropist, acting as the connective tissue to her community. She loves empowering others and disrupting the status quo. Her curiosity has allowed her to grow her passions in the blockchain, holistic wellness, & self-development. Together with her community and team she is hoping to inspire change and to help others actualize their power. After spending over a decade within the corporate space in managerial roles, Mila quickly found her love for people and how they organize. Her wealth of knowledge has allowed her to provide services in consulting and leadership coaching, working with a range of organizations and individuals looking to create impact. She is hoping to share her passion in the blockchain by helping women grow their wealth by engaging with the growing community.
Natasha Ali
Natasha is an energetic, curious and optimistic entrepreneur, with a passion for personal and community optimization and actualization. Natasha began her career working as a human rights lawyer, and her work focused primarily on addressing systemic discrimination in provincial institutions. In 2019, Natasha pivoted from human rights law into management consulting, with a focus on diversity and inclusion and leadership development. Throughout this time, Natasha's insatiable curiosity has led her into different worlds of thought, ranging from blockchain/ decentralization to health and wellness (and everything in between). Natasha has spent the last two years travelling the world and learning from anyone who will bless her with their time and energy. She is excited to be home in Toronto where she can share her love for learning, self-empowerment and community with a group of like-minded women who are just as eager as she is to live life to fullest!