Description
Women's Freedom Forum Panel Discussion
Women Against Islamic Extremism: Meet Faces of Courage & Commitment


Working from Within "2016 Report on the "Status of Women and Youth in Iran" will be released.
---
Panelists:
Antonia Felix - Acclaimed biographer of American women leaders including Supreme Court Justice Sonia Sotomayor and Secretary of State Condoleezza Rice; adjunct instructor, Hamline University
Donna Hughes - Eleanor M. & Oscar M. Carlson Endowed Chair, Gender & Women's Studies Program, University of Rhode Island, a leading international researcher on human trafficking
Tania Torres - President & CEO of Torres Multicultural Communications, an independent, woman-and-minority owned marketing and public relations firm focused on multicultural communities
Zahra Amanpour - Founder of Indiegrove, a coworking community in Jersey City, NJ, an advocate for women entrepreneurs who has implemented several programs focused on economic equality for women
Moderated by:
Lynn Dykstra, Founder, Our Global Cry for Freedom; UN representative and civil society outreach director of Women's Freedom Forum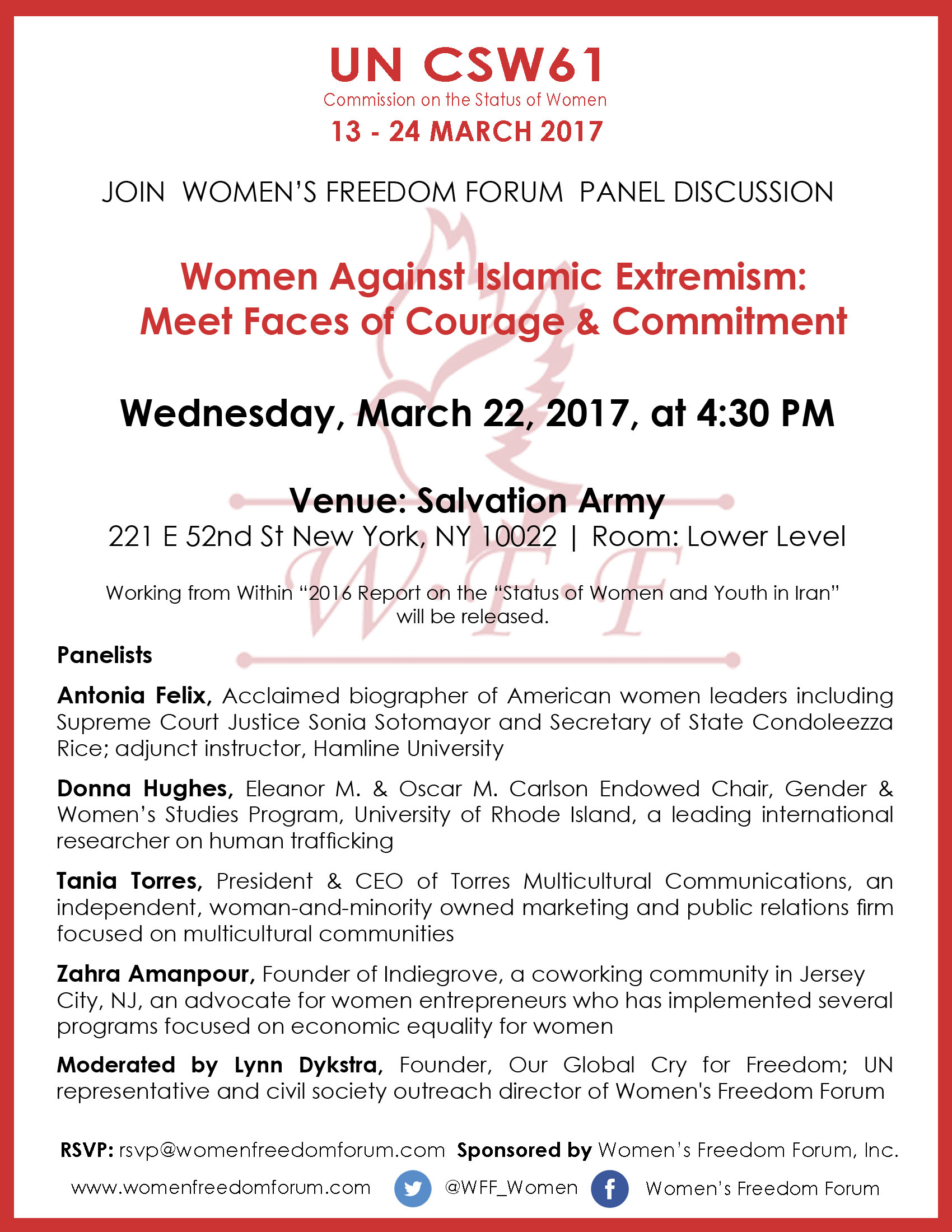 ---
The sixty-first session of CSW will take place from 13 to 24 March 2017. The Commission will address as its priority theme 'Women's economic empowerment in the changing world of work'. In addition, it will evaluate progress in the implementation of the agreed conclusions from the fifty-eighth session (2014) on 'Challenges and achievements in the implementation of the Millennium Development Goals for women and girls'. The Commission will discuss as a focus area/emerging issue the 'Empowerment of indigenous women'.
During this session, NGO CSW/NY is organizing the NGO CSW Forum which includes a Consultation Day, Reception, and Parallel events.
WFF parallel event is focused on the review theme, "Challenges and achievements in the implementation of the MDG's for women and girls."