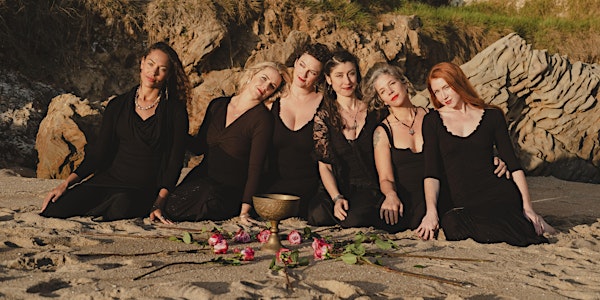 Womb Wellness Clinic, A day of radical self-care
You are invited to a day of nourishing vitality practices to improve reproductive health, clear negative energy & nourish you deeply
When and where
Location
Alliance Wellness Studio 7887 Soquel Drive #suite d&e Aptos, CA 95003
About this event
Join us for a day long immersion and come receive invaluable knowledge from healers and wisdom keepers of female lineage, reproductive wellness, and self-care practices. Bathe in sisterhood, share tea, sign up for a therapuetic yoni steam or Acupuncture treatment. You're invited to network and receive discounts on all products, programs and sessions booked on this day
BE NOURISHED & RENEWED AFTER THE HOLIDAYS!
During this day long immersion take advantage of your cyclical nature & feminine well-being.
You'll learn & Receive:
Ovarian QiGong practices for cultivating, circulating and transforming female $exual energy With Reverend Ayah Buonaugurio
Harnessing the Power of Your Hormones (through diet) With Donica Tomko
Female- Balancing Acupuncture treatment With Dr. Pocean aka Jeannine Ruskin L.Ac. C.M.T.
A Yoni/Vaginal Steam Ritual With Ayah & Team
This is a donation based event. We suggest $40-108 & No one will be turned away for lack of funds.
For those who purchase a full price ticket $108
Sign up for a Sexual Sovereignty Activation session
Receive a free gift package valued at $299!!
Schedule: (((((( class descriptions & bios below schedule )))
10 a.m Arrive and be welcomed with tea & connection
10:15-11:30pm Opening Circle + Ovarian Qi Gong & Vitality Practices w/Ayah
11:30-1pm Harnessing the Power of Your Hormones (diet & digestion) w/Donica
1-2pm Lunch & Break ( enjoy vegan kitchari & snacks )
Self Designed Specific Treatments after lunch
2- 3:15pm Balancing Acupuncture treatment w/Pocean
3:15-4:30pm Vaginal Steams w/Ayah & team
4:30-5 Closing circle w/sound & movement ceremony & integration
About theses offerings:
Intro to: Ovarian Breathing
~W/ Ayah Buonaugurio~
Through Ovarian Breathing aka Ovarian QiGong women can learn how to:
The cultivation, circulation & enhancing of sexual energy for optimal vitality.
Retrieve the connection with the wisdom of our bodies, sensuality, sexuality and fertility.
Remove physical, mental and emotional blockages and open to creative sexual energy that lives in each of us.
Resolve naturally specific diseases such as auto immune deficency, menstrual problems, fertility or reproductive dis-harmonies.
This practice empowers all women to reclaim and live their full feminine potential that often lies dormant beneath layers of emotions & dis-harmones buried in our wombs & bodies.
The Yoni Egg is an ancient practice and tool used to heal trauma, give strength to pelvic floor and maintain vital sexual organs.
A series of exercises with a jade or obsidian egg is used to strengthen the urogenital and pelvic diaphragm, the muscles of the vagina and the glands, tendons and nervous system
"The ovaries contain 25% of our essential life force energy. It is said by the ancient Taoist that the life force contained in our ovaries and kidneys have the ability to awaken our greatest life-force potential as well as centers of healing." -Mantak Chia
Harnessing the Power of Your Hormones
~W/ Donica Tomko~
In this workshop, Donica will guide you through the actions that you can take to enhance your health, happiness, and hormone balance. Connect to your Inner Goddess, tantalize your senses, and build your daily rhythms from a foundation of delicious nourishment. This feminine wisdom will uplift and inspire you on your journey to sustained healthy eating, the guilt-free gourmet way. If you are desiring to shift your relationship with food, learn how to nourish your body even more deeply, balance your digestion, focus your mind, and refill your inner cup into juicy overflow, then join us!
In this sacred, inviting, creative, container~ you are guided into a deep connection with yourself and each other allowing for insight, healing, release, and transformation!
Come be deeply held, liberated and empowered by unraveling the layers within, moving your truth and expression and embodying your freedom
Balancing Acupuncture treatment:
~W/ Dr. Pocean~
Pocean aka Jeannine Ruskin will be offering a simple, group balancing acupuncture treatment that will be complementary and assist in integration. It will include ear points, lower arms and legs. Sit back and relax!
Yoni/ Pelvic Steaming:
~W/ Ayah B~
The Ritual: Rev. Ayah and training Mentors offer Yoni steaming in a ritual format where each sister is given multiple herbs to choose from based on what is going on in her body, her heart and spirit. Connection is made as we ask the plants to go inside and heal us. We can choose to nourish, tonify, purify or detox using these herbs. We can also heal past pain and hurts with the prayer and ritual space she provides. Sacred space is held for each individual, as song, drumming, vocal toning or silence is entered for each women to have the experience that she needs to enter deeper into connection with her most sacred temple...HER YONI~
You"ll need to bring a long bed sheet and cooking pot to participate 🙂
Shall be offered on this day, sessions last for 30 minutes each, come early and sign up!
Yoni/Vaginal Steaming for any woman NOT menstruating.
Yoni steaming benefits:
Significantly reduce discomfort, bloating and exhaustion associated with monthly cycles
Decrease menstrual flow as well as reduce dark purple or brown blood at the onset or end of menses
Regulate irregular or absent menstrual cycles
Increase fertility, especially when combined with Mayan abdominal massage
Speed healing and tone the reproductive system after birth
Treat uterine fibroids, ovarian cysts, uterine weakness and uterine prolapse
Assist with the healing of hemorrhoids
Treat chronic vaginal/yeast infections, and maintain healthy odor
Relieve symptoms of menopause
Sister this is your time to
Reclaim yOur Reproductive Sovereignty & Justice
Speak your YES and know your NO
Sovereignty means being independent or autonomous. A nation is sovereign if it can enforce laws within its boundaries with no interference.
Our reproductive anatomy can only be sovereign if we have no interference from the state.
This shouldn't mean that we should be faced with e unsafe choices that jeopardize our health and sacrifice the welfare of our families.
Walk away feeling CONNECTED, REJUVENATED & UPLIFTED
I want to invite you to take charge of your own body and take your power back with womb sovereignty tools for facilitating embodied transformation in others…
Your Wellness Team:
Jeannine Ruskin L.Ac. C.M.T., who also goes by Pocean, is known, among other things, for her success in treating Obstetrics (pregnancy, pre-natal and post-natal) and Women's health. She has extensively studied Chinese, Western and Ayurvedic Herbalism, nutrition and dietetics, and has been a Reiki practitioner and Theta Healer since 2005. She has been called an Elemental Fairy, offering Flower Essence consultations from her line of Essences which she wild crafts from all over the world, and has a delicious line of herbal products.
Donica Tomko is a certified Holistic Health Coach and Healing Foods Chef who supports womb carriers in restoring balance to their digestion, womb-heart space, and relationship to food. At age 13 she began teaching herself how to cook because she wanted to eat healthier and feel better in her body and mind. Her passion for wellness and self illumination inspired other studies and certifications in the healing arts. She is also certified as a Lomi Lomi Practitioner through Temple Lomi Lomi on Kauai, High Priestess through the Black Swan Temple of Isis, an Ayurvedic Health Educator & Body Therapist through the California College of Ayurveda, Kundalini Yoga Teacher through Yoga Phoenix, and Theta Healing Practitioner.
She weaves her knowledge of energy healing and food as medicine to support women with their health. Teaching them how to enjoy cooking and nourish their bodies, minds, and spirits to new levels of self love, so they can feel empowered, balanced and energetically resourced. Having learned the wisdom of holistic therapies to transform her own life and health from the inside out, she uses this ancient wisdom to help others in feeling deeply relaxed, pain free, and resilient through the challenges of life.
Reverend Ayah Buonaugurio
Ayah Buonaugurio is the founder of Obsidian Womb Wellness, a passionate facilitator of Hatha Yoga and Sacred Dance and a Women's Health Advocate in the San Francisco Bay Area. Ayah is also a legally ordained Priestess of Isis through the FOI (Fellowship Of Isis) as well as a Spiritual Minister through ONACS. Through the container of women's rituals & events, Ayah educates, supports and advocates women allowing them to feel empowered to make informed decisions concerning their health in alignment with their cyclical natures.
Ayah has also contributed to the growth and nourishment of local communities by facilitating dance classes for at-risk youth, ceremonial dances at sacred pilgrimage sites, women's womb wellness programs, as well as individual and group healing rituals using Obsidian therapies. She also offers private coaching & Thai massage therapies in Santa Cruz, Ca.
Discover more programs at www.obsidianwomb.com
🌹You won't want to miss this DISCOUNT on Womb Sovereignty PROGRAMS! 🌹 *Womb Sovereignty Initiation*** Embodied Path of the Priestess*** for 2023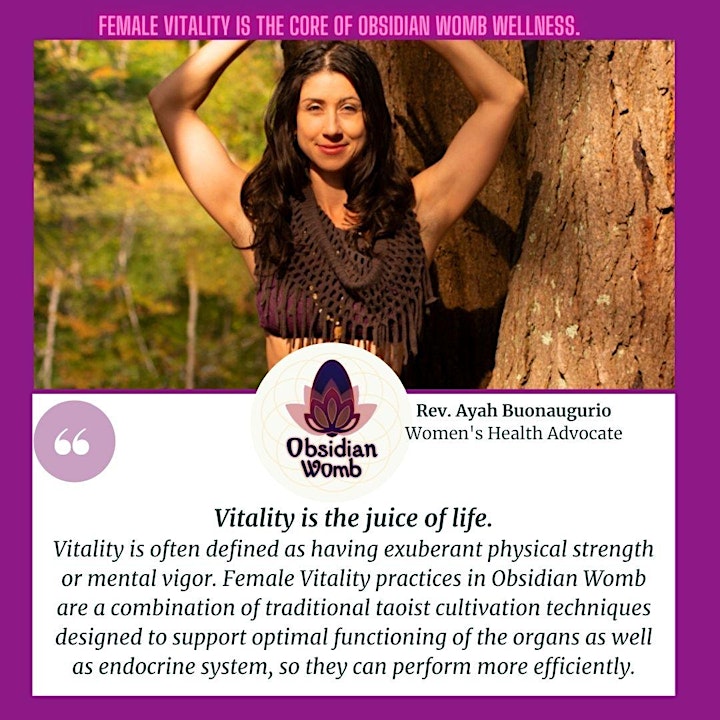 Discover more programs and education on women's health at www.obsidianwomb.com