Womb Intentions, Sacral Chakra, Myofascial Release and Affirmations
About this event
Peace & Blessings To All Wombs
Join our class to set womb intentions, activate and align your chakras and restore balance and well-being. There will be, mediation, sage, and shopping.
Open Meditation/Sacral Authority - Kira Buckley
Vagina Talks/Womb Intentions - Moe
Sexologist - TwilaBGoode
Myofascial Release- McKenna Anderson
Mingle & Shop
5:00PM - 7:00PM
The fun doesn't stop. Join us after class to shop and receive services such as:
Wrapped crystals, massages, consulting sessions, waist beads, yoni steam packs and more.
Vendors: Jasmin_thewizard & ok.love.u
What You'll Leave With:
An increased intuition and a balanced the sacral chakra strengthening the womb.
Instagram:
MoeTivate_Your_Womb
Twilab.Goode
SheMoveMe
aligningtouchpt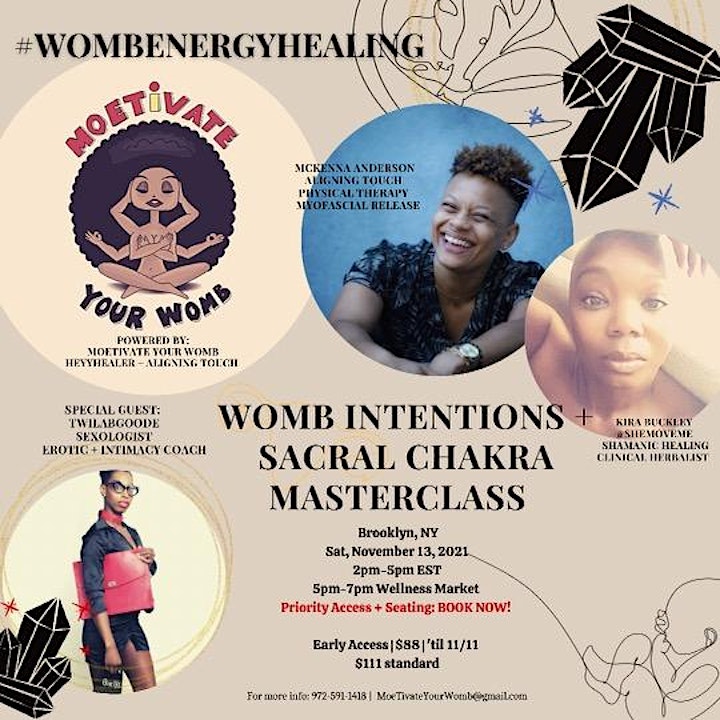 Organizer of Womb Intentions + Sacral Chakra Masterclass
Located inside Grow Desoto Market, MYW+The Healing Center is a provide of supplements, men wellness, soaps, oils, teas, herbal bath bags and more. The second component of MYW+The Healing Center consist of body work such as, meditation, yoga, massage therapy, chakra classes, yoni steam certifications, postpartum stretching, group or private sessions.
_____
Inside Grow Desoto Market
MYW+The Healing Center
324 E. Beltline Rd #500
Desoto, TX 75115