Event Information
Location
Society Chicago Art Gallery
2140 Fulton Street
Chicago, IL 60612
Description
THIS IS THE ULTIMATE ME FIRST EXPERIENCE!
IT'S YOUR PLACE TO RELAX REJUVENATE & RENEW.....
Our exciting monthly "Me First" pampering series is designed as a monthly event for busy women to stop and treat themselves to the hottest new products and services that save time and money. We plan to provide the ultimate "Me first" experience, where women can Relax Rejuvenate & Renew.
Get your tickets NOW and receive your ultimate "Me First" experience!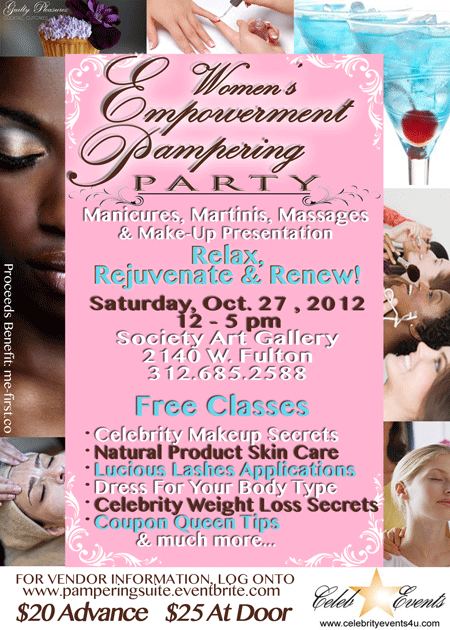 ORGANIZE A GROUP OF 10 AND RECEIVE TWO TICKETS FREE!
PLUS $5 OFF EACH TICKET!!!
Date and time
Location
Society Chicago Art Gallery
2140 Fulton Street
Chicago, IL 60612
Organizer of Woman's Empowerment Pampering Suite
CelebEvents, Inc creates exciting pro player hosted events that raise money for youth sports teams and organizations. We partner with local and national sponsors that assist with giving back to the community. Our events are housed at exceptional establishments to provide the maximum social occasion. These are the ultimate meet and greet opportunities featuring top celebrity athletes and/or entertainers. Businesses make our guests aware of services they provide and we set the stage for unique networking opportunities that produce wonderful possibilities. Why attend a routine autograph signing when you can attend a world-class event with the finest of everything. Our events are designed specifically for your enjoyment. It is an evening that you will never forget.