Womanity 2014: Moving Towards Equality

Friday, April 18, 2014 from 9:30 AM to 4:30 PM (MST)
Event Details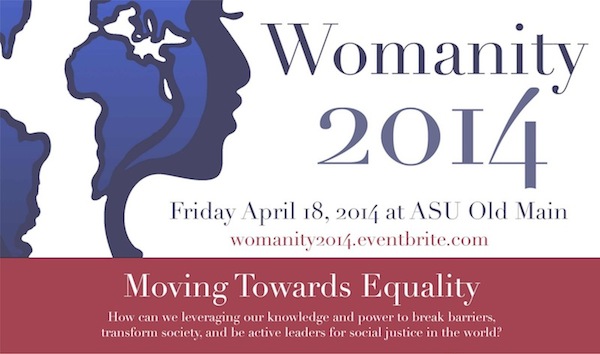 ABOUT THE SUMMIT
"WOMANITY" is one of the largest student-run women's conferences in the United States. This annual event connects students with local and national leaders and organizations working in the common pursuit of social justice and gender equality. Dynamic, inspiring, and provocative, the summit is designed to ignite a passion for justice and inspire meaningful action for change.
The 2014 summit, themed "Moving Toward Equality," examines the intersection of gender in contemporary issues of inequality. This year features keynote speakers Soraya Chemaly, Courtney Martin, and Gloria Feldt, as well as over 40 other panelists, organizations, and experts working in fields ranging from STEM to politics to the arts. Through speakers, panels, and small-group discussions, the 2014 summit examines:
How do we define equality, and why does it matter?
What does it look like to pursue equality: Politically? Socially? Professionally? Globally? Personally?
How can we leverage our knowledge and power to break barriers, transform society, and be active leaders for social justice in the world?
Womanity2014 Schedule 
9:30-10:00 Check-in Table outside Carson Ballroom
10:00-10:10 Welcome      Carson Ballroom
10:10-10:50 Keynote Address: Soraya Chemaly      Carson Ballroom
10:50-11:40 Breakout Session One  
| | | |
| --- | --- | --- |
| The Personal is Political: Art, Identity, and Social Transformation | Nic Alavi, Emily Alvarez, Barni Qaasim, Emmett Ramstad, Kate Saunders | Carson |
| Disabilities Studies Seminar | Sarah-Della Cramer, Anastasia Todd | Basha |
| "Ain't I a Woman": Examining the Intersection of Race, Class, and Gender | Mary Ingram-Waters | Tooker |
11:50-12:30 Breakout Session Two 
| | | |
| --- | --- | --- |
| Women in Business: Breaking up the Men's Club | Nancy Jurik, Trudy Licano, Volha Sasunkevitch | Carson |
| DREAMERs: Youth Activism for Immigration Reform | Yolanda Medina, Ellie Perez | Basha |
| Diplomacy of Gender, Ethnic and Cultural Equality in Elected Office: A Native American Woman Veteran's Perspective | Jamescita Mae Peshlakai | Tooker |
12:30-1:30 Lunch and Keynote address: Gloria Feldt      Carson Ballroom 
1:40-2:20 Breakout Session Three
| | | |
| --- | --- | --- |
| The Token Girl: Women in STEM | Karen Anderson, Rachel Olzer, Rhonda Peters, Victoria Polchinski | Carson |
| Female Veterans in Arizona | Caitlin Cruz | Basha |
| Women's Political Empowerment | Roselyn O'Connell | Tooker |
2:30-3:20 Open-Space Cafés      Carson Ballroom
Interactive, discussion-based workshops in which participants choose a focus area to explore and draft proposals for solutions with leaders in that area. Example topics include: sexual wellness on campus, LGBTQ+ rights, economic development, and much more. 
3:30-4:10 Keynote address: Courtney Martin      Carson Ballroom
4:15-4:30 Conclusion & response time   Carson Ballroom
 SPEAKER BIOS
Keynote Speaker: Soraya Chemaly
 Soraya Chemaly writes full time about the role of gender in culture, politics, religion and media. She regularly writes online in Huffington Post, Salon, The Guardian, Fem2.0, RHRealityCheck, The Feminist Wire, Role/Reboot, Feministe, Ms. Magazine's Blog, Women Under Siege, BitchFlicks, and Alternet, among other media. She has appeared as a guest on NPR's Talk of the Nation to talk about why 450-ish Catholic bishops shouldn't have any say in health care policy that affects 150 million women; CNNB, BBC, Sirius XM progressive radio, Voice of Russia, and other radio shows that allow her to talk out loud; and she is a frequent HuffPost Live Panelist.  Even though she writes about gender absurdities, she would rather laugh than cry while doing it. You can reach her at Soraya.Chemaly@gmail.com.
Keynote Speaker: Gloria Feldt 
Gloria FELDT

 is cofounder and president of 

Take The Lead,

 the new women's leadership movement to prepare, develop, inspire, and propel women to take their fair and equal share of leadership positions across all sectors by 2025.  The bestselling author of 

No Excuses: 9 Ways Women Can Change How We Think About Power,

 Gloria is an acclaimed expert on women, power, and authentic leadership and an 

inspiring keynote speaker

 who motivates with heart and humor and delivers practical "Power Tools" for life and leadership. 

Gloria's expertise in women, power and leadership comes from a deep well of personal knowledge gained on the frontlines.  Her journey from teen mom and high school dropout from rural Texas to president and CEO of the world's largest reproductive health and advocacy organization, Planned Parenthood Federation of America, to best-selling author and visionary leader for women's equality inspires both men and women.  Named by 

Vanity Fair

 as one of "America's Top 200 Women Leaders, Legends, and Trailblazers" and 

Glamour's

 "Woman of the Year," she's a world changer who helped pave the way for women today. She believes this is women's moment to achieve parity. Her passion is to remove the last remaining obstacle:  women's learned resistance to embracing their own power. A

uthor of four books, she teaches "Women, Power, and Leadership" at Arizona State University. 
Keynote Speaker: Courtney Martin
Courtney Martin has been called "one of our most insightful culture critics and one of our finest young writers" by Parker Palmer, and her writing has been described as "varied, transformational, and necessary for us all" by Jane Fonda and "a hardcover punch in the gut" by Arianna Huffington.

In fall 2010, Beacon Press published Do It Anyway: The New Generation of Activists, in which Courtney profiled eight young people doing social justice work on the ground. She spoke on feminist and activism at the inaugural TEDWomen Conference in December 2010 and her talk was subsequently published on TED.com. Courtney's first book, Perfect Girls, Starving Daughters: How the Quest for Perfection is Harming Young Women was awarded a Books for a Better Life nomination and was called "smart and spirited" by The New York Times.

Courtney is the Founding Director of the Solutions Journalism Network, along with New York Times columnists David Bornstein and Tina Rosenberg. In addition, she is the leader of the Op-Ed Project's Public Voices Fellowship Program at Yale University–coaching minority academics to become thought leaders.
Are you a business, department, or individual interested in sponsoring Womanity 2014? Please email womanashero@gmail.com to receive information about our sponsor levels.
The dress will be business casual.
When & Where

Old Main at Arizona State University
400 E Tyler St
Tempe, AZ 85287


Friday, April 18, 2014 from 9:30 AM to 4:30 PM (MST)
Add to my calendar