Sales Have Ended
Ticket sales have ended
Thank you for your purchase. We look forward to seeing you!
Sales Have Ended
Ticket sales have ended
Thank you for your purchase. We look forward to seeing you!
Its time to move your word! We will take our workshop on the art of connection to the next level.
About this event
This full day seminar will equip you with practical tools for going beyond communication to making impact connections.
The event is for women and girls of all age groups
Girl Synergy. You are worth it...
Register before noon on April 30, 2019 to access the $10 early bird discount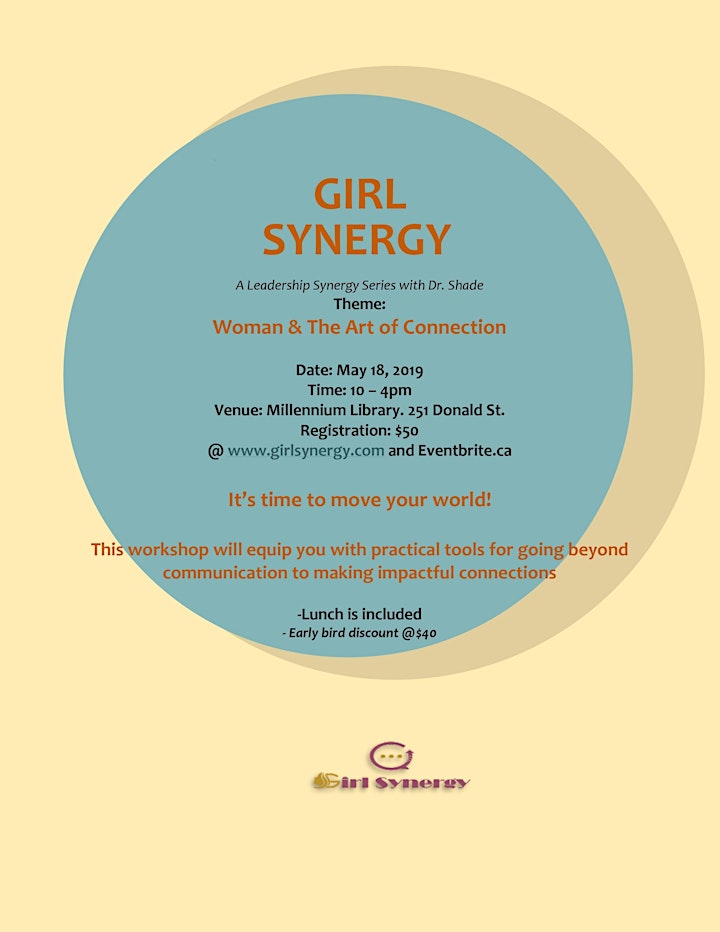 Organizer of Woman & the Art of Connection
Why Girl Synergy?
Synergy is "the interaction or cooperation of two or more organizations, substances, or other agents to produce a combined effect greater than the sum of their separate effects". And girl, as used here, represents all women.
This movement was initiated by a deep-seated passion to see women working together and supporting one another; because we are better together. There is a pressing need to harness our strengths rather than concentrate on the things that separate us from one another, thereby short-changing the world and our lives. We can do so much more when we synergize!
We desire to educate, empower and energize women of all age groups, and from all walks of life through workshops, seminars, one-on-one, and group coaching, motivational and keynote speaking. We organize free and paid events all year round, where we deliver rich content and uplifting messages on transformational topics, including, but not limited to self-esteem, communication in the workplace, team building, mother-daughter synergy and the art of connection.
When we are contacted by an organization, group or individual, we complete a needs assessment and customize our training and approach to best suit their requirements. We have found this to achieve maximum impact. We will be happy to partner with you to carry this movement to the world! Call us today.
+1 (204-227-2237). shade@girlsynergy.com