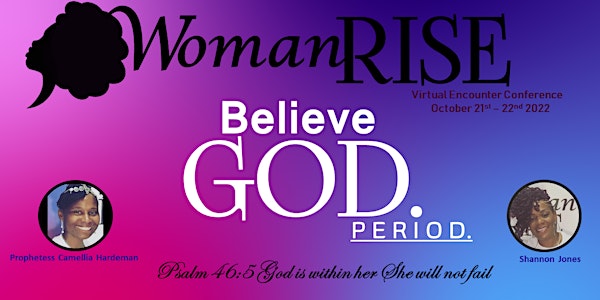 Woman Rise Conference 2022: Believe GOD.
CAAM & SMILES Ministries are excited to announce-Third Annual Woman Rise Conference to raise awareness of Identity in Christ - "True Self"
Refund Policy
Contact the organizer to request a refund.
Eventbrite's fee is nonrefundable.
About this event
The Woman Rise Conference was birthed in honor of all women. CAAM & SMILES received many concerns and prayer requests from women on how to handle life stressors. Seeking God, we prayed for His guidance and directions on how our ministries can become available to help moms, sisters, and daughters. God revealed, this Conference is much needed to overcome life stressors, be delivered, healed, and set free. The aftermath of the extended pandemic caused tremendous pressures, attacking women physically, mentally, emotionally, and spiritually. God's daughters in ICU, in immediate need of Intensive Care. A woman to Know Who She Is and to Know to Whom She Belongs are essential in reversing any negative affects of life's trials and tribulations. Women cultivating their authentic identity to know the "True Self" is the central component of living an Abundant Life.
The Woman Rise Conference allows Women To Rise together to move through life challenges, and to face personal issues with other women/her sisters. The Woman Rise platform will allow our sisters to feel safe and be transparent as they embark on their healing journey. God defines you, and He allows you to give yourself permission to change your story. This is the place women will know their identity in Christ and recognize they are already equipped with skills and competencies to thrive in this moment.
CAAM & SMILES are enthusiastic about supporting women for their healing and deliverance. Many Women conferences occur throughout the year; we provide tools for women to identify the root problem(s) to be transformed. As a result, CAAM & SMILES Ministries established the annual Woman Rise Conference.
The Woman Rise Conference will take place on Friday, October 21 - Saturday, October 22, 2022 via Zoom. Proceeds from this conference will be used to support women throughout the year.