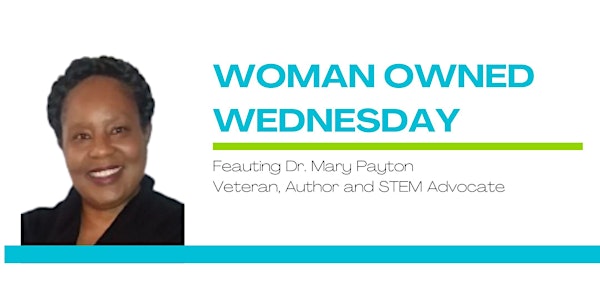 Woman Owned Wednesday: Her Journey to Success
Women Owned Wednesday: Her Journey to Success, a monthly webinar series presented by the DFW WBC.
About this event
This monthly webinar hosted by the Dallas/ Fort Worth Women's Business Center, features either a woman who's successfully grown her own business or a representative from a Dallas/Fort Worth organization that provides resources to help female entrepreneurs succeed.
In our August edition, former WBC client, Dr. Mary Payton, a science and STEM (Science, Technology Engineering and Math) educational professional will be sharing how her 29 years of military career led her to start her business as an author and STEM radio show host.
*This training is best suited for business owners and aspiring entrepreneurs. Please register in order to receive a link to join the session via Zoom.
The LiftFund Dallas/Fort Worth Women's Business Center is funded in part through a Cooperative Agreement with the U.S. Small Business Administration. This institution is an equal opportunity provider and employer. Reasonable accommodations for persons with disabilities will be made if requested at least two days in advance by contacting wbcdfw@liftfund.com.