WOMAN on WIRE / The Work/Life Balancing Act

Thursday, February 2, 2012 at 7:00 PM (EST)
Event Details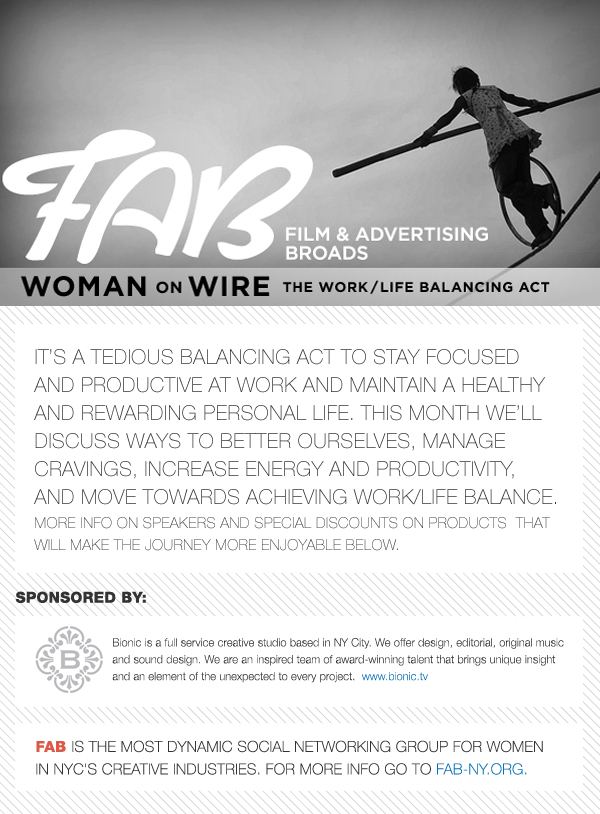 SPEAKERS
We've met three amazing speakers with different experiences and areas of expertise to guide the discussion, each also available for ongoing personal coaching for anyone who is interested…
Katrine van Wyck
Katrine van Wyk is a Holistic Health and Nutrition Coach. She personally knows what it's like to live with food sensitivities and helps her clients find easy tools and foods so that they can fully enjoy their busy lives. Katrine, in rejecting one single dietary solution, uses practical coaching methods to discover what works best for her client's health and lifestyle. 
katrinevanwyk.com
Nicole DiDio Johnson
Nicole DiDio Johnson, MFA, HHC, AADP, is a Holistic Nutrition & Quantum Wellness Coach who guides creative women into their personal power, optimizing health through food and lifestyle transformation. She specializes in reproductive health – including fertility, fibroids, PCOS, PMS and hormones – as well as emotional eating, weight loss, stress, anxiety, digestive disorder and food intolerances. 
enlightenedtable.com
Simone Sneed
Catching Brilliance (CB) LLC. provides holistic development strategies for organizations and individuals. CB Founder, Simone N. Sneed artfully combines her passion for strategy, belief in purpose and technical expertise to facilitate opportunities for growth. By providing objective insight, technical skill, and strategic savvy Catching Brilliance moves people and organizations from vision to reality.
catchingbrilliance.com
SAVINGS!!!
GET 20% off PLUS free shipping on Clean Plates dining guides
They took a fine toothed fork through Adam Platt's 101 Best NYC Restaurants list for 2011 in New York magazine, and ID'd those fortunate enough to have a Clean Plates Seal of Approval to boot. www.cleanplates.com
Offer valid today through 6/30/2012. Use code FABGAL at checkout.
GET 33% off Portionware's red/orange dish set
Dietary guidelines recommend a baked potato be the size of the average computer mouse. When you're nowhere near a computer, let Portionware help out with determining suggested portion sizes. www.portionware.net
Act fast! Offer valid Feb 1-3 2012 only. Use code FABGAL at checkout.
---
We hope you can join us for this free event. See you Tuesday!
Jen, Tamara and Christina
When & Where

Bionic
1375 Broadway, 7th floor
New York, NY


Thursday, February 2, 2012 at 7:00 PM (EST)
Add to my calendar
Organizer
We're a community of high-achieving women in creative industries actively sharing stories, ideas and connections. Learn more about what we do at TheBroadExchange.com.