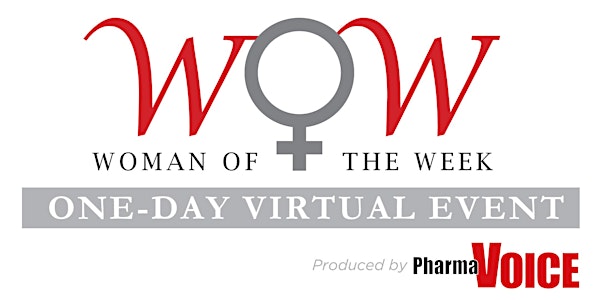 Woman of the Week Virtual Event - produced by PharmaVOICE
Refund policy
Contact the organizer to request a refund.
Eventbrite's fee is nonrefundable.
PharmaVOICE brings together some of the industry's most influential women featured in our popular WoW (Woman of the Week) Podcast Series
About this event
Join us on March 3, 2021 as leaders from across the industry wow us with their passion, powerful lessons of leadership, and grit and determination. This exciting event complements the second annual WoW Anthology ebook featuring 53 executive women's stories on business and leadership from 2020.
Your admission to this event includes access to all four panels.
C-Suite Executives (9-10am ET)
Creating a roadmap to success
Managing through doubts and uncertainty
Leading teams in the new reality
Entrepreneurs (11-12pm ET)
Identifying the a-ha moment
Raising capital
Maintaining momentum
R&D Executives (1-3pm ET)
Leaning into the science
Maintaining equilibrium during the highs and the lows
Shining a light on patients
Commercialization Executives (3-4pm ET)
Reaching stakeholders — patients, caregivers, physicians
Mastering technology and data
Relationship building
PANELISTS
Sharon Callahan, CEO, CDM Group; Chief Client Officer, Omnicom Health Group, CDM
Laurie Cooke, President and CEO, Healthcare Businesswomen's Association
Kate Cronin, Global CEO, Ogilvy Health
Deborah Dunsire, M.D., President and CEO, H. Lundbeck A/S
Kathy Giusti, Founder and Chief Mission Officer; Faculty Co-Chair, HBS Kraft Precision Medicine Accelerator, Harvard Business School; Multiple Myeloma Research Foundation
Jennifer Gottlieb, Global President, W2O
Peyton Howell, Executive VP and Chief Commercial & Strategy Officer, Parexel
Beenu Kapoor, VP, IT Trial Management, Products Lead, IQVIA
Linda Marbán, Ph.D., President, CEO, and Co-Founder, Capricor Inc.
Lindsay McNair, M.D., Chief Medical Officer, WCG
Kinnari Patel, Pharm.D., Chief Operating Officer & Head of Development, Executive VP, Rocket Pharmaceuticals
Melinda Richter, Global Head, JLABS, Johnson & Johnson
Sharon Shacham, Ph.D., Founder, President and Chief Scientific Officer, Karyopharm Therapeutics, Inc.
Maria Tender, Head of Strategy, Syneos Health
Wendy White, Co-Founder, RareiTi
Questions? Contact PharmaVOICE
If you have any trouble completing or submitting this form, please email feedback@pharmavoice.com.
For more information, visit the PharmaVOICE website.
For sponsorship information, please contact lbanket@pharmavoice.com