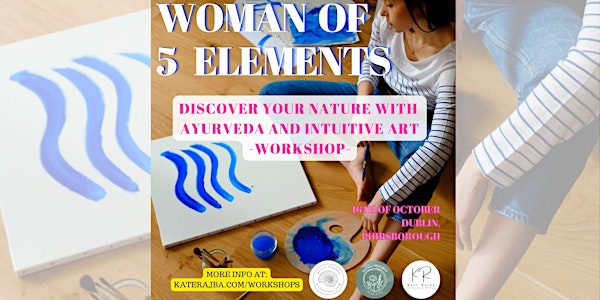 WOMAN OF 5 ELEMENTS - Discover Your Nature with Ayurveda and Intuitive Art
WE ARE DELIGHTED TO INVITE YOU TO OUR WORKSHOP: "WOMAN OF 5 ELEMENTS - Discover Your Nature with Ayurveda and Intuitive Art"!
When and where
Location
Robyn BROWning brows Royal Canal Bank D07 R52H Dublin Ireland
Refund Policy
Contact the organiser to request a refund.
About this event
https://www.katerajba.com/workshops
WE ARE DELIGHTED TO INVITE YOU TO OUR WORKSHOP: "WOMAN OF 5 ELEMENTS - Discover Your Nature with Ayurveda and Intuitive Art"!
JOIN US IN DUBLIN FOR OUR WORKSHOP FILLED WITH AYURVEDIC WISDOM AND CREATIVE PROCESS.
Experience, understand and connect yourself with your elements through:
Ayurveda taught by Justyna Michalow, Ayurvedic Therapist
Art guided by Kate Rajba, Art and Healing Studio Founder
YOUR GUIDES:
Kate Rajba
Founder of Art and Healing Studio, Wicklow.
Angel Healer and Reiki Practitioner.
HER MISSION is to create a safe space in where others can open up into their full potential and creativity. She nurtures and gives inspiration while introducing others into their life of endless possibilities.
Activist for the common good. Kate had had supported and inspired many by her work.
Art is her main channelling tool therefore it is a big part of most of the workshops.
Being based in Wicklow, power and beauty of nature had became also a main inspiration in Kate's work.
Ladies Nights Podcast co-host: "How to take care of yourself".
Kate also runs her online gift shop.
More information you can at: https://www.katerajba.com/about
Justyna Michałów:
Ayurveda health coach, educator & therapist, and EFT practitioner. Member of the International Practitioners of Holistic Medicine (IPHM) association for holistic medicine practitioners.
Her mission is to teach body – mind awareness to develop deeper self-awareness, emotional intelligence and ability to respond to symptoms before they turn into a disease.
She takes a holistic approach to help individuals adjust their diet and lifestyle to achieve balance, build resilience, reconnect with their inner wisdom and live more balanced and fulfilled life.
Justyna is especially passionate about facilitating emotional support & breathwork for those suffering from chronic stress, anxiety, depression, grief and emotional overwhelm offering EFT sessions, holistic coaching and Vedic counseling.
Ayurveda, Yoga and Emotional Freedom Techniques has played a major role in her personal healing and now she offers her support, compassion, empathy, life experience and knowledge of holistic healing to those who are ready to transform, heal and live the way they desire.
Connect with Justyna via Instagram @justyna_holistichealing
ABOUT THE WORKSHOP:
Getting to know yourself is the first step on the way to a happy and fulfilled life.
Ayurveda, as science of life, guides you towards better understanding of yourself and the world around you. Ayurveda is based on the concept of 5 elements: ether, air, fire, water and earth which form the whole Universe and the structure of our body – mind. Learning about yourself happens through a deepened connection with nature.
Now imagine that you can use the Ayurvedic concept of the 5 elements to balance your inner nature with the outer nature to create harmony, increase self-knowledge, self – awareness and improve your health.
In addition, through intuitive painting and meditation, you will connect with the elements even stronger, you will feel their support, clear your mind and tune into yourself rediscovering your inner power in unity with nature.
THIS WORKSHOP IS FOR YOU IF YOU WISH TO:
Explore the presence of the 5 elements in your body & mind,
Learn and discover the power of the elements and how to use them to improve health & wellbeing,
Dive into yourself and awake your true power!
Live in a harmony with yourself and nature,
Learn about simple autumn practices to be tuned with yourself and nature,
Live and act tuned with your true self,
Connect with your elements through mediation and ART, THEREFORE HAVE MORE CLARITY,
Relax in safe and creative environment with other inspiring women!
SCHEDULE:
I PART 11:00 – 13:00 with Kate and Art
MEDITATION with the elements
INTUITIVE ART IN THE CONNECTION WITH THE ELEMENTS.
The Painting you will create will be a reflexion of your inner Elements.
Using Art you will receive an individual view of your inner self. How your elements proportion is? Which one feels stronger. Which one needs balancing.
It is also PHYSICAL reflexion of yourself (on canvas)!
INTUITIVE ART TECHNIQUE is a wonderful self discovering journey. It opens your consciousness and ENORMOUSLY ENHANCES YOUR CREATIVITY!
IT OPENS YOU FOR MORE!
LUNCH BREAK 13:00-14:00
II PART 14:00-16:00 with Justyna and Ayurveda
You will learn how the elements manifest in your body and mind
You will learn about simple practices to balance the presence of elements in your body and mind during the autumn
You will experience guided Ayurvedic self-diagnosis to discover dominant element in your body
WHERE AND WHEN?
Cross Guns Business Park, Unit 2/3, Royal Canal Bank, Phibsborough, Co. Dublin, D07 R52H
16th of OCTOBER 2022
11am- 4pm
***
ALL MATERIALS INCLUDED IN PRICE.
***
LIMITED SPACES DUE TO INTIMATE SPACE-
BOOK STRAIGHT AWAY IF YOU ARE INTERESTED!
ANY QUESTION- DO NOT HESITATE TO ASK! katerajba@gmail.com OR justyna.michalow@gmail.com