Description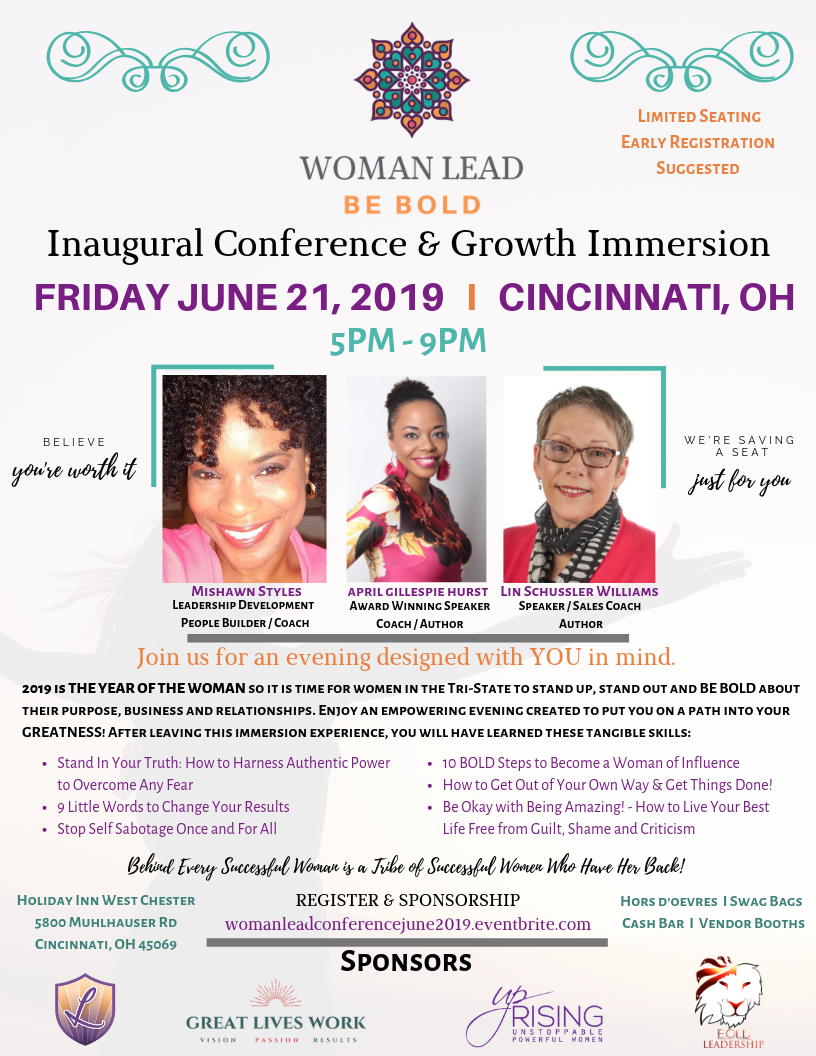 Join us for an exciting women's personal growth immersion experience to take your business and personal life to new heights! We come from different geographic places and life experiences. WE are different in age and ethnicity but we have a call to action for you: WOMAN BE BOLD!
AGENDA:
5pm-6pm Registration-Networking / Hors d'oeuvres / Cash Bar / Visit Vendor Tables
6pm-9pm Conference & Immersion Experience
SPEAKER BIOS:
April Gillespie Hurst, also known as THE BOLD LEADER, spent 10 years in the advertising and marketing industry working with Fortune 500 companies, but later found her passion in entrepreneurship and public speaking and became a two-time Toastmasters International Public Speaking Champion. April is a highly sought after inspirational thought leader and has addressed audiences of up to 8,000 people. Her core strength lies in helping women and entrepreneurs BE OKAY WITH BEING AMAZING. April is also a professional coach and author of the audiobook, My Purpose is My Power.
Lin Schussler Williams joins us from Louisville, KY and is a speaker, sales coach, and author of 9 Little Words to Change Your Results. She teaches a thinking technology that changes lives and renews possibilities. Lin helps entrepreneurs develop strategies to scale their business, gain more clients and is an expert at helping break down mental barriers that prevent success.

Mishawn Styles is an intentional people builder, educator, human resources professional and leadership developer. She has over ten years of corporate and non-profit experience helping others achieve their highest potential professionally and personally.