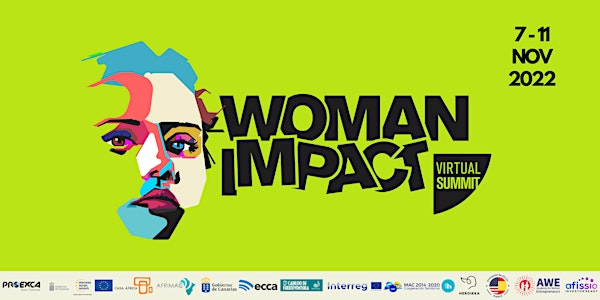 WOMAN IMPACT SUMMIT 2022
The Woman Impact Summit is the fastest growing conference for women-led business from underrepresented communities around the world
About this event
The event will take place over 5 days and includes B2B meetings, training sessions, panels, talks, speakers, networking opportunities and much more.
During the conference, we put the spotlight on women entrepreneurs from all over the world and share different ways to approach economic opportunities generated from governmental institutions, private sectors, and regional leaders who are working on special initiatives for business-women.
In this event you will get access to:
1. All the sessions, panels, fireside chats and workshops through Zoom.
2. The chance to join the Open Call at Heroikka to be selected to present your business or project in the Summit in front of an international community of women-led business and entrepreneurs. More information here.
3. The opportunity to meet other entrepreneurs from all over the world and explore business opportunities and collaborations to escalate your business.
You can find more information, schedule, speakers and much more on our website!
The event is brought to you by our organizers and sponsors: PROEXCA, Casa África, Cabildo de Fuerteventura, Heroikka, Embajada de EEUU en España and Afissio.
__________________________________________________
Este evento global tendrá lugar durante 5 días e incluirá sesiones de formación, paneles, charlas, ponentes, oportunidades de networking y mucho más.
Durante la conferencia, ponemos el foco en emprendedoras de todo el mundo y compartimos diferentes formas de abordar las oportunidades económicas generadas por parte de las instituciones gubernamentales, los sectores privados y los líderes regionales que trabajan en iniciativas enfocadas en las mujeres.
En este evento podrás tener acceso a:
1. Todas las sesiones, mesas redondas, charlas y talleres a través de Zoom.
2. La posibilidad de presentar tu proyecto, negocio o idea durante el Summit frente a la comunidad internacional de emprendedoras y colaboradores, gracias a la convocatoria organizada por Heroikka. Más información aquí.
3. Conocer a otras emprendedoras de todo el mundo para tener nuevas oportunidades de negocio y de colaboración para escalar tu negocio internacionalmente.
¡Puedes encontrar más información sobre el programa, los ponentes y mucho más en nuestra página web!
El evento es posible gracias a nuestros organizadores y sponsors: PROEXCA, Casa África, Cabildo de Fuerteventura, Heroikka, Embajada de EEUU en España y Afissio.