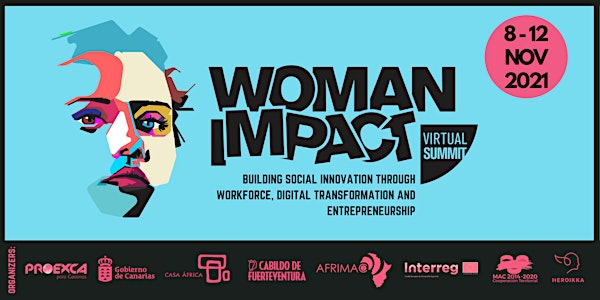 WOMAN IMPACT SUMMIT 2021
Building Social Innovation Through Workforce, Digital Transformation and Entrepreneurship
About this event
This virtual event will take place over 5 days with B2Bs, training sessions, panels, fireside chat, keynote speakers, networking opportunities, and more!
In this event you will get access to:
1. All the sessions, panels, fireside chats and workshops through Zoom.
2. The chance to join the Open Call at Heroikka to be selected to present your business or project in the Summit in front of an international community of women-led business and entrepreneurs.
3. The opportunity to schedule meetings with businesses and entrepreneurs from all over the world. Explore business opportunities and collaborations to escalate your business through our B2B sessions. This tool is free and will be available for three weeks. Register HERE.
WHO SHOULD ATTEND?
Professionals, executives, entrepreneurs, companies, institutions and other key stakeholders from all over the world who are looking for initiatives and new approaches bridging the gender gap in leading businesses and entrepreneurship.
WHY SHOULD YOU ATTEND?
CONNECT
We firmly believe real power is created through interpersonal connections that boost businesses and ideas.
The B2B platform will allow you to schedule one-on-one meetings, as well as other networking options, with participants, speakers and organizers.
LEARN
Leadership skills, entrepreneurial mindset, go-to-market strategies, how to become a vendor of international agencies and multinational companies among other topics from experts in their fields.
DISCOVER
We will showcase various global initiatives and opportunities from governments, organizations, and companies.
Discover, join, and collaborate with ecosystems supporting women-led businesses and entrepreneurship.
PITCH YOUR PROJECT
Our co-organizer Heroikka offers a platform where you can register your businesses, projects and needs so they can be made visible to global networks that can help you grow.
Take this opportunity to register your business, project, idea or initiative at Heroikka.com before the event to:
Be selected to present your business or project in the Summit in front of an international community of women-led business and entrepreneurs.
Share what you are working on with other attendees and speakers for the B2B sessions adding your Heroikka Link.
Connect with government and company initiatives that might be interested in your project or business.
Find partners, clients, investors, mentors, etc.
It is extremely easy! First, create a profile and "start a project". Then, join the open call by adding one of the following tags depending on your continent/region under the section "What are you looking for?":
WISAFRICA21 for Africa
WISEUROPE21 for Europe
WISNAWORLD21 for North America and the World
WISLATAM21 for Latin America
WISASIA21 for Asia
If you have questions or need more info, contact us at: info@heroikka.com
__________________________________________________
Este evento global tendrá lugar durante 5 días e incluirá reuniones B2Bs, sesiones de formación, paneles, charlas, ponentes, oportunidades de networking y mucho más.
Nuestra misión es compartir las diferentes formas de abordar las oportunidades económicas generadas por parte de las instituciones gubernamentales, los sectores privados y los líderes regionales que trabajan en iniciativas enfocadas en las mujeres. También queremos asegurarnos de dar visibilidad y acceso a las mujeres de todo el mundo sin discriminación de origen o identidad, posibilitando este evento virtual completamente gratuito sin coste de participación.
En este evento podrás tener acceso a:
1. Todas las sesiones, mesas redondas, charlas y talleres a través de Zoom.
2. La posibilidad de presentar tu proyecto, negocio o idea durante el Summit frente a la comunidad internacional de emprendedoras y colaboradores, gracias a la convocatoria organizada por Heroikka.
3. Unirte a la plataforma B2B para mantener reuniones con empresarias y emprendedoras de todo el mundo. Explora las oportunidades de negocio y de colaboración para escalar tu negocio internacionalmente a través de sesiones B2B. Esta herramienta es gratuita y estará disponible durante tres semanas. Regístrate AQUÍ.
Profesionales, ejecutivxs, empresarixs, compañías, instituciones y otrxs interesadxs clave de todo el mundo que buscan iniciativas y nuevos enfoques para eliminar la brecha de género al abordar los mercados internacionales, la dirección de empresas y el emprendimiento
¿POR QUÉ DEBERÍAS ASISTIR?
CONECTAR
Creemos firmemente que el verdadero poder se genera al crear conexiones personales que pueden impulsar negocios e ideas.
La plataforma B2B te permitirá programar reuniones individuales, al igual que otras oportunidades de networking con participantes, ponentes, instituciones y organizadores.
APRENDER
Aprende sobre habilidades de liderazgo, mentalidad empresarial, estrategias de salida al mercado, cómo acceder a contratos de organismos multilaterales y empresas multinacionales, entre otros temas expuestos por expertxs en sus respectivos campos.
DESCUBRIR
Mostraremos varias iniciativas y oportunidades globales de los gobiernos, organizaciones y empresas.
PRESENTA TU PROYECTO
Descubre los increíbles proyectos y negocios impulsados por mujeres que están creando impacto e innovación en todo el mundo. Aprovecha esta oportunidad para registrar tu empresa, proyecto, idea o iniciativa en Heroikka.com antes del evento para:
Ser seleccionada a presentar tu empresa o proyecto en la conferencia frente a una comunidad internacional de empresarias y emprendedoras.
Compartir en qué estás trabajando con otros asistentes y ponentes para las sesiones B2B, agregando tu enlace a Heroikka.
Conectar con iniciativas gubernamentales y de empresas que podrían estar interesadas en tu proyecto o negocio.
Encontrar socios, clientes, inversores, mentores , etc.
¡Es extremadamente fácil! Primero, crea un perfil e "inicia un proyecto". Luego, únete a la convocatoria adecuada añadiendo una de las siguientes etiquetas según su continente / región en la sección "¿Qué estás buscando?":
WISAFRICA21 para África
WISEUROPE21 para Europa
WISNAWORLD21 para Norteamérica y el mundo
WISLATAM21 para América Latina
WISASIA21 para Asia
Si tiene preguntas o necesita más información contáctanos en: info@heroikka.com