Description
Ready to learn about cars, engines, welding, and more? We have been able to work with Crossroads Collision & Auto Repair for a ladies day of automotive learning fun and lady driven car/motorcycle show! YOU MUST REGISTER TO ATTEND THIS EVENT! Tickets are non refundable, but can be transferred to another guest ONLY when tickets are still on sale. After ticket sales end, you will not be able to transfer.
If you would like to participate in the lady driven car show there is no additional fee but we will need more information about your vehicle. Please go HERE to fill out the car show form. Once you have done so our Car Show Manager will be in touch with you about day of the event specifics.
If you would like to participate as a vendor, please select a Vendor Ticket on our Eventbrite page and go HERE to fill out the vendor form and we will be in touch with you.
Who it's for:
This is a ladies automotive educational and networking event for those who want to explore more about their automobiles and other skill sets that are a part of the automotive industry.
Sorry no guys it's a day for the ladies!
We cater to ladies who:
Are women, or female-identified people interested in learning about cars and meeting the women who service them! It does not matter what realm of the industry you come from: if you are employed as a technician, auto body professional, automotive journalist, photographer, parts counterperson, service advisor; if you are a driver/drifter/racer; if you are an automotive student, automotive hobbyist, or just a wrench-curious lady who is interested in learning more about cars from other women, this is for you!

Have only tinkered in the garage every once and a while but want to know more.

Have never worked on their vehicle. We highly encourage new ladies to attend these events (so bring those "wrench curious" friends with you that always say "I wanna try"). This is a great learning event and we will have workshops, basics, etc. They will fill up quick so stay tuned for sign ups!

Have a lot of experience working on cars. We have some pro ladies coming out so that you can really pick their brains on various topics that interest you and a Meet & Greet to network with these lady pros.
The Basics
Rain or shine, the event will still run. The location has plenty of room for everyone and there is a $20 fee to register for this event unless you choose our limited VIP ticket. All proceeds from this go back into continuing to bring more events to other states. The day is about bringing together women who are interested in learning, being encouraged to tackle things they may find intimidating, and developing community.
PLEASE NOTE THAT UNLIKE OUR PREVIOUS EVENTS, CLASS SIGN-UPS FOR CERTAIN CLASSES TAKE PLACE THE DAY OF TH EVENT ON A FIRST COME, FIRST SERVE BASIS.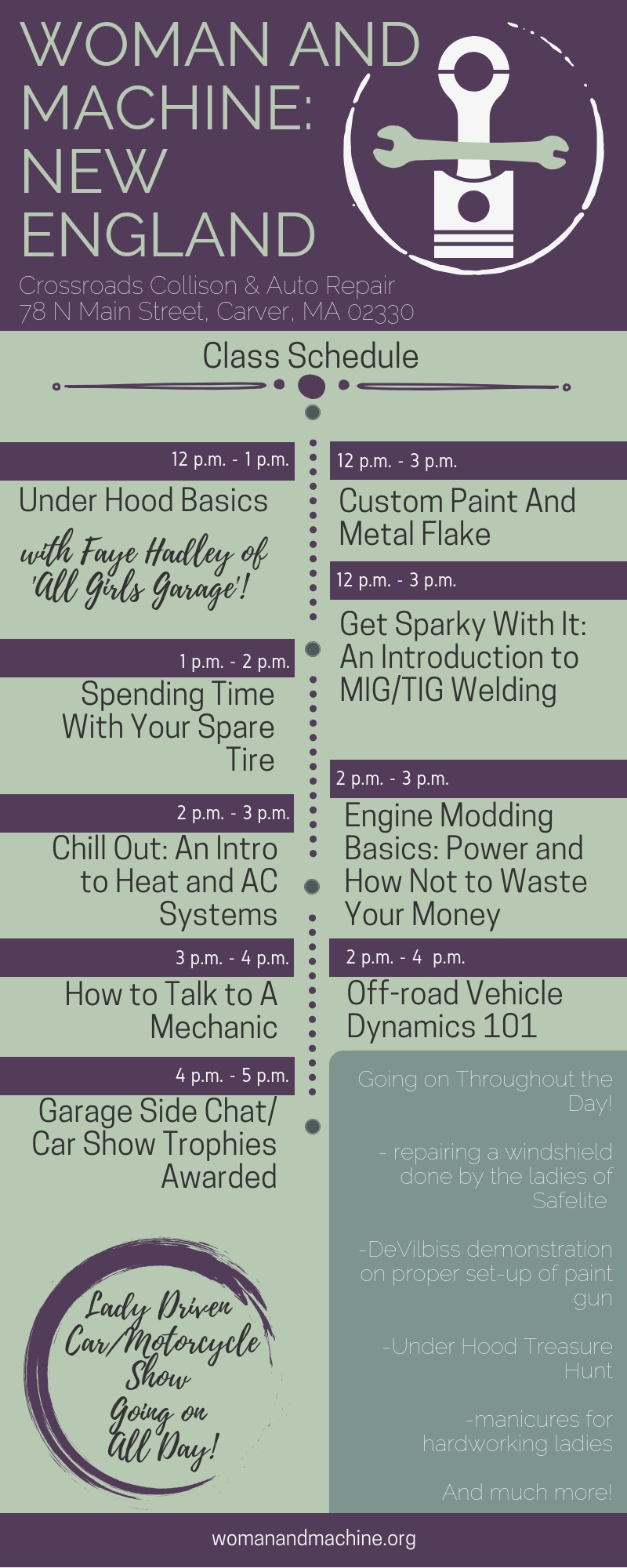 Under Hood Basics: Under-Hood Basics is a comprehensive guide to fluids, filters, and the most common engine-related maintenance items for the complete beginner
Spending Time with Your Spare Tire: Want to learn how to change a spare tire on a vehicle? Look no further!
Chill Out: An Intro to Heat and AC Systems: This class will entail an introduction to: ● Heating systems: heater operation, heater system components, heater system trouble shooting ● Types of coolant: types of coolants and their applications ● Refrigerants: environmental impacts ● A/C system introduction: The A/C cycle, function of each of the components in the A/C system, recharging, leak testing.
How To Talk To A Mechanic: Eventually even the most reliable vehicles need routine maintenance and repairs. The objective of this class is to eliminate the intimidation for the average female driver when conversing with automotive mechanics. This class will include real-life examples and tips to help women communicate effectively in describing the symptoms that their vehicles exhibit when repairs are needed.
Custom Paint And Metal Flake: In this class proper paint gun control, distance ,speed and how to do a quick easy fade job using kandy paints will be taught. Panels will be pre-metal flaked, students will do a quick scuff of the panel and apply the women and machine logo vinyl. The panel will then be painted over. Once the students have achieved their overall look the vinyl will be taken off and clear coat will be sprayed over the piece. Students will each get to take home their own painted panel. Teaching proper protection in handling and using these chemicals is top priority. Class size is restricted to 12 students. *Be aware you will be in this class for 3 hours. Come to the Paint Booth to sign-up at the start of the event.
Get Sparky With It: An Introduction to MIG/TIG Welding: Get sparky with it and learn how to weld! Learn the basics of the weld machines, about the gear needed to weld, and how to run a weld bead. From there you'll have the opportunity to spell your name on a piece of steel to take home!! *Total number of ladies able to accomodate are 28 over the course of 3 hours with groups of 4 ladies every half hour. Come to the Welding Classroom at the start of the event to sign-up. Participants must be wearing long pants and closed toed shoes, if you are not wearing appropriate attire you will not be allowed to weld.
Engine Modding Basics: Power and How Not to Waste Your Money: Core concepts: how engines make power, difference between torque and HP, how different mods help/hinder, tuning basics, how to improve engine performance, naturally aspirated vs turbo vs supercharging.
Offroad Vehicle Dynamics 101: This class provides an overview of 4WD systems, suspensions and modifications for off-road capable vehicles, with a focus on creating a build that is right for your lifestyle, whether your vehicle is a daily-driver that occasionally goes off-road, a self-sufficient long-distance "overlander" or a hard-core rock crawler. This is a classroom session (no driving instruction) and is designed for those new to off-roading or those who would like to understand more about how their vehicle systems are optimized for trail capability.
Please wear appropriate attire for this event, flip flops and sandals are NOT appropriate footwear. Depending on the classes/workshops you will be attending, long pants and long sleeve shirts may also be necessary. Please review what is recommended within the class/workshop descriptions.
FAQs:
Please note, these are just a few FAQs. To know all FAQ for all Woman And Machine events click HERE
Are there ID or minimum age requirements to enter the event? All our events are family friendly, young ladies are welcome if they are interested in learning more about vehicles. All those younger than 18 years of age MUST be accompanied by a parent/guardian. IDs will be checked before you enter the site so make sure it matches the name you register with.
Can I bring my pet into the event? No animals can be in the event unless they are service dogs. This is not a pet friendly environment.
What amenities will be on site?
Food and drink for purchase

A bathroom