Description
Why Woman 360? The concept is simple yet unique! 360 degrees is the measurement of a complete circle. How often are we able to look at our lives and deem where we are as being "complete?" Is it possible to walk in victory in every area of our lives? If we are supposed to have "life and life more abundantly," does it apply to just one area and not the others?

Being whole in EVERY area of life is the pillar of Pearls of Esther, Inc. and we want to bring the resources to do so to you! This will not be just another conference where you leave JUST feeling inspired-you will leave feeling inspired, enlightend, and most importantly EQUIPPED with the tools necessary to take your living to the next level!
Friday night session will include networking opportunities, a panel discussion, and The "State of the Woman" Address by Keynote Speaker Pastor Phineka Friend of All Nations Worship Assembly-Atlanta! You don't want to miss it!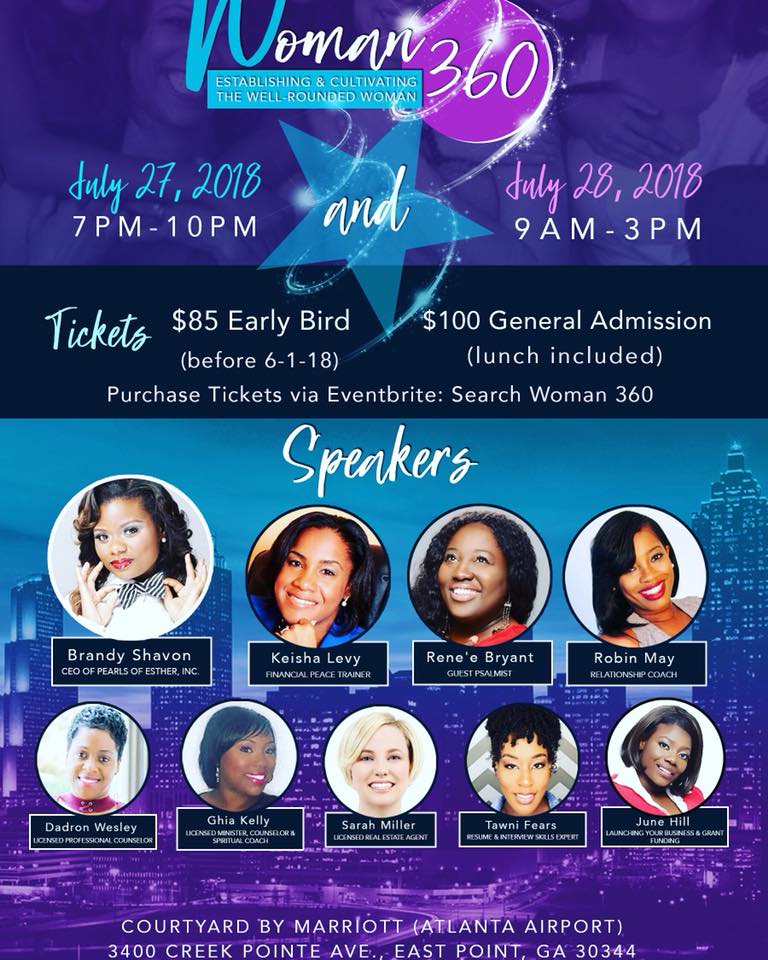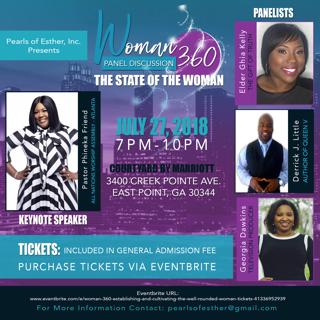 SPEAKER BIOS: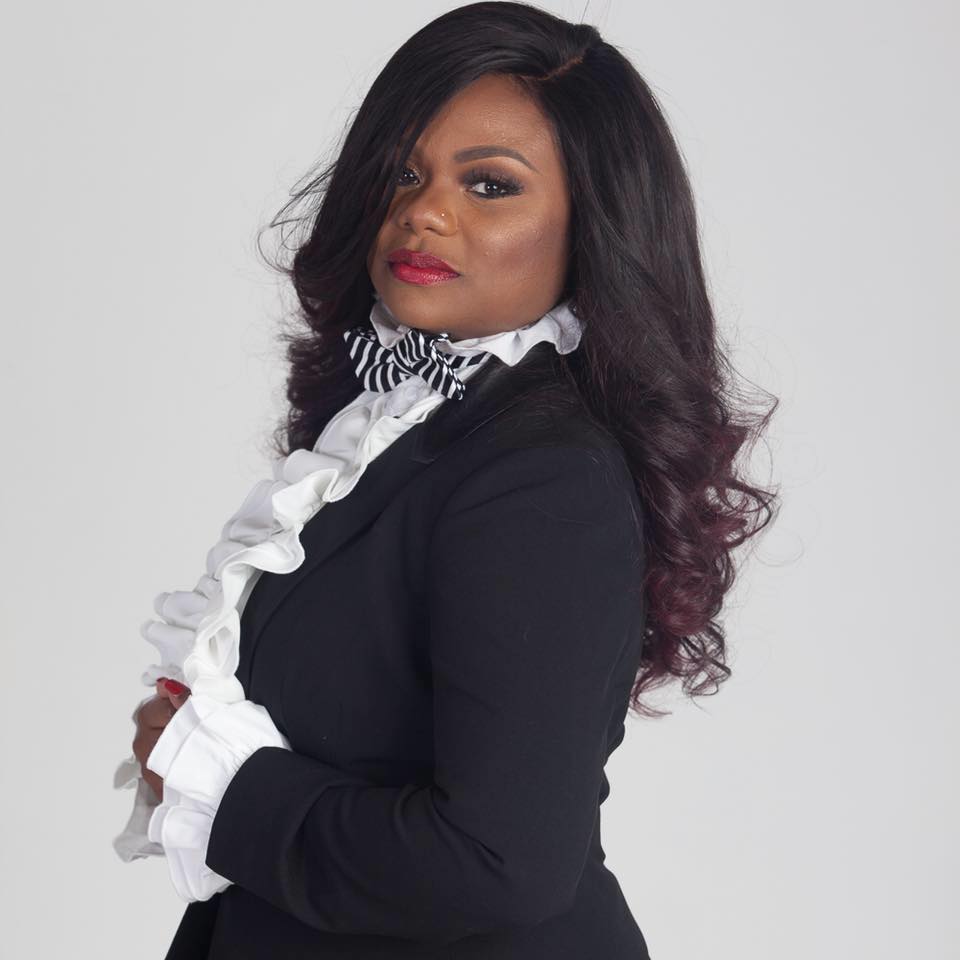 BRANDY SHAVON on APPLYING YOUR FAITH TO YOUR BUSINESS: With a passion to see women excel in every area of life, Brandy Shavon founded Pearls of Esther, Inc. in 2010 by mentoring teenage girls into becoming courageous and successful women. As a Licensed Clinical Social Worker in both Georgia and New York State, she has worked in a variety of mental health settings and has had the opportunity to pour into the lives' of women from all walks of life. Her passion soon grew to expand her ability to equip and empower women to overcome the hurdles of life and to be WHOLE spiritually, emotionally, financially, mentally, and relationally and she expanded Pearls of Esther to meet the need. She has a passion to take the message of "how the oyster creates the pearl" to the world to show that we too can overcome the "irritations" of life and turn them into something beautiful. Brandy has seen countless victories in her professional life as well as she applies her faith to produce the results and income that she desires. If you are struggling with how to apply your Christian faith to produce the business and income that you desire, you don't want to miss Woman 360!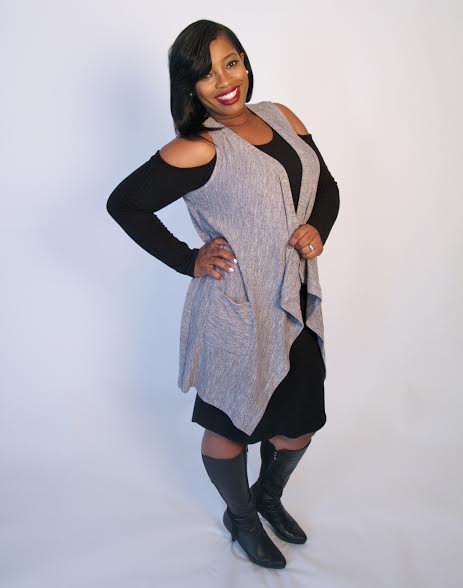 ROBIN MAY on HEALTHY RELATIONSHIPS: Focused on empowering people to embrace the fullness of God's plan for their life, Robin May is called to serve those who've decided the status quo is no longer enough in their life or relationships. Her mantra is: It is time for you to LIVE LIFE INTENTIONALLY AND FULLY ENGAGED!
As a much-sought after speaker, Robin is able to energize her audience in a transparent, lively and engaging way. She is the author of several books including, "The 30 – Day Intentional Intimacy Project * For Married Women!" which takes women on a 30-Day journey to maintain or re-ignite the spark in their romance! Most recently Robin has authored a devotional, "Live Intentionally. Fully Engaged" which is a 52 week plan to help you live your life with purpose! Robin currently serves as a mental health therapist and Life Coach. She challenges her clients to learn how to live their lives to the fullest by first challenging them to look in the mirror and get honest with themselves!
TAWNI FEARS on RESUME WRITING/INTERVIEW SKILLS: Tawni Fears is the owner of a boutique communications firm known as The Tawni Logues, LLC. Tawni has handled writing and editing for clients such as The Ludacris Foundation, Asics, Smucker's, major hair product companies, WNBA players, the Atlanta Falcons, Ambassador Andrew Young, startup companies, and young professionals. Tawni Fears was recognized by the Atlanta Tribune as a rising businesswoman to watch, and by Who's Who in Black Atlanta recently in 2017. Tawni has made an appearance on Atlanta's 1380 WAOK, sharing her story and discussing black businesses. Additionally, Tawni has delivered the keynote address on several occasions. Tawni Fears has been an invited guest to events hosted by schools, nonprofits, and those dealing with business and networking. One of Tawni's most valued roles is being a mentor, and volunteering through various organizations. She is also an appointed officer, and active in the young adult ministry at her church.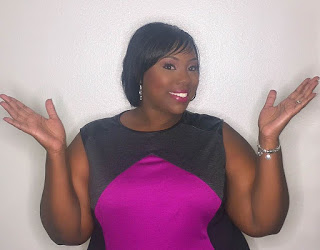 GHIA KELLY on KNOWING YOUR PURPOSE/IDENTITY: A minister, counselor, advocate, and spiritual coach, Elder Ghia Kelly is the true definition of a renaissance woman. A native of Miami, Florida, she has a passion for empowering individuals and helping them maximize their potential both naturally and spiritually. Elder Ghia is the Founder & CEO of The Gift of Truth Inc., a non-profit organization and ministry whose vision is to transform lives through transparency and the truth of God's word. She is also the visionary of the Truth Encounter, a women's empowerment event focused on creating safe spaces for women to fellowship and heal, and Daughters of Destiny Spiritual Mentorship Academy, an intensive 7-week program for women to move from spiritual stagnation to spiritual fulfillment. Elder Ghia holds a Bachelor of Science Degree in Public Management from Florida A&M University and a Master of Clinical Social Work Degree from Florida State University. She has worked with women and children for the past ten years and has expertise in the areas of intimate partner violence, sexual abuse, maternal and infant health, child welfare, mental health, and substance abuse. Elder Ghia aspires to become a published author and pursue her doctoral degree in the very near future.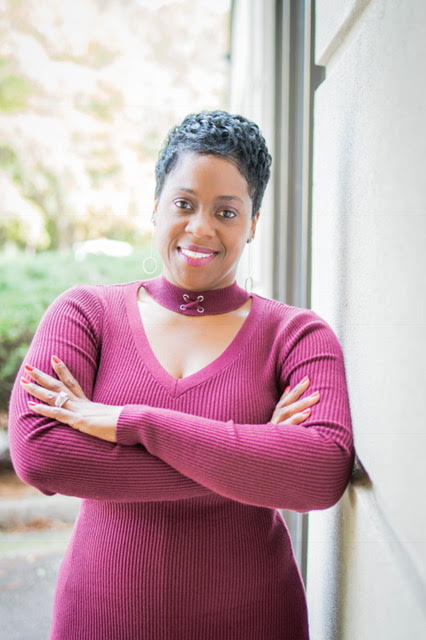 DADRON WESLEY on MENTAL AND EMOTIONAL WELLNESS: Ms. Dadron Deon Bandy Wesley the Director of Rhema Praise & Worship Centre, Inc. and CEO of Restoring the Whole U, LLC and Inspire 2 Empower Me. She was licensed and ordained as a minister in 2004 and is a practicting Licensed Professional Counselor (LPC). She earned a Bachelor's degree in Psychology and Master's degree in Counseling. She holds such certifications as (MAC) Master's Addiction Counselor, Certified Biblical Counselor and Certified Anger Management Specialist II. She has been practicing counseling since 1993 with and emphasis on Behavioral Health. Ms. Wesley says, "I have a passion to see individuals walking in complete freedom - and living life on purpose. I am here to assist with birthing you to the next level."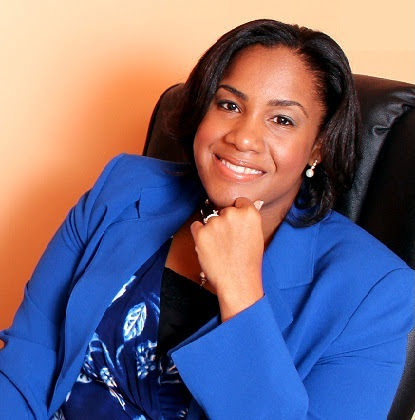 Keisha Levy-FINANCIAL PEACE TRAINER: Keisha Levy ​PMP, CMC, CPC,​ is the founder of Royal Harvest Associates, a speaking, coaching and training company for inspired leaders. She is known for her passion of helping women, whether Executives, Business Owners, or those looking to Know & Grow their "Why". Her experience has spanned working across 5 continents and fortune 500 Companies including The Coca Cola Company, Kraft Foods Inc, Ford Motor Company, to name a few. Keisha's expertise in Management Consulting, Program & Project Management, and Marketing & Product Development has allowed her to continuously add value to executives and organizations she partners with in driving innovative results. As the author of the forthcoming book ​"The Pink Expressway, 10 steps every woman takes on the journey of becoming an Executive​"​, she is committed to being a voice, advocate, and coach for greater representation of women in leadership.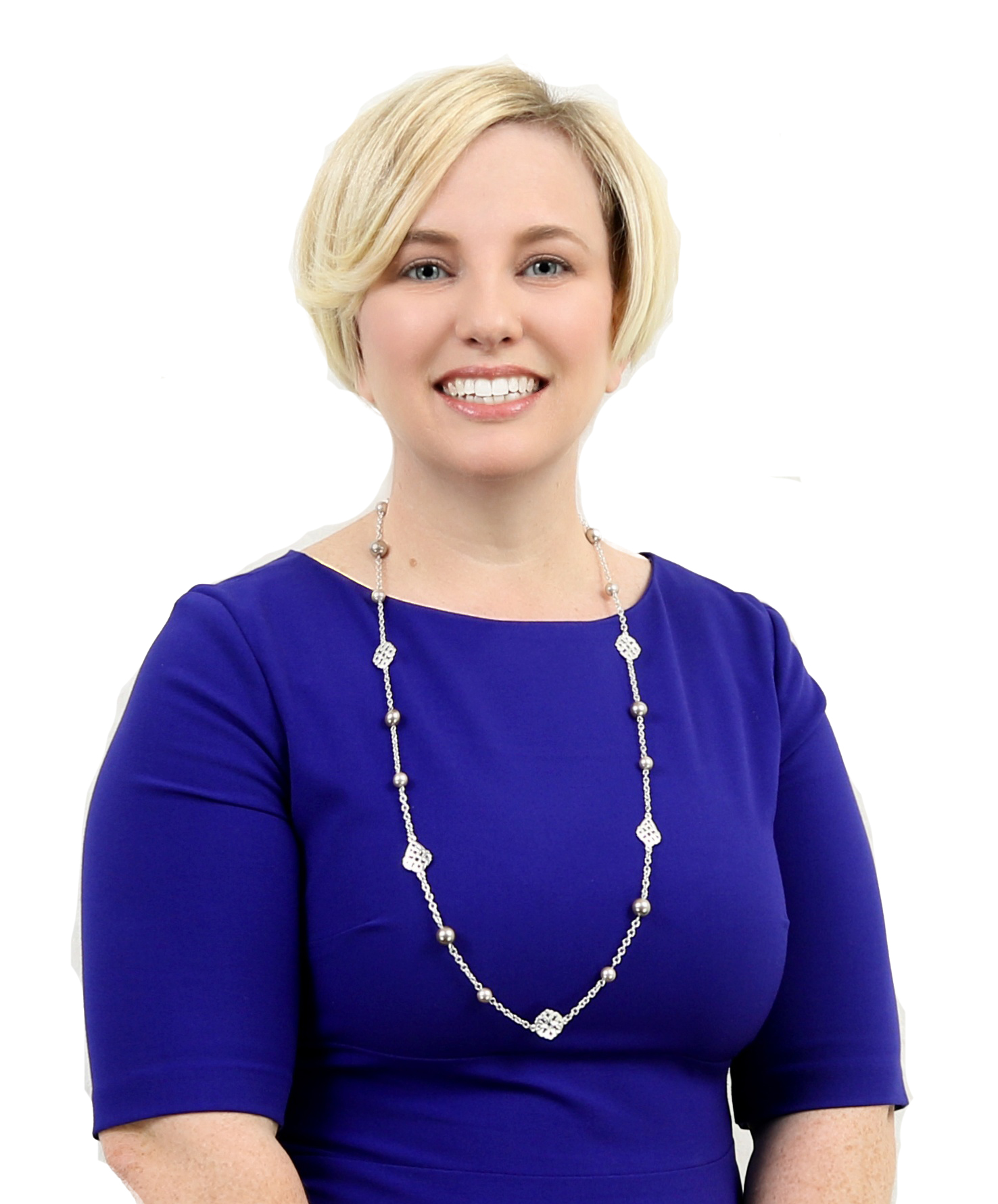 Sarah Miller-LICENSED REAL ESTATE AGENT: As licensed Realtor in the Metro Atlanta market, Sarah Miller has 10 years of property management experience including leasing, marketing with leadership in Home Owner Associations (HOA) and Condominium management. She has worked with buyers, seller, tenants and landlords throughout her career. She is passionate and excited to help people in all aspects of the real estate industry. Sarah wants her clients to feel comfortable in their decision to work with her, cared for through the entire process and confident in their decisions to buy, sell and invest today's real estate market. She is excited to be a part of the Ben Kinney Team in Keller Williams.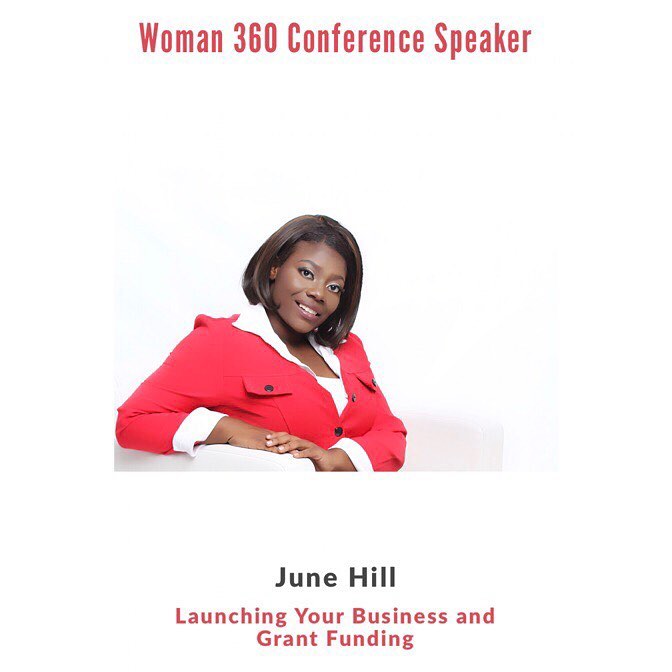 June Hill-LAUNCHING YOUR BUSINESS AND GRANT FUNDING: June Hill facilitates online workshops and teaches classes on grant writing for "I am a Grant Writer" series all over the United States. She has also lectured on event small business funding, fundraising and managing government funding contracts. June's professional proposal writing has helped raise well over $1,000,000 for various organizations in all over the United States. June has currently authored a book called "Grant Writing 101: How to Find Funding for your Non- Profit or For Profit "