Description
Dear Friend:
Greetings in the Precious Name of Jesus, the Christ. I pray that all is well and God's blessings keep coming your way!
On October 21st-22nd, we will host our second W2W Women's Conference 2017. Our theme: Woman to Woman; An Intimate Conversation Amongst Sisters! Proverbs 14: 1—The wise woman builds her house, but with her own hands the foolish one tears hers down.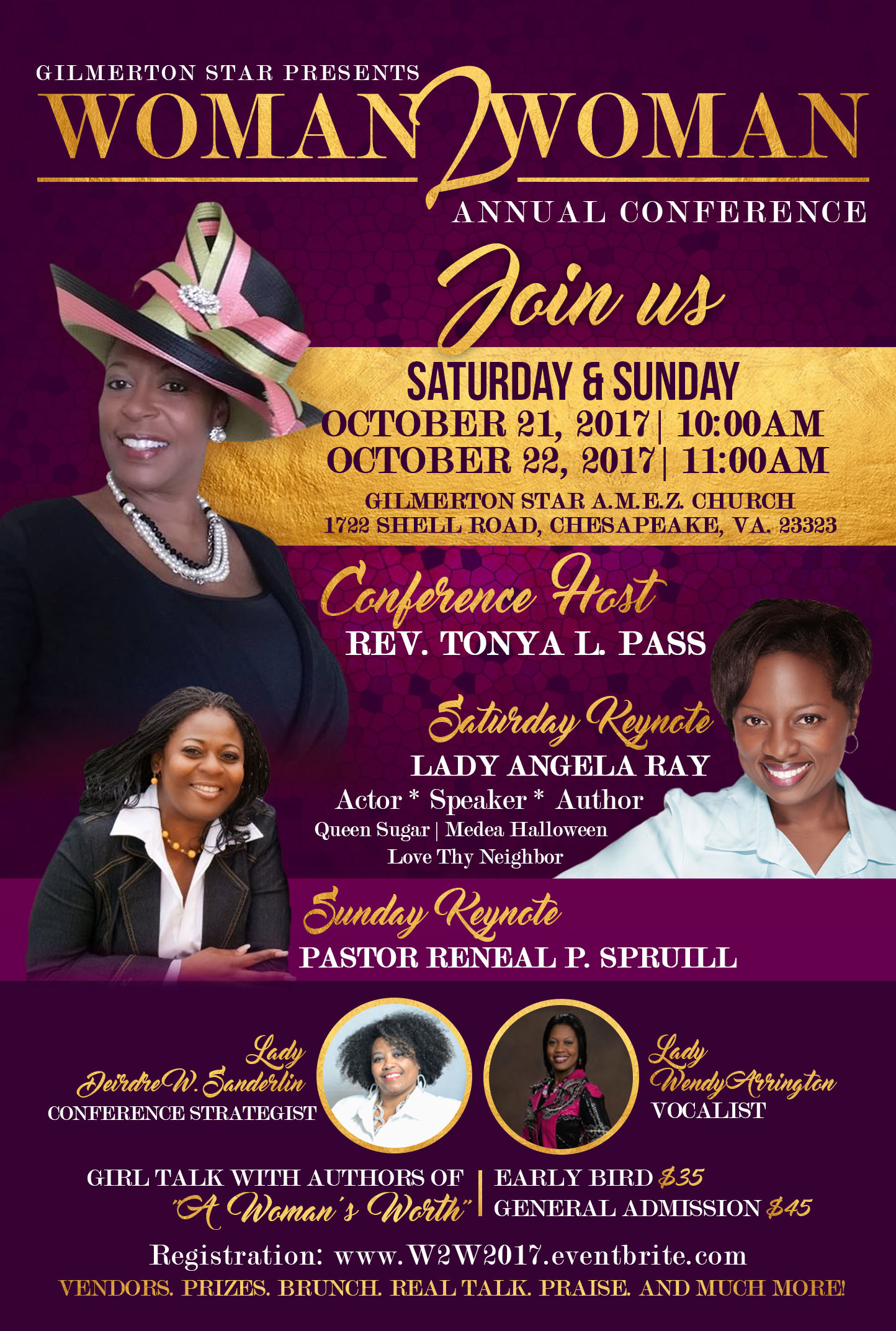 Yes, we are excited about this spiritual movement that is destined to bless all in attendance. We have women within the Tidewater area and across the United States participating and praying for the success of this conference. You don't want to miss it! Our conference workshops will be held on Saturday, October 21st starting at 10:00 am. For early registration, the cost is just $35 until October 1st and brunch is included. Tickets will be $45 after that date. Our keynote conference speaker will be Lady Angela Ray. This dynamic woman of God is an actress, author and award-winning speaker. An unrelenting star on the rise. She has worked in film, television and theatre. Lady Ray is best known as "Carol", the landlord on Tyler Perry's Love thy Neighbor. Additionally, she will be appearing on the second season of Queen Sugar/OWN. We are blessed to have three of Hampton Roads finest to minister to us during our breakout sessions: Pastor Reneal Spruill, Sis. Deirdre Sanderlin, authors from the awaiting best seller "A Woman's Worth -The Stuggles and Triumps of a successful mom-preneur. Thirdly, Lady Wendy Arrington, an emerging, anointed, song writer, vocal artist, along with her band, "ISO-CREW" will bless us in Praise & Worship. We will be in Sunday morning worship with the dynamic Pastor Reneal Spruill from Norfolk, Virginia. You do not want to miss being in the house!
We will commemorate this conference with a program, highlighting our community friends and business sponsors. SILVER: $25 | GOLD: $50 | PLATINUM: $100. We would love to include your sponsorship for this event. We are also accepting Vendors for this event at $50 a table. I have reserved two tickets for our Saturday event for your convenience. You may mail your payments to the address below by October 7, 2017 to purchase your tickets in advance.
We look forward to hearing from you. If you would like more information about this event, please contact our Church Administrator, Ms. DeniPlease make all checks payable to: Gilmerton Star A.M.E. Zion Church
Mail to: 1722 Shell Road, Chesapeake, VA 23323
Thanking You in Advance,se Walk at 757-752-3736.