Wolfpack Hustle: The Shortline Crit

Saturday, May 3, 2014 from 2:00 PM to 10:00 PM (PDT)
Event Details
The Shortline Crit - Long Beach
Mens / Womens / Track / Road
24 LAP CRIT RACE

1st PRIZE: DOG TAGS / $250 CASH / 30PTS /  SWAG
Saturday - 3 May 2013
2PM Qualifiers
7PM FINALS
This fully permitted and insured event features a bicycle race criterium loop, which will be the featured event at Long Beach's Bike Fest. (Course map below.)
Riders in each category will qualify in group / team based sessions to compete individually in the Finale 24 lap race.
First place Mens / Womens / Fixed Gear / Free-Wheel will receive Wolfpack Hustle Dog Tags. Podium finishers in each category will receive points in the series and free entry to Race #3 Civic Center Crit 2. Prime laps will be announced prior to race. Lapped riders will be pulled.
GROUP UP / TEAM UP.
We encourage teamwork. We think it reduces collisions. If you don't have a team, form one with friends and have fun with the name too.
Hash tag #ShortlineCrit on Instagram. Show us how you're training.

THE RULES
RULES subject to change up to one day prior to event check back often.
QUALIFIERS
All registered riders will be divided into qualifier sessions of groups of 10-15
Finale Races and Qualifying Sessions will be separated by 4 categories – Men's Road – Men's Track (brakeless) – Women's Road – Women's Track (brakeless)
Riders not on organized teams are encouraged to collaborate with others to form impromtu groups when signing up
Lap times recorded using timing chips
At scheduled session time, riders must cue up, and enter pit lane from from the Herbalife 24 Athlete Zone
Groups and riders must be present at scheduled session start or risk DQ
Groups will be timed during "4 lap" sessions
Session Lap 1 is relaxed and will not be timed
Riders spin up to timed laps 2 3 and 4
Best individual lap time is counted against entire category field
Fastest 80 riders in each category will advance to finalé race
Drafting is allowed
"Slingshotting" pushing, or physically assisting another rider is NOT allowed
Blocking during qualifiers is not allowed
FINALE:
Starting grid will be ranked according to qualifying times (In the event of a tie, next fastest lap will be compared)
NO FREE LAP RULE FOR CRASHES, MECHANICALS OR OTHERWISE
LAPPED RIDERS ARE PULLED
JUDGES DECISIONS ARE FINAL
Prime laps announced before race on race day
Riders seen crashing others out or riding "dangerously" as determined by course marshals will be DQ'd as authorized by race officials
EQUIPMENT
BULL HORNS / TT Bars are NOT ALLOWED
TRACK category is BRAKELESS FIXED
Rider must use same general equipment in finale race as in qualifiers
HERBALIFE 24 ATHLETE ZONE
Athlete check-in / Warm up Area / Trainers / Bag Check


RISK / WAIVER / INSURANCE
We love our people and our athletes. We want you to be safe.
We are a proud member of American Bike Racing.
RACE DAY SCHEDULE
 Check Back for updates.
2PM GROUP QUALIFIER SESSIONS

7pm FINALS – MAIN EVENT

GENERAL EVENT MAP: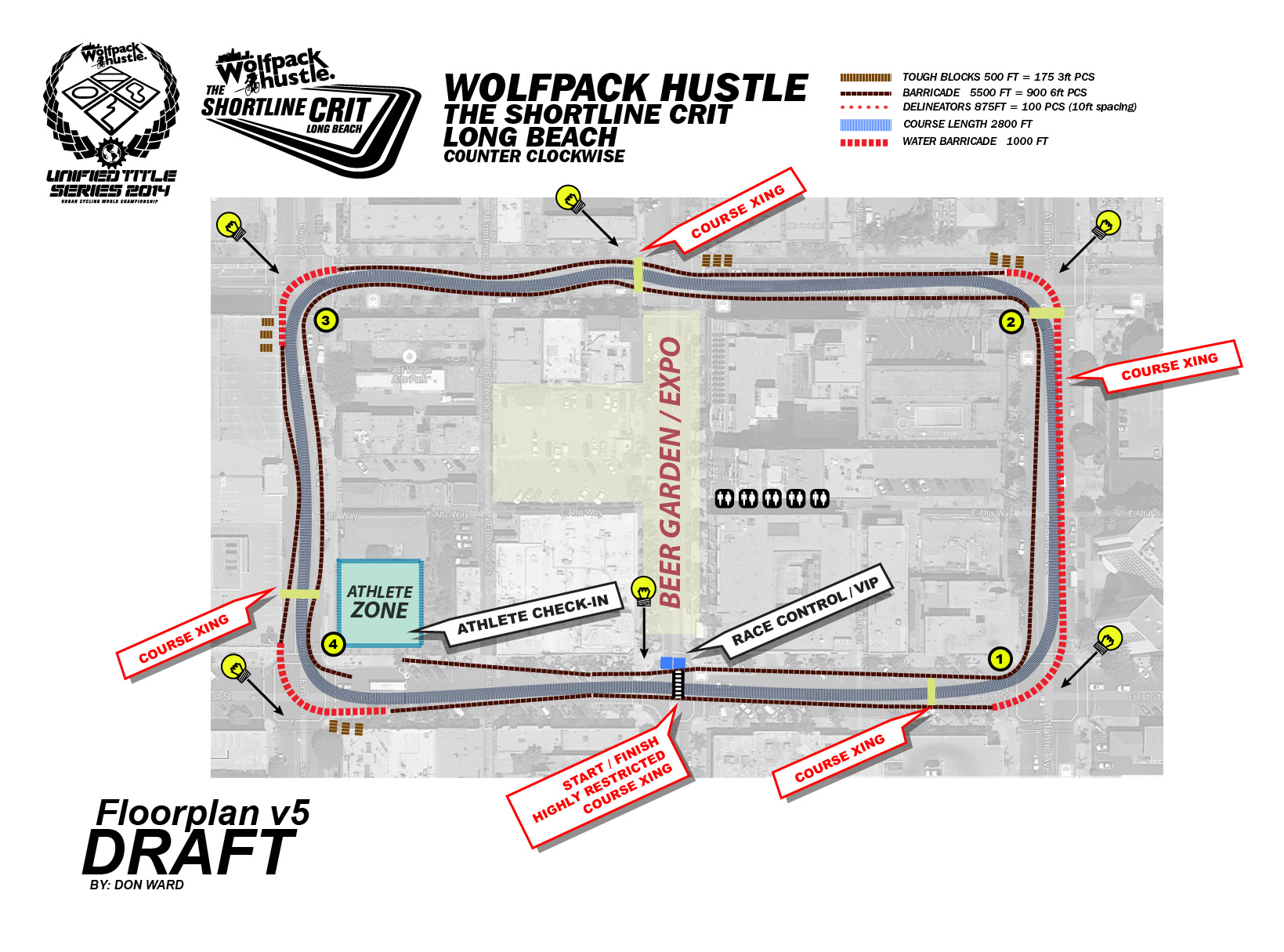 LATE REGISTRATION
Depending on schedule, we MAY do late registration on the day of. Not likely. $35 cash only.
When & Where

East Village Arts District
Linden Ave & E 1st St
Long Beach, CA 90802


Saturday, May 3, 2014 from 2:00 PM to 10:00 PM (PDT)
Add to my calendar
Wolfpack Hustle: The Shortline Crit