Description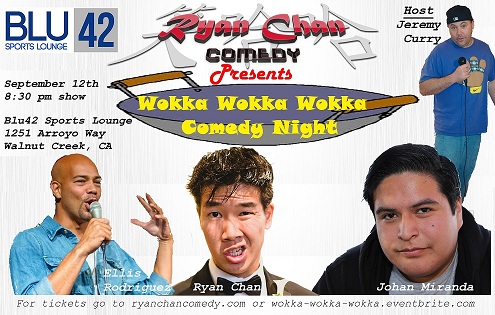 The Bay Area's finest comics will join onstage for an evening of laughs!!! Ryan Chan Comedy Presents the "Wokka Wokka Wokka Comedy Night" event with special emphasis on the WOK!!!
You're bound to be left in stitches with the laughs that is coming your way. The night will be hosted by Bay Area veteran, Jeremy Curry.
The night will have three features, Ellis Rodriguez, you won't be ready for his brand of comedy. Bound to make you laugh, Ellis has toured all over the country performing for our troops overseas. You are in for a treat with Ellis!!!
Johan Miranda, exemplified by San Francisco Magazine as a comedian you should know you about brings his laughs to you onstage in his matter of fact approach to life.
Ryan Chan is a 6'3" American born Chinese, so yes he's a real life unicorn. His ability to generate laughs without the raunchiness and profanity and the ability to make you belly life without making you feel like you need to take a shower is what sets him apart.
Forget working out on this day, you'll be laughing so hard your stomache will hurt on this night!!!