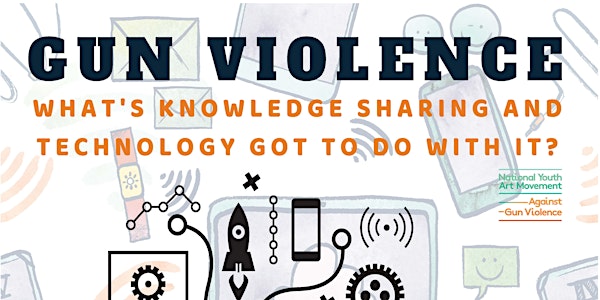 Woke & Winning Youth Action Series: The Intersection Between Gun Violence, Technology, and Knowledge Sharing
When and where
Location
The WasteShed 2842 West Chicago Avenue Chicago, IL 60622
Description
Pre-Register at least 48 hours in advance of an event to get a swag bag of GOODIES-To-GO. Join The Woke & Winning Youth Action Summer Workshop Series for our 2nd to last youth art and activism workshop for the summer! Each workshop aims to connect youth between the ages of 16-to-25 years old to various local and national organizations that use their platforms to promote gun reform. The second half of the workshop offers an Art-Making for Awareness Activity that is meant to connect participants to the broader community.
This session we are excited to welcome Rae-Anne Montague, a professor of Information Sciences at Chicago State University, and Tyrone Muhammad, Director of Ex-Cons for Community and Social Change. Although coming from different perspectives, life experiences, and professional roles — Rae-Anne and Tyrone together will address how knowledge-sharing and technology can be used to amplify and support gun violence interventions in our communities.
Art-Making for Awareness: Art as Vision
During this week's art workshop, participants will take what they've learned about community informatics, an interdisciplinary field that uses information and communication technologies to support the well-being of communities, to create highly-stylized mind-maps of their own visions of both what their communities need to reduce gun violence and a plan of action to make it happen.
Interested in learning more about our mission and future workshops?
Woke and Winning: Youth Action Workshop Series
Mindful art exploration is at the center of both the National Youth Art Movement Against Gun Violence and The WasteShed and it is the driving force for our collaborative effort with the development and delivery of the 2018 Woke & Winning workshop series. The Woke and Winning Youth Action Summer Workshop Series blends cognitive and social-emotional approaches to learning in a three-prong framework: Content and Conversation, Art-Making for Awareness, and Taking Action. The workshops' framework is based on Kolb's Cycle of Experiential Learning. WokeandWinning.org
Ex Cons for Community and Social Change's mission:
ECCSC is a non profit organization founded by the formerly incarcerated, it is our assessment that no other group of individuals bear more responsibility to affect change in the neighborhoods and communities than those who helped destroy them. It is our mission to be more and do more for those victimized by crime than any civic, social, or political group operating throughout the country.