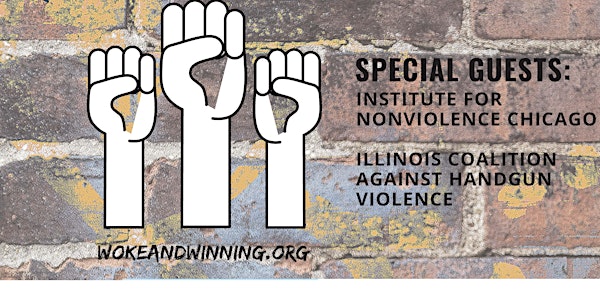 Woke & Winning Youth Action Series: Life After Gun Violence
When and where
Location
The WasteShed 2842 West Chicago Avenue Chicago, IL 60622
Description
Pre-Register at least 48 hours in advance of an event to get a swag bag of GOODIES-To-GO. Join The Woke & Winning Youth Action Summer Workshop Series for our last youth art and activism workshop for the summer! Each workshop aims to connect youth between the ages of 16-to-25 years old to various local and national organizations that use their platforms to promote gun reform. The second half of the workshop offers an Art-Making for Awareness Activity that is meant to connect participants to the broader community.
This session we are excited to welcome the Institute for Nonviolence Chicago and the Illinois Coalition Against Handgun Violence. Personal stories of the aftermath of gun violence and actions that people and organizations can and are taking everyday to stop the use and glut of guns in Illinois communities will be shared.
Art-Making for Awareness: Art as Resistance
During this week's art workshop, participants will produce three collaborative art pieces. One piece will be given to our governor, another to a legislator who has long supported gun reform, and the other will be given to a legislator with a mixed record. It is our intention to show how art can be utilized to ignite positive change and communicate universal themes of resistance.
Interested in learning more about our mission and future workshops?
Woke and Winning: Youth Action Workshop Series
Mindful art exploration is at the center of both the National Youth Art Movement Against Gun Violence and The WasteShed and it is the driving force for our collaborative effort with the development and delivery of the 2018 Woke & Winning workshop series. The Woke and Winning Youth Action Summer Workshop Series blends cognitive and social-emotional approaches to learning in a three-prong framework: Content and Conversation, Art-Making for Awareness, and Taking Action. The workshops' framework is based on Kolb's Cycle of Experiential Learning. WokeandWinning.org
Institute for Nonviolence Chicago mission:
The mission of the Institute for Nonviolence Chicago is to replace the cycle of violence using the principles, practices and teachings of nonviolence.

Through outreach, mediation, support, and nonviolence trainings, we engage
​ strategies to interrupt and replace the cycle of violence:
Reduce

community shootings and homicides (especially retaliatory violence).

​

Reduce

recidivism among groups at highest risk of violence.

Strengthen

positive supports for violence-involved young people.

Heal

and

empower

the community during the aftermath of violence.

Transform

relationships between law enforcement and communities they serve.
Illinois Coalition Against Handgun Violence mission:
The Illinois Council Against Handgun Violence (ICHV) is the oldest and largest statewide organization in the U.S. working to prevent the devastation caused by firearms. Founded in 1975 by four suburban Chicago women concerned about the tragic consequences of handgun proliferation and availability, ICHV works on a variety of fronts to educate, raise public awareness, and build coalitions to enact change in laws and behavior. For 40 years, ICHV has been a leader among state gun violence prevention groups.