Actions and Detail Panel
WOD Madness
Wed, October 26, 2016, 11:00 AM – 11:00 AM MST
Description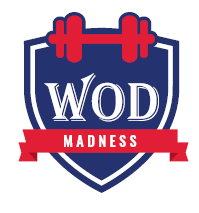 Date of Competition: 11/12/2016
Time of Competition:
Check in : 7:00am - 7:45am
First Heat: 8:00am
Award Ceremony: 4:00pm
COST PER TEAM:
$300
(*no refunds after 10/12/2016)
TEAM PAYOUT:
1st place: $1,200
2nd place: $900
3rd place: $600
4th place: $300
This is the 1st annual WOD Madness tournament.
32 RX Teams will go thru 3 workouts that will test your aerobic, anaerobic, lactic and olympic lifting capacity. The top 4 will continue on to our seeded bracket tournament. The #1 seed will face off against the #4 seed & the #2 seed will face off against the #3 seed. The winner of those contests will go to the final and face each other. The winner will be crowned our first WOD Madness Champion!
*The tie breaker for the 3rd and 4th place will be where the team finished after the initial 3 workouts.
WORKOUTS:
WOD #1
"The Pain Train"
12 min AMRAP
- 1 mile run
- AMRAP of Thrusters with remaining time 115# / 85#
(*Thrusters will be performed 5 at a time. Starting with M#1 / M#2 / F#1 / F#2. Each athlete needs to finish their set of 5 before the next athlete can start. There will be 1 male bar and 1 female bar. Tie breaker goes to the fastest mile time.)
WOD #2
"The Cleaners"
- Power Clean + Hang Squat Clean Max (Ranking is based off the teams total weight.)
There will be a running 12 minute clock, each member will get 3 minutes to find a 1 rep max. The order will be F#1 / F#2 / M#1 / M#2. Teams will get 1 bar and it will be a men's size bar. (Tie breaker goes to the team that has the highest total of F#1 & M#2.)
WOD #3
"The Lung Burn"
For time: (15 min TC)
- Pull Ups
- Burpee Box Jumps 24" for all athletes
A#1: 20 pu, 20 bbj
A#2: 15 pu, 10 bbj, 15 pu, 10 bbj
A#3: 20 pu, 10 bbj, 20 pu, 10bbj
A#4: 20 pu, 20 bbj, 20 pu, 20bbj
(Ranking is based off of best time, if team TC's then reps will determine ranking. You can go in any order you wish on this WOD. Tiebreaker is the time after A#2 finishes.)
WOD #4 will be announced after the first 3 WOD's are complete.
WOD #5 will be announced after WOD #4.