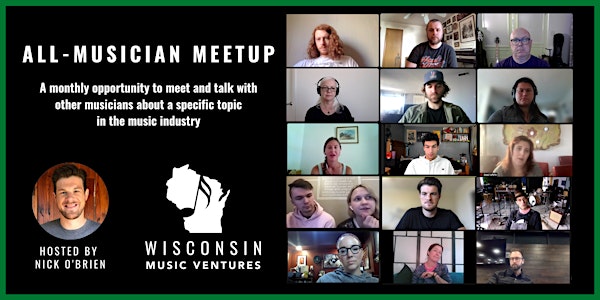 WMV All-Musician Meetup Hosted By: Nick O'Brien
Any and all musicians welcome. From anywhere. Hosted by Nick O'Brien.
About this event
1 hour 30 minutes

Mobile eTicket
A online opportunity for musicians of any age, gender, genre, experience level, etc. to meet, learn from and inspire each other. These meetups will facilitate introductions and prompt connection time with other musicians, musician story sharing, informal conversation about Wisconsin's music scene/culture. You will get to know the musician behind the music and grow a diverse and inclusive community of musicians who are connected to help each other and develop a supportive culture for independent musicians throughout Wisconsin and beyond.
The discussion for January's meetup will focus on your goals for 2023.
What are you planning to accomplish in 2023?
What areas of your music career are you hoping to grow this year?
What kinds of help or advice are you seeking from other musicians to accomplish those goals?
Each attendee will get an opportunity to share their answers to these questions (and any others that come up), as well as be inspired by other musicians' goals for the year.
The meetup is open to all musicians, so feel free to invite your bandmates and/or musician friends!
Hosted and facilitated by Nick O'Brien.
Nick is the host of WMV's musician meetups and The Musician's Venture podcast. He is a music-loving, creative connector who builds and activates people-centered communities. As a social entrepreneur, he taps into his ever-growing network of people to connect and collaborate with individuals, groups, businesses, non-profits, and governments to develop community and culture around their causes and goals. Since moving to Wisconsin in 2012, Nick has lived in four different cities (Wausau, Eau Claire, Sheboygan, and Milwaukee) and he's befriended countless musicians, music venue owners, and music supporters in each of those cities and beyond. Nick has an insatiable desire to meet musicians and learn their stories so that he can spread the word about them and their talents. He describes the experience of consuming live music as "self care" because of the joy it brings him. He attends as many live music shows as he can fit into his schedule, so if you're out and about seeing live music, chances are high that you'll see Nick — and when you do, you should introduce yourself because he definitely wants to meet you.
To get in touch with Nick, send him an email at Nick@WisconsinMusicVentures.com