WMU Alumni & Friends of Geoscience Dinner
About this Event
You're Invited!
Reserve your tickets and mark your calendars!
The WMU Geological and Environmental Sciences Advisory Board and WMU Alumni Association are hosting a dinner to benefit the Schmaltz Geology and Mineral Museum and Dinosaur Park. The dinner is being held Homecoming Weekend on October 12, 2019 at Mangia Kitchen and Bar from 5:30 pm to 10 pm. Tickets to the dinner are free.
This event is sponsored by Envirologic Technologies and Earth Forensics, Inc.
Be sure to join us for an evening of fun, reconnecting, and help bring the vision for the museum and dinosaur park to life!
About the museum:
The Department of Geological and Environmental Sciences is renovating the Schmaltz Museum of Earth History, and we need your help!
We have a number of future displays and exhibits planned that will greatly enhance the museum and its learning capabilities within WMU and the greater Kalamazoo community. Project funding is always in need of an assist and we have provided an opportunity whereby donors can purchase a variety of items for the museum and its outdoor interactive entity 'Dinosaur Park'.
Cannot join us? You may support the museum and dinosaur park by following the links below.
To see more: https://wmich.edu/geology/museum/museum-development
Would you like to donate a Dinosaur?
https://wmich.edu/geology/donateadinosaur
______________________________________________________________________________________________
Downtown Kalamazoo Parking link:
https://www.downtownkalamazoo.org/getting-around/parking-information
NOTE: The parking lots closest to the restaurant are Parking Ramp 3 (South & Portage Streets) and Ramp 2 (South and John Streets).
Who is going?
Kim and Bill Steinmann
Sara Pearson
Thomas Howe
Erica Bays
Stephanie Buglione
Kyle Patterson
Geoffrey Hickok
W. Richard Laton
Dok Stevens-Dehring
Gary Blinkiewicz
Jeff Clark
Kathy Wright
Heidi Bryant
Duane Hampton
Mike Wireman
Steve Barone
Kevin Kincare
Roger Steininger
Diane Russell
Ryohei Wakabayashi
Olga Tarasev
Jacqueline Koney
Russell Schindler
Pablo Mora
Zack Spotts
Josh Kirschner
Ryan Vannier
Melissa Hunter
Ann Gilchrist
Brian Chmielewski
Thomas Robyn
Mary Robyn
Jay Kim
Jake Cadle
John Yellich
Jeff Hawkins
Marian Hawkins
Linda Zabik
Jarab Selner
Jerry Aiken
Heather Petcovic
Tom Kamin
Dr. Lloyd Schmaltz
Mike Kovacich
Paul Daniels
Diana Morten-Thompson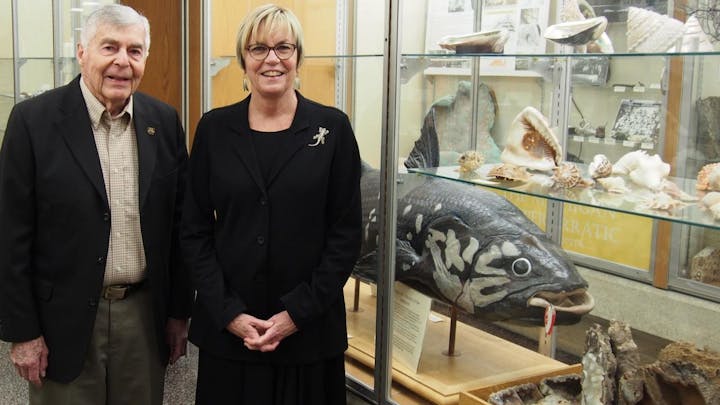 Dr. Lloyd Schmaltz and former student, Dr. Julie Stein, stand with the coelacanth exhibit they prepared for the museum together in the 1970s. Dr. Stein is now the executive director of the Burke Museum of Natural History and Culture in Seattle.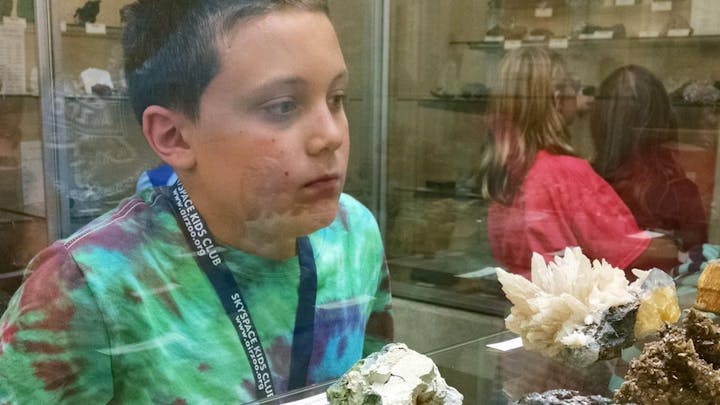 The Schmaltz Museum's collection of minerals is a regular stop on campus tours. It also provides instructional opportunities for young geologists, like these CoreKids students.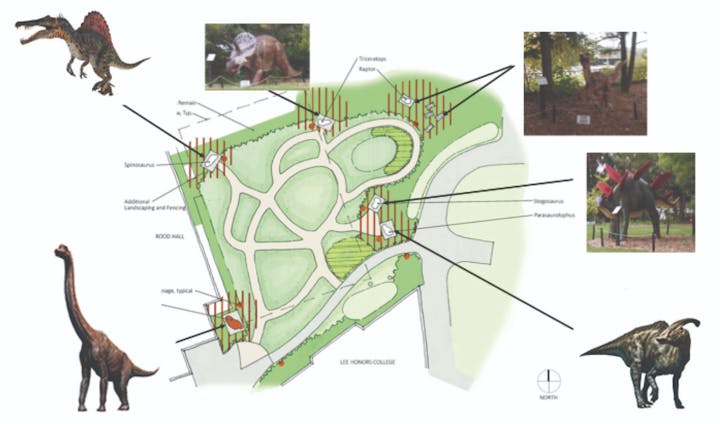 Design sketch of Dinosaur Park and compilation of existing and future exhibits. Our goal is to raise $200,000 to complete landscape development and purchasing dinosaur exhibits.