Description
No Boys Allowed in the Main Stage!

For the first time ever in Miami and in WMC History, the Hampton Inn South beach brings you an all lady DJ lineup from all over the world! A south beach pool day dedicated to the all the bass babes in town for WMC!!! Capacity is limited so we are making this an exclusive event for our guests and for the people that can get their tickets fast.

$25 Gets you in & also includes your first drink....first round is on us! If you are staying with us, your admission is complimentary.

Meet the ladies...

Austin Pollis-

Florida native at heart, Austin Pollis bears a deeper, raw and somewhat soul moving musical presence. With a contagious smile and an impeccable essence of tech house, deep house and progressive notes in her catalogue, Miami's promise in Austin takes underground to another level below.

Read More: http://www.anotherclubbrand.com/dj-of-the-week/dj-of-the-week-vol-5-austin-pollis/

DJ Nostalgix

Nostalgix is a Vancouver based DJ. She plays shows all around Vancouver at nightclubs, and kills it at University events. She's made her mark in the electronic scene in the past year and has been growing ever since.

Being so passionate about music, she plays a variety of electronic genres, adding her own twist to all of her sets. She's constantly exploring new music, but focuses on bass house, G house and deep house. Watch out for her first EP being released in the new month!
See for yourself: https://soundcloud.com/nostalgixmusic

DJ LYLA

Originally from FL, LYLA is a DJ/yogi based in LA who loves music and working out. Specializing in hiphop, deephouse, funk, and future beats, LYLA is always down for a good time and new adventures. She plays music to share her passion with others, and gets people to have fun and let loose! Ultimately, she loves to push herself and others outside of their comfort zones and inspire people to stop overthinking things and feel something real.
Check her out: https://soundcloud.com/lylamusic

DJ NALA

LA-based producer and DJ, Stefania Aronin will be our headliner at the event...and we are going to let her music speak for itself...https://soundcloud.com/thisisnala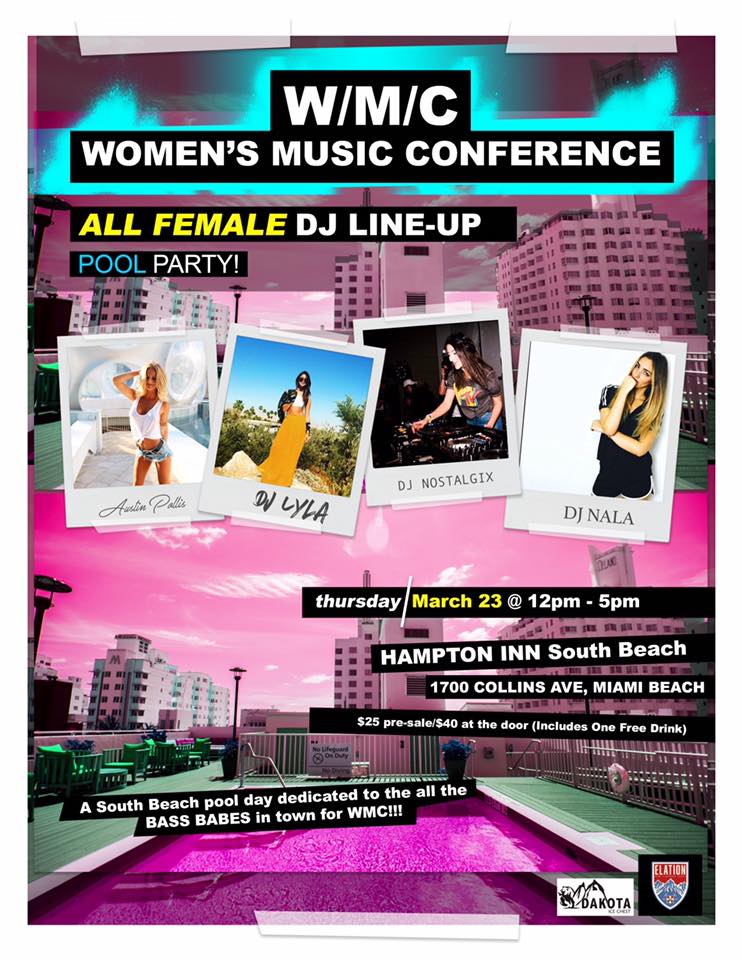 Date and Time
Location
Hampton Inn Miami South Beach - 17th Street
1700 Collins Ave
Miami Beach, FL 33139