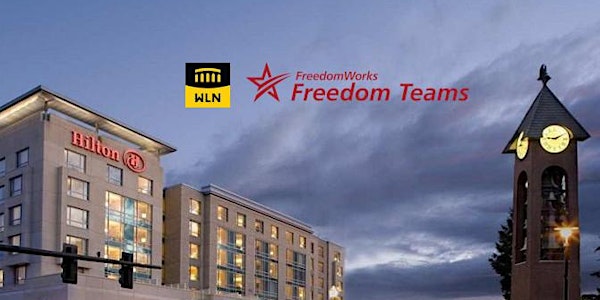 WLN/FreedomWorks FLASH CONFERENCE
On October 1st, Western Liberty Network and FreedomWorks combine to hold a FREE conference featuring national caliber speakers and lunch!
When and where
Location
Hilton Vancouver Washington 301 West 6th Street Vancouver, WA 98660
About this event
Are you are concerned about parental rights in education, school choice and other education issues in Oregon or Washington? Are you interested in being effective in the 2022 fall elections in Oregon and Washington? Do you want to know where things stand nationally? Are you an activist in Washington's 3rd congressional district?
If your answers to any of the above is "YES," you CANNOT miss WLN's October 1st "Flash Conference" co-sponsored by Western Liberty Network and FreedomWorks. You will get top-flight training, national updates from top-level speakers, and hear the latest on what is going on in the limited-government movement. You must register in advance, but THIS CONFERENCE IS FREE thanks to FreedomWorks and their generosity!
Confirmed to date are (left to right, top to bottom) Clara Del Villar, FreedomWorks' Dir. of Senior Initiatives; The Rev. C.L. Bryant; Congressional candidate and combat veteran Joe Kent; Merissa Hamilton, FreedomWorks Grassroots Director; Richard P. Burke, WLN Exec. Dir.; Cesar Ybarra, FreedomWorks Vice President of Policy; Suzanne Gallagher, National Director of of Parents' Rights in Education; Tamra Farah, Senior Advisor for Strategic Initiatives at FreedomWorks and; Greg Burnett, President of Burnett Media Group and President of WLN's Board of Directors.
FREE CONFERENCE, FREE LUNCH ("Free" to YOU at least)! The "Flash Conference" will start at 10am on Saturday, October 1st, at the Vancouver, WA Hilton hotel located at 301 W. 6th Street. THERE WILL BE A FREE HOT MEXICAN BUFFET LUNCH. You can download the agenda for this "Flash Conference" by clicking as indicated at right.
As a 501(c)3 organization, WLN neither supports or opposes any candidate (even the ones we train), political party, ballot measure, or legislation. Comments made by guest trainers and participants are entirely their own, and do not necessarily represent the views of Western Liberty Network.
BORING BUT REQUIRED LEGAL NOTE: The conference agenda and details concerning the available buffet lunch are subject to change without notice. By providing your information to FreedomWorks, you agree to receive email updates and text messages from FreedomWorks and its partners in freedom.