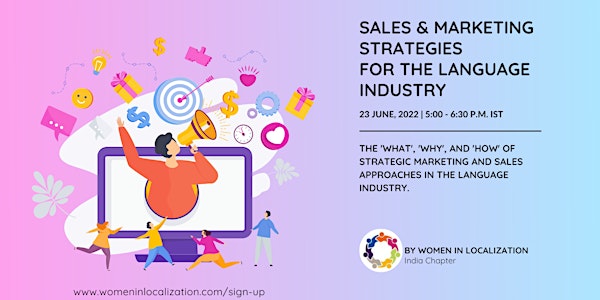 WLIN: Sales and Marketing Strategies for the Language Industry
Understanding the what, why, and how of effective strategic marketing and sales approaches in the vastly competitive language industry
About this event
With everything around us opening up after two dormant years of the pandemic, boosting your sales and marketing strategies is critical, if businesses want to attain their full potential in the marketplace. Even in the language and localisation sector, it is definitely a challenge, as the techniques and channels may differ from one customer to the next.
Women In Localization India Chapter invites you to their event on 23 June 2022 with a panel of industry experts, where you can get compelling insights on the core strategies for mapping out consistent and measurable approaches to scale up and expand your success globally. Don't miss out on the opportunity to learn how to express the value proposition to potential buyers through simple tactics and easy-to-implement techniques. Discover what these pioneers are doing and how they build solutions around customer-centricity.
Join us to learn about some of the best practices and discover interesting nuggets of information that can spark ideas for sales and marketing strategies for your company in order to increase leads, boost sales, widen the consumer base, and so much more.
Our esteemed panelists are:
Srishti, Deputy Manager
Sheetal Ramkumar, Founder & CEO at White Globe
Alifya Thingna, CBO & Content Head, BITS Private Limited
Our panel will be moderated by Nikita Agarwal, Founder & Director at Milestone Localization.
Agenda:
5:00 - 5:10 Welcome note by WLIN
5:10 - 6:00 Panel Discussion
6:00 - 6:20 Q & A
6:20 - 6:30 Closing note
Registration is free of cost, but mandatory. Please ensure that you are a member of Women in Localization. In case you are not a member yet, please sign-up here: https://womeninlocalization.com/sign-up/.