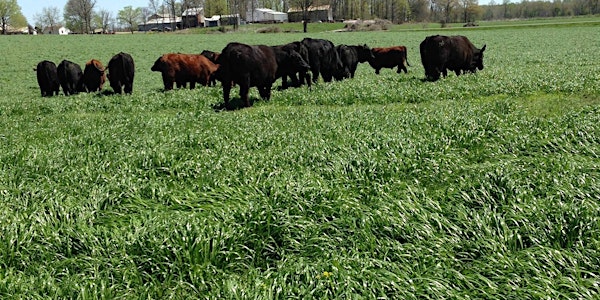 WKY Summer Forage Field Day 2020 - GENERAL ADMISSION AND SPONSORSHIP
Finishing and Marketing Livestock on Grass
When and where
Location
Palmer Farms 2629 Hickory Grove Road Almo, KY 42020
Refund Policy
Contact the organizer to request a refund.
About this event
Where: Palmer Farms
            2629 Hickory Grove Road
            Almo, KY 42020
 When:   August 6, 2020 from 4:00-7:00 pm (registration at 3:00 pm)
              Rain or Shine
Cost:     $10 (includes meal, tour, and bluegrass band)
Palmer Farms Beef is a family farm located near Murray KY and is owned and operated by Michael and Stacie Palmer and their children Will, Teshome, and Jessie. They finish and retail around 40 head of beef cattle per year. Jessie who is 19, has decided to stay on the farm and expand the business through social media, and a new line of tallow-based products including lipstick and moisturizer. Along with their beef, they partner with other small farms to offer customers pastured pork and chicken as well. The Palmers take great pride in providing healthy, delicious meat to people in their community, state, and across the country. From genetics, to marketing, they are constantly thinking outside the box, to make their business both unique and profitable. Although they have come a long way since retailing 6 open heifers in 2011, their goals remain the same, to provide their customers a great product and to make them feel appreciated.
The Palmers' forage system is based on both cool- and warm-season annual and perennial forages with the goal of providing high quality grazing year around. Two key forage species in their system are annual ryegrass and crabgrass, grown in rotation. These annual species provide high quality feed for finishing livestock during the spring, summer, and fall. The Palmers' winter-feeding program consists of ensiled annual ryegrass harvested at the boot to early head stage. Michael has also been experimenting with green chopping forage in fields that are not fenced and transporting the grass to livestock. The tour will feature plots of crabgrass, pearl millet, sorghum-sudangrass, forage soybeans, sunn hemp, cowpeas, and brassicas. Frank and open discussions on various approaches to providing high quality forage year round will be highly encouraged.
Tour stops and topics:
• Crabgrass as forage
• Annual ryegrass for grazing and silage
• Green chop – Can it work?
• Producing high quality grass finished beef
• Marketing high quality grass finished beef
• Increase productivity with summer annuals
• Managing perennial pastures
• Endophyte in tall fescue and grass finishing
• And much, much more….
Please note that this is a walking tour with a total route length of approximately 1.5 miles. Limited transportation will be provided for those unable to walk on a first come first serve basis.
For more information on this tour and other forage and livestock related events, please visit http://forages.ca.uky.edu/ or contact Carrie Tarr-Janes at Carrie.tarr-janes@uky.edu or 270-963-8351