Wizard of Oz Live & Silent Auction Gala to benefit the Essex Gateway Mural

Saturday, May 19, 2012 at 6:00 PM (EDT)
Event Details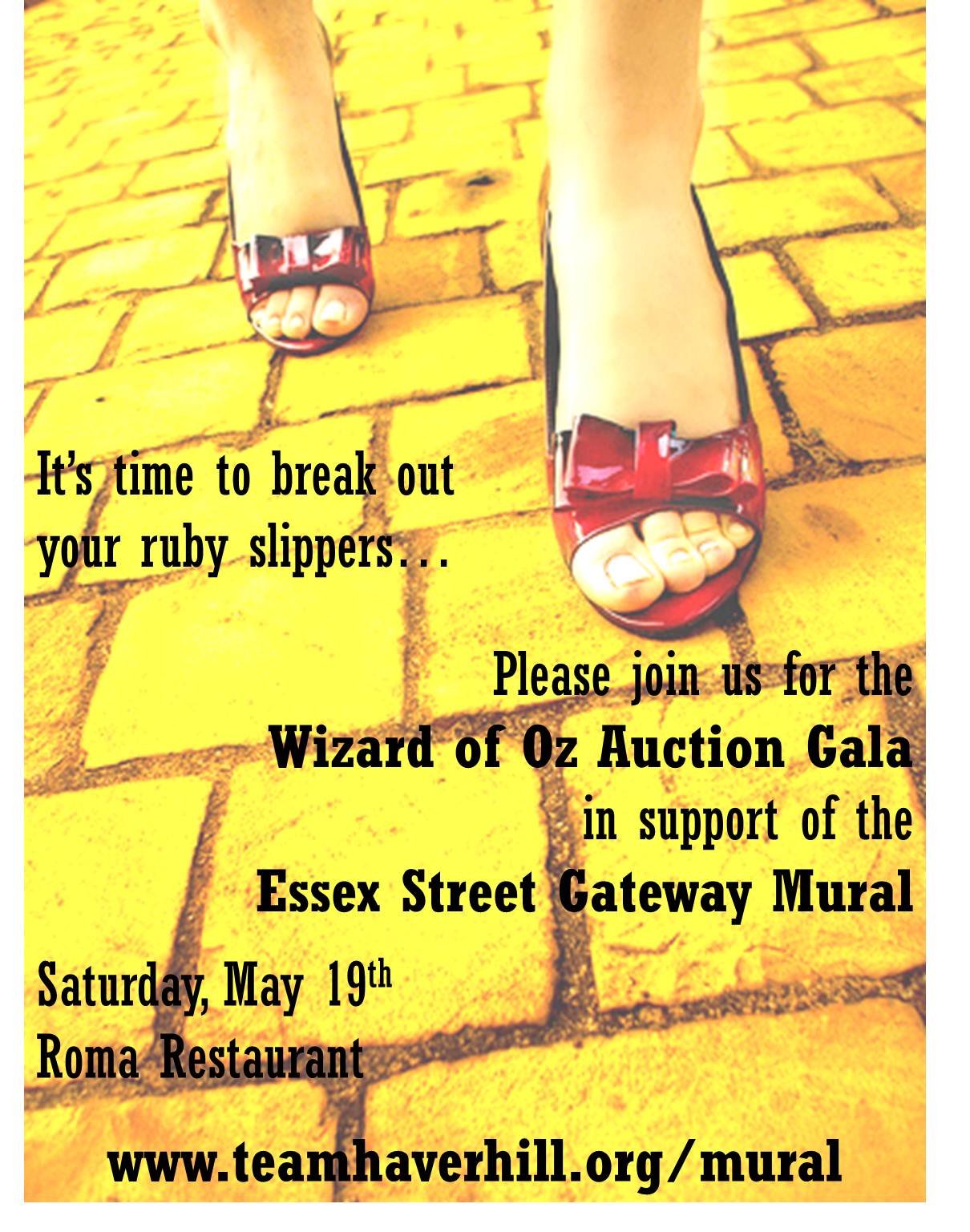 As of May 3rd we have an unofficial sell out so web ticket sales are closing.  While we are still confirming our tables of 10 and planned attendance, we will be taking a wait list.  If you would like to be added, please email teamhaverhill.essexmural@gmail.com.  
Thank you for your support of the Essex Street Gateway Mural!
-----------------------------------------------
There's no place like our home! The WIZARD of OZ is coming to Haverhill!
Follow the Yellow Brick road to Team Haverhill's "Wizard of Oz Live and Silent Auction Gala" fundraiser to benefit the Essex Street Gateway Mural on Saturday May 19th at the Roma Function Hall.
JOIN DOROTHY, THE SCARECROW, COWARDLY LION, TIN MAN and YES, TOTO TOO (thanks to sculptor Dale Rogers) for a festive evening that will include dinner, a benefit auction, Spotlight Playhouse character actors and music from "The Wizard of Oz" and the Broadway smash-hit musical, "Wicked."  
The doors will open at 6pm for social hour/silent and live auction bidding and dinner will follow at 730pm.  This enchanting evening will be full of many wonderful and unique items such as:
Custom pair of pave (crystal embellished) evening shoes donated by Stuart Weitzman

3-night getaway to NYC to see Wicked on Broadway donated by Haverhill Bank

A memorable family weekend on the Polar Express sponsored by Pentucket Bank

6 Tickets to Keon's Wine Dinner

Willow Springs Vineyard Tour and Tasting for 8 people

Tour of the DC Capitol Building & lunch in the Members' Dining Room with Congresswoman Niki Tsongas

Character in a future Andre Dubus novel

Mojito making class with appetizers and chocolate fondue dessert for 10 at Evenfall

Romantic 2-night stay including breakfast and a dinner at the Bar Harbor Inn in Maine

Original Dale Rogers 3 ft. x 4 ft. Big Dog steel sculpture

Private wine tasting at home for 30 people from Butlers & Bars

Several golf packages including a foursome at the private Renaissance Country Club

Farm to Table Cooking Classes at Mann's Orchard

And much more!
The Essex Street Gateway Mural project is sponsored by "Legend" sponsor, NMTW Credit Union.  Major "Oscar" sponsors include Covanta Energy, Sherwin Williams, Keon's Bistro 105 and Keon's at the Black Swan, Haverhill Bank, Pentucket Bank and the Merrimack Valley Hospital.  Also, grants were made by the Haverhill Cultural Council and the Greater Haverhill Foundation.  The Eagle Tribune is the official media sponsor.  
Team Haverhill thanks project partners include City of Haverhill and the Greater Haverhill Chamber of Commerce.
For Questions or to Donate items for the Auction, please contact: teamhaverhill.essexmural@gmail.com
To purchase tickets by check and/or to avoid processing fees, please send a check made payable to "GHCC CAEF" along with the name of all attendees and your contact information to:
Tim Jordan
167 Kingsbury Avenue
Haverhill, MA 01835
Don't forget your contact information so we can confirm receipt!


Team Haverhill's Fiscal Agent is the Greater Haverhill Chamber of Commerce Community Arts Educational Foundation (GHCC CAEF) which is a 501(c)(3) nonprofit corporation and all donations are tax deductible.  The Tax ID/EIN is 22-2539427.
Find us on Facebook: www.facebook.com/pages/Essex-Street-Gateway-Mural/200731113305123

History of Essex Street Gateway Mural
In 2010, Team Haverhill began planning for a new mural that would dwarf even the largest of its previous public art projects.  Now known as the Essex Street Gateway Community Mural, this project was inspired by an eyesore: a four-story expanse of wall at 25 Essex Street still scarred from the demolition of the adjoining building years ago.  Recent revitalization initiatives—including the opening of new residential units in the Cordovan, Haverhill Lofts, Hamel Mill Lofts and Hayes Building properties, construction of the new downtown parking garage, and intensive current focus on Washington and Wingate Street as our Restaurant and Arts district—seemed to demand that the wall at 25 Essex Street reflect the "new face" of Haverhill.

The early inspiration for a mural theme was the site itself.  Just down the street from the wall, MGM movie mogul Louis B. Mayer had opened his very first movie theater, called the Orpheum, in 1907.  Nationally renowned Philadelphia muralist, Meg Saligman, was hired and the concept broadened dramatically.  The vision for a "community" mural took on a life of its own.  The whole community would be represented by a host of different figures reflecting Haverhill's past, present and future, and—just as significantly—the community would be involved in the further development of the concept, as well as in the actual painting of the mural.

Themes for this mural emerged from community interviews and conversations, as well as from archival research. The complex image reflects the city's timeless beauty, its heritage and history, and its social and physical infrastructure.  Combining memory and imagination, this artwork illuminates rich connections between Haverhill's past, present and future.  Disparate visual elements find their unity in community-identified themes of longevity and resilience, inventiveness and adaptation, cultural diversity and ever-emerging vision.  The mural is intended to both celebrate and further strengthen Haverhill's distinctive "sense of place."

To date  approximately twenty "community paint sessions" including a dozen in schools and youth facilities, plus sessions for the business community, senior citizens, residents of apartments overlooking the mural, and the general public, in many different venues.  Because of the depth of community involvement in both the design and painting of the mural, as well as through financial sponsorships and logistical support from many sources, we can call this with pride the Essex Street Gateway Community Mural, "Hues of the Heart."
Have questions about Wizard of Oz Live & Silent Auction Gala to benefit the Essex Gateway Mural?
Contact Team Haverhill
When & Where

Roma Restaurant
29 Middlesex Street
Haverhill, MA 01835-7488


Saturday, May 19, 2012 at 6:00 PM (EDT)
Add to my calendar
Organizer
Team Haverhill
Team Haverhill is an independent, volunteer action group dedicated to making Haverhill a better place to live, learns, work and play.  
From the time Team Haverhill was founded in 2005, public art has been one of its most enduring and popular initiatives.  To date, twenty-five murals—of increasing size and complexity—have been commissioned and installed by Team Haverhill with broad community support and sponsorship.  Several were created in collaboration with students at the Discovery Club afterschool programs, while the large banner-mural on Wingate Street incorporated the creative work of 32 Haverhill community groups of all ages.  Beyond murals, Team Haverhill sponsored the 2009 "Soles of Haverhill Shoe-la-bration" (producing 14 colorful, giant shoe sculptures displayed around the city) and the installation in 2010 of a contemporary sculpture called "The River Path" by nationally-known Haverhill artist Dale Rogers.
Other major Team Haverhill projects include curbside recycling, the Farmer's Market, River Ruckus and the Haverhill Youth Mentoring Network. 
Wizard of Oz Live & Silent Auction Gala to benefit the Essex Gateway Mural