This fun-filled weekend is for Wives and WifeCEO's who desire to fellowship and network to upgrade their business and marriage!
About this event
SAVE the DATE
Phila., PA (Philly)
The ULTIMATE Wives on Fire Weekend Escapement
Hosted by the Signature Wife Coach and TrulyWed Wives Society of Ambassadors
The Wives on Fire Enthusiastic Team will be coming to Phila., PA
Private Venue
August 19 - 21, 2022
Connect with us for our national escapement as we travel across the country from coast to coast featuring Wives Day Out Sight Seeing Tours, Wives Night Out Blitz, Wives on Fire Symposium, Husbands Huddle Panel, Wives Night Out Slumber Party and the Hats & Heels BrunchFest
This Signature Wives Experience is for wives and future wives ONLY!
Wife Investment - $149.00
(Includes Wives Symposium & Slumber Party ONLY)
VIP Wife Investment - $249.00
(Includes Wives Symposium & Slumber Party)
Exceptional WifeStyle VIP Partnership Platform Luncheon
Additional Surprises
Tell a friend to tell a friend
For vending opportunities or additional info contact:
Dr. Deidra Roussaw
info@trulywedwives.com or 800-960-0098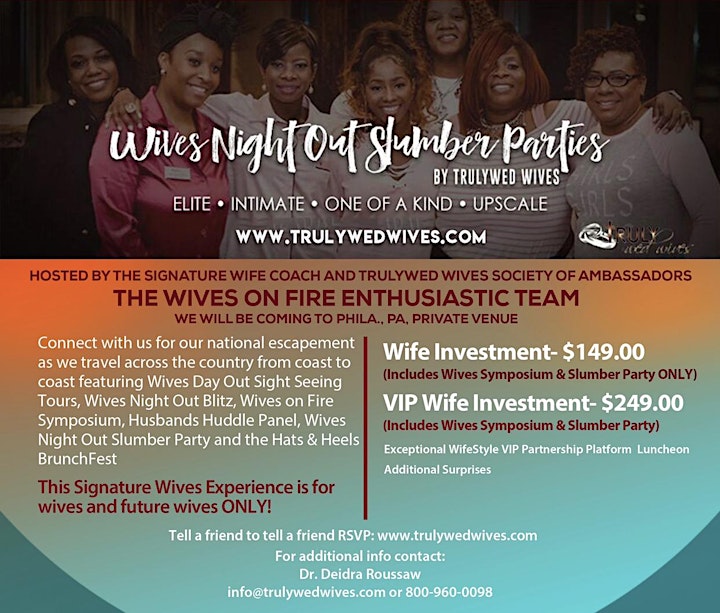 Organizer of Wives on Fire Escapement (Philly Edition)
TrulyWed Wives
A felabration of wives
Wife verse "A wife of noble character is her husband's crown" ~Proverbs 12:4"
Services:
We are a wives ministry offering wife counseling, wife coaching, wife mentoring, wives retreats & getaways, annual wives conference via Bringing Sexy Back to the Marriage, wives night out, savvy wife tool box - Prayer, finance, communication, infidelity, blended family, healing, Investments, marriage counseling, Intimacy, couples devotion, weight management assistance, image consultation, etiquette coaching, romance/date night coaching and an extraordinary referral service, elegant date nights foranniversaries, birthdays, just because or holiday celebrations, romantic proposals, couples & family vacations and getaways, destination weddings & vow renewals, full service event productions, image consultation and more. We offer a Taste of Land and Sea with Sandals & Beaches Resorts and Upscale Cruise Lines; featuring the TrulyWed Nuptial Experience, couples can tie or retie the knot with a customized agenda.
TrulyWed Wives also offers Romantic Concierge Service, we strategize from the heart! Our goal is to create unique and memorable experiences for married couples.Leave the details to TrulyWed Wives; we have over 25 years of professional and extraordinary romance consultation experience. TrulyWed Wives have all the style, taste & talent to make your event a memorable one. We take great pride in making sure that our client's visionsare executed down to the finest detail. TrulyWed Wives have been granting discerning couples, elegant honeymoons and Romantic dates of distinction. The Praises we receive from our clients & vendors assures us that we are on the right track.
"Your wedding, your way"
We are CREATIVE*ENTHUSIASTIC*DETAILED
Vision
Affectionate Flourishing Couples Resolute in the Covenant of Marriage.                
Mission
Our mission is to provide Pleasurable Resources and Romantic Exposurefor couples to partakein for the purpose of strengthening and enhancing their marriages.We commit to provide exuberant experiencesthat will invoke passion and devotion to the sanctity of marriage. We want to elevate marriages to the Max.
Contact TrulyWed Wives and let the BLESSINGS begin!