WIT@Pace - Pleasantville
When and where
Location
Pace University - Pleasantville Campus 861 Bedford Road Pleasantville, NY 10570
Description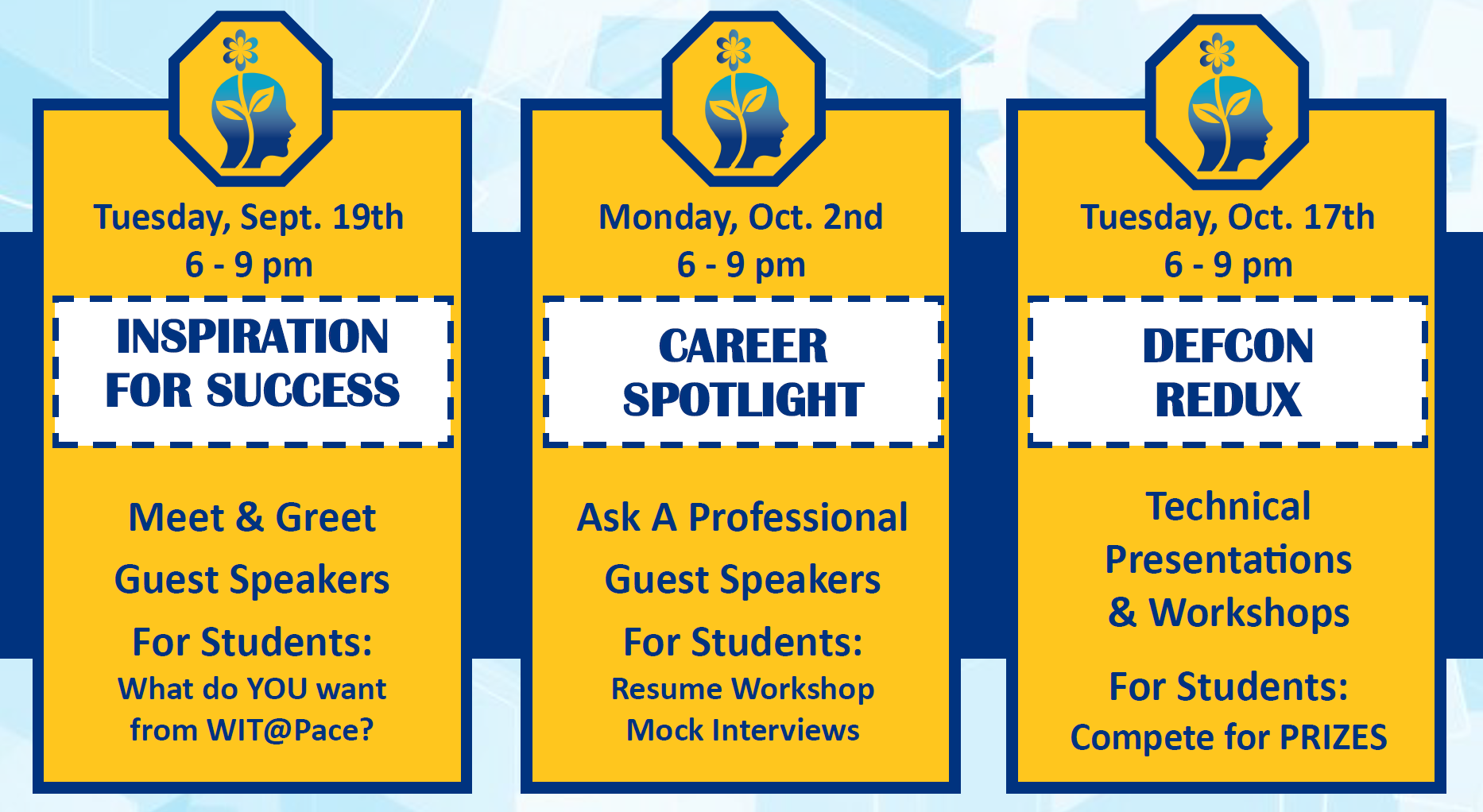 Monday October 2nd
Career Spotlight
Location: Kessel Multi-Purpose Room, Kessel Student Center on the Second Floor
Time: 6pm - 9pm
Event details:

Get ready for the Career Fair on Wed October 4th
Guest Speaker: Dr. Emily Plachy,

My Career Journey as a Women in Technology

Guest Speaker: Diana Molloy, Woman-to-Woman: Career Success Tips

Ask a Professional any questions before the Fair!
Sign-up for a Mock Interview or Resume Overview with a Professional

To sign-up for a mock interview or a resume overview, email Kait at kaitlyn.bestenheider@pace.edu
Tuesday October 17th
DefCon Redux
Location: Goldstein Academic Center, Room G300
Time: 6pm - 9pm
Event details:
Students give presentations and workshops based on their experience at DefCon 25!
Learn and brush up on presentation/technical skills
Parking Instructions:
For Kessel Student Center: enter through Entrance 3, park by Choate House and/or the Health and Fitness Center.

For Goldstein Academic Center: enter through Entrance 3, parking is available by Goldstein Academic Center.
WIT@Pace Overview:
Women in Technology (WIT) at Pace University is aimed to support and advance women in STEM from the classroom to the boardroom. Many WIT groups have formed in colleges and organizations across the globe. In a world where women hold less than 25% of all STEM careers (U.S. Dept. of Commerce) and less than 0.4% of female first-year college students intend to major in computer science (Rampell, 2013), we hope to bring together students from all over Westchester with professionals who are working in STEM.