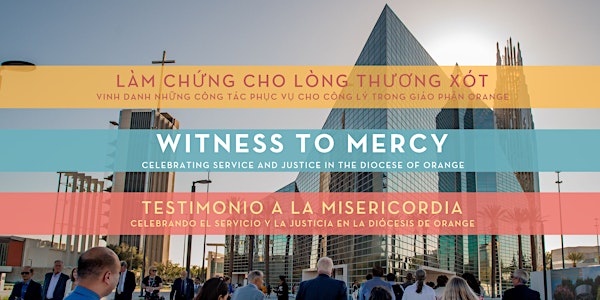 Witness to Mercy: Celebrating Service and Justice in the Diocese of Orange
A day of service, communion and mercy on the Christ Cathedral Campus
When and where
Location
Christ Cathedral Campus 13280 Chapman Avenue Garden Grove, CA 92840
About this event
The Dedication of Christ Cathedral on July 17, 2019 was a milestone event in the life of the Diocese of Orange—the growing Catholic community in Orange County on a journey of faith together.
During the Dedication, Bishop Kevin Vann prayed that from this place—the Cathedral—the poor would find justice and the victims of oppression, true freedom.
The Diocesan Day of Service on November 16, 2019 will be a visible sign—a proclamation through people—of Christ's News for the poor and vulnerable and an expression of our commitment to walk as missionary disciples in charity and justice.
• Join with individuals and groups from around the diocese to pray together in the Cathedral
• Share a meal on the campus plaza reflecting the heavenly banquet to which all are invited
• Visit stations of service and justice across the campus where we will learn, take action, and receive resources to continue the work back in our homes and parishes.
-----------------------------------------------------------------------------
La Dedicación de la Catedral de Cristo el 17 de julio de 2019 fue un momento crucial en la vida de la Diócesis de Orange. Nuestra comunidad católica está creciendo en el Condado de Orange y vamos juntos en este viaje de fe.
Durante la dedicación, el obispo Kevin Vann rezó para que este lugar, la Catedral, los pobres encuentren justicia y que las víctimas de la opresión, encuentren la verdadera libertad.
El evento Testimonio a la Misericordia el 16 de noviembre de 2019 será una señal visible, una proclamación a través de la gente, de las Noticias de Cristo para los pobres y vulnerables y una expresión de nuestro compromiso de caminar como discípulos misioneros en caridad y justicia.
Como la imagen del gran banquete celestial al que todos estamos invitados, festejaremos juntos en una comida y compañerismo en la plaza del campus.
Después, a través del campus, visitaremos estaciones de servicio y justicia donde aprenderemos, tomaremos acción y recibiremos recursos para continuar el trabajo de servicio y justicia en nuestras parroquias
------------------------------------------------------------------------------
Trong khi mừng lễ thánh hiến nhà thờ Chính tòa Chúa Kitô, chúng ta rất hân hoan và vinh dự khi được phục vụ trong công việc duy trì sự công bình trong Giáo phận Orange qua rất nhiều phương cách. Với tâm tình tri ân, chúng tôi xin kính mời quý vị tham dự chương trình "Làm Chứng cho Lòng Thương Xót: Vinh danh những công tác phục vụ cho Công Lý trong Giáo phận Orange" vào ngày Thứ Bảy, 16 tháng Mười Một, từ 10 giờ sáng đến 3 giờ chiều tại khuôn viên Nhà Thờ Chính Tòa Chúa Kitô. Xin dành ngày này cho những chương trình đặc biệt như sau:
• Vinh danh những công tác bác ái đang được thực hiện tại các cộng đoàn, và các cơ quan trong Giáo phận.
• Nghe công bố Tin Mừng của Chúa Kitô cho người nghèo và người cùng khổ và lắng nghe lời mời gọi để cùng đồng hành trong sứ vụ tông đồ ra đi mang sự bác ái và công bình đến cho mọi người.
• Cùng nhau thưởng thức bữa ăn như một bức tranh tuyệt vời của bữa tiệc trên nước trời mà tất cả chúng ta được mời để tham dự.
• Tham quan những trạm thông tin của các hội đoàn và cơ quan xã hội để học hỏi và biết thêm những chi tiết hữu ích cho công việc phục vụ cho công lý tại các giáo xứ của quý vị.
Sự kiện này sẽ được diễn ra vào cuối tuần của Ngày Thế Giới Dành cho Người Nghèo lần thứ ba, ngày mà đã được Đức Thánh Cha Phanxicô đặt ra. Chúng tôi hy vọng rằng quý vị sẽ cùng với chúng tôi nhớ đến Thiên Chúa, Người thay mặt cho những người nghèo khổ và kêu mời chúng ta hãy làm như Ngài: "gieo rắc hạt giống hy vọng." Xin hãy cử đại diện các đoàn thể, hội đoàn trong giáo xứ của quý vị như các đoàn thể về gia đình, thanh thiếu niên, các nhóm cầu nguyện để cùng tham gia.