Description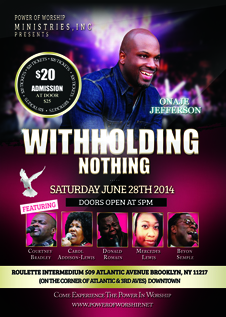 Power of Worship presents its 3rd Annual Gospel Concert - WithHolding Nothing 2014. This is a fundraising event to help raise funds for our POWA fund which assists individuals with utility bill payments and helps feed the homeless.
Organizer of WithHolding Nothing 2014
We are a registered non-profit charitable organization 501c(3) incorporated in November 2010. The aim of the organization is to be a pillar of strength, and a stepping stone to those financially challenged while helping them to survive. We desire to be that arm that will carry them through the rough times.  POW consists of several pillars they are:

Power of The Family (POF) - promotes familial relationships;
Power of Good Health (POGH) - promoting good health and wellness through the best nutritional supplements, food choices and life style changes;
Power of Worship (POW) - promotes the unadulterated word of God and 24/7 Online gospel station; and
Power of Worship Assistance (POWA) -  Where individuals can apply for assistance.