"Wither the Death Penalty?" Discussion with Capital Defense Lawyers - CLE C...
Event Information
Location
Columbia Law School
Jerome Greene Hall, Room 103
435 West 116th Street
New York, NY 10027
Description
Leading capital defense lawyers discuss strategic litigation and policy. Columbia Law School Professor Bernard Harcourt will moderate a panel that includes Barry Scheck, Co-Director, The Innocence Project; Christina Swarns, Attorney-in Charge, Office of the Appellate Defender; Maya Foa, Reprieve Director, James Liebman, Columbia Law School Professor and director of its ​Center for Public Research and Leadership​ (CPRL); George Kendall, Of Counsel, Squire Sanders Boggs Patton; and Julia Mason Tarver Wood, Partner, Paul Weiss Rifkin Wharton & Garrison.
Information Regarding New York CLE Credits
Columbia Law School has been certified by the New York State Continuing Legal Education (CLE) Board as an Accredited Provider of CLE programs. Under New York State CLE regulations, this live non-transitional CLE Program will provide 1.5 credit hours that can be applied toward the Areas of Professional Practice requirement. CLE credit is awarded only to New York attorneys for full attendance of the Program in its entirety. Attorneys attending only part of a Program are not eligible for partial credit for it, although they are most welcome to attend it. Attendance is determined by an attorney's sign-in and sign-out, as shown in the Conference registers. On sign-out, attorneys should also submit their completed Evaluation Form, provided at the Conference. Please note the NYS Certificates of Attendance will be sent to the email address as it appears in the register unless otherwise noted there. Click here to access the CLE reading materials.
Part of the "Windows on Death Row" program series. For information contact Ellen Chapnick or Professor Jeffrey Fagan.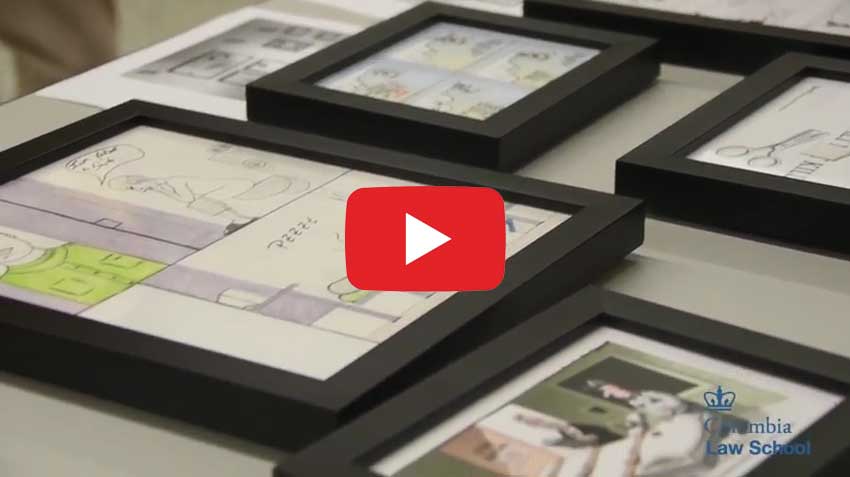 Note: "Windows on Death Row" contains images that are at times beautiful and dark, witty and sharp, hopeful and despairing. Some content may be inappropriate for children.
___________________________________________________________
More about Windows on Death Row
Death sentences and executions have declined sharply in the U.S. over the past 15 years. Yet more than 2,800 people remain on death row in states and federal prisons across the country. They are incarcerated in harsh conditions for long periods that in some cases span decades. The exhibit expresses the complex and intense emotions arising from their time on death row.
The show's creators, Widmann and Chappatte, visited maximum-security prisons and asked death row inmates to draw and paint their daily lives and personal experiences. The works of art, curated by Anne Hromadka, were produced by inmates in Texas, California, Georgia, North Carolina, Arkansas, Kansas, Pennsylvania, and Tennessee.
Widmann and Chappatte also invited a dozen top political cartoonists to share their take on capital punishment. The exhibit features drawings by a number of cartoonists, including Pat Oliphant, Jeff Danziger (syndicated worldwide), David Horsey (Los Angeles Times), KAL (The Economist, Baltimore Sun), Ann Telnaes (Washington Post), and Mike Luckovich (Atlanta Constitution).
"Windows on Death Row" offers a rare glimpse into a world most people struggle to imagine.
___________________________________________________________
Save the Dates!
Additional Events Planned in Conjunction with the Exhibit
Throughout the show's run, Columbia Law School will present a series of public events that explore the power of art, freedom of expression, and the future of capital punishment. Another focus will be the repercussions a death sentence has not only on defendants, but also their families, friends, victims' families, and communities.
October 11, 12:10 p.m. – 1:20 p.m. Brandon L. Garrett '01, the Justice Thurgood Marshall Distinguished Professor of Law at the University of Virginia School of Law, talks about his new book, End of Its Rope: How Killing the Death Penalty Can Revive Criminal Justice, followed by comments by Jelani Cobb, a professor at Columbia Journalism School and a staff writer at The New Yorker. Lunch will be served.
October 30, 6:30 p.m. – 8:30 p.m. "Protecting Cartoonists and Satire"
Cartoonists' expressions of political ideas are threatened by violence, the state, and social media campaigns. Artists whose work is in "Windows on Death Row" will discuss their experiences and the need to defend the freedom of the press. David Schulz, a Floyd Abrams Clinical Lecturer in Law at Yale Law School and a leading First Amendment lawyer will moderate. Reception to follow.
Week of November 13. Members of the Columbia University community, under professional direction, will perform The Exonerated. This winner of the 2003 Drama Desk and Outer Critics Circle Awards for best play tells the interwoven true stories of six wrongfully convicted survivors of death row, in their own words.
___________________________________________________________
We are grateful for the support of Switzerland's Federal Department of Foreign Affairs of this project.

Artwork was gathered with the help of Compassion, R.E.A.C.H., Minutes Before Six, Who Decides Inc., Witness to Innocence, and Art for Justice. Also sponsored by Murder Victims' Families for Human Rights.

___________________________________________________________
For more information contact:
Ellen Chapnick, Columbia Law School Dean Emerita for Social Justice Initiatives
chapnick@law.columbia.edu
Date and Time
Location
Columbia Law School
Jerome Greene Hall, Room 103
435 West 116th Street
New York, NY 10027