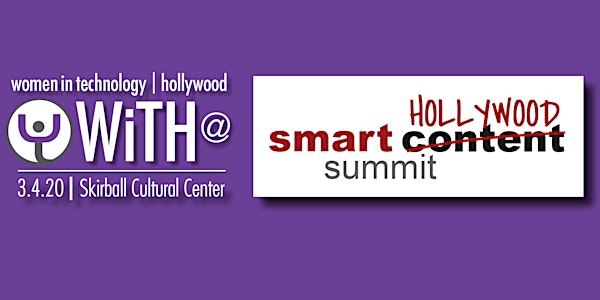 WiTH at Smart Content Summit 2020
When and where
Location
Skirball Cultural Center 2701 North Sepulveda Boulevard Los Angeles, CA 90049
Description
Women in Technology: Hollywood continues the conversations from the Smart Content Summit with a special focus on inclusive innovation. Join us for an afternoon of networking and discussion to discover insights into how different ideas and convictions around innovation can improve your personal approach!
EVENT SCHEDULE:
4 p.m. Registration Opens
4:30 p.m. Opening Remarks
4:45 p.m. Keynote Address
5:15 p.m. Panel Discussion
6 p.m. Combined Networking Reception
WiTH KEYNOTE: The Problem with Pattern Matching
Scriptd is an entertainment tech company mitigating the fear and risk around investing in inclusion. Denise is an entertainment executive turned start up founder whose experience developing and raising funding for Scriptd inspired her to look closely at trends in investing and entertainment to understand the systemic limitations that prevent female founders from succeeding. In a world where women get statistically higher returns, why aren't we following the money? The Problem with Pattern Matching is an exploration into this problem and a call to action for anyone who wants to make our world a more inclusive – and profitable – place.
Denise Hewett, Founder and Chief Executive Officer, Scriptd

Closing Panel Discussion - Innovation
WiTH hosts a diverse group of executives discussing how individuals can drive a corporate innovation strategy using an entrepreneurial approach and/or a start-up mentality. Regardless of the size or maturity of a business, and across all of M&E (music, games, movies, etc.) and marketing channels (social, B2B, B2C, etc.), the challenge of innovation transcends all business units within an organization. How does an individual, from part-time employee up to the executive team, actively and equally participate in the innovation space for an organization? What kind of commitment is required to speak to these challenges of integrating innovative (revolutionary?) ideas across the organization? With many misconceptions about what makes someone a "good" innovator, this closing discussion will give you insight into how different ideas and convictions of your team around innovation will improve your or your company's overall strategy and approach.
Moderator: Rachel Souder-Arguedas, President, WiTH Foundation
Panelists:
Emily Best, Founder and Chief Executive Officer, Seed & Spark
Jane Chung, General Manager, Riot Games
Marina Cortazzo, Head of Information Technology, Anastasia Beverly Hills
Shirin Laor-Raz Salemnia, Founder and Chief Executive Officer, PlayWerks and WhizGirls Academy
Christina Lee Storm, Vice President, Emerging Technologies, Operations, and Strategy, DreamWorks Animation
Co-located with the Smart Content Summit
Complimentary Registration is open to qualified End Users and MESA Members. Non-Member rate available.
If you have questions about registration, please contact Scott@MESAlliance.org.
By submitting a registration request, your email address and personal information will be used by MESA to communicate with you about this event and other MESA events/media. Safeguarding your email address and registration information is taken seriously at MESA. MESA will not sell or rent this information. Event sponsors will be provided with contact information for individual outreach only and have agreed not to use the information for mailing lists or any other marketing purposes.
Media & Entertainment Services Alliance
1416 N 13th St
Boise, ID 83702