Author Megan Dagnino presents Witch's Brew Official Book Launch
About this event
Hello Little Ones! Witch's Brew is Coming Soon!
Join us as we officially launch Meg Dagnino's Witch's Brew! You don't want to miss this fun and "spooky" book celebration!
Join us on Thursday, August 12, 2021 at 6:00pm CST via FB LIVE!
Register TODAY!
About the Book:
"Witch's Brew" is a delightful interactive experience geared towards families with children ages 2-10. While reading an engaging lighthearted rhyme, the children are also counting their favorite snacks and creating a "spooky" and delicious treat! As they listen to the tale, they use their imaginations to add the individual elements of the snack to the "brew," which assists in not only holding their attention, but also creating anticipation for the next element.
The 10 individual ingredients make this an interactive counting book for our youngest readers, but young and old alike will enjoy the tale and creative activity. A book and interactive experience that will spark any child's creativity and leaning all while creating a yummy treat!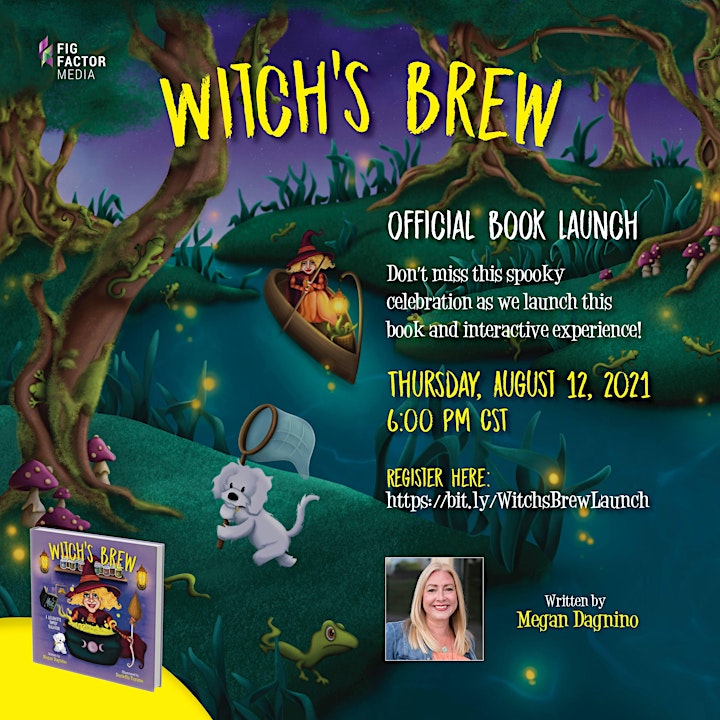 Organizer of Witch's Brew Official Book Launch
Fig Factor Media Publishing is an international publishing company with a "beeping" heart. Fig Factor Media has helped many authors achieve and support their dream of impacting their communities in the United States, Mexico and Europe. Fig Factor Media is the official publisher of Today's Inspired Latina.

www.figfactormedia.com