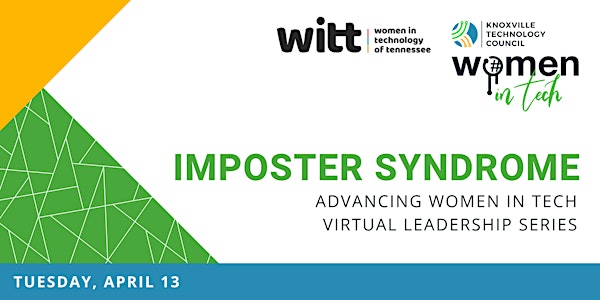 WiT Virtual Leadership Series: Imposter Syndrome
Nashville's WiTT & Knoxville's WiT are teaming up for a series on leadership development for current & aspiring female tech leaders in TN
About this event
Did you know that as much as 70% of all people have reported experiencing imposter syndrome at least once in their lives? While we might all have different reasons for feeling like an imposter from time to time, what's important is being able to identify the triggers behind your own imposter thoughts in order to find the best way to overcome them.
Join Let Her Speak founder, Catherine Porth, for a judgment-free workshop where every woman will have an opportunity to listen, learn, and discuss the imposter archetypes they most identify with. Attendees will learn what imposter thoughts hold them back, where those barriers stem from, and how to tear them down. Attendees will learn tools to break down the barriers we build for ourselves.
This virtual event is the second part of a 3-event series focused on Advancing Women in Tech: Virtual Leadership, hosted by Nashville's WiTT and Knoxville's WiT. Each event in the series will focus on a different aspect of leadership development for current and aspiring female tech leaders in Tennessee. Attend just one or all three events, and develop yourself as a high contributing team member and leader, while also building lasting connections with other technologists and leaders.
Speaker
Catherine Porth | Chief Advocate and Founder, Let Her Speak
Hosted in partnership with: