Event Information
Location
The Porch at 30th St Station
2949 Market Street
Philadelphia, PA 19104
Enjoy our FreeWalkers weekend getaway along the most picturesque trail in the region.
About this event
Explore the most scenic valley in the region.
Start: 30th St Station
Finish: Fort Washington Station
Distance: 22mi
Return: SEPTA train
Coordinator: Charles Updike
Transit: SEPTA train between 30th St and Fort Washington.
Optional endpoints: Chestnut Hill West Station, East Falls Station
22-mile walk from downtown Philadelphia to Fort Washington along the Wissahickon Creek
This event is free and open to the public, and part of a two-day walk. Walk either or both. Numerous lodging options near Fort Washington. The Hilton Gardens and Holiday Inn are within a couple blocks of where Saturday's walk ends and Sunday begins.
Sat Aug 20 Center City Philadelphia to Fort Washington
Sun Aug 21 Fort Washington to Doylestown
This beautiful two-day walk follows the Schuylkill River and the full length of the Wissahickon Creek upstream from the Schuylkill to its source and beyond.
This first day is a beautiful walk through nature, at times exploring the more rugged trails on that other side of the Wissahickon, with a visit to Rittenhouse Town and a sweeping view of the Wissahickon Valley atop the Walnut Lane Bridge.
This event has a short hiking segment that offers terrain not typically found on our other walks. Consider bringing a walking pole.
We will stop, as always, for a late lunch break in Chestnut Hill.
Highlights:
- West River MLK Drive
- Boathouse Row
- Mill Covered Bridge- Tedyuscung- Magarge Dam- Valley Green- Fingerspan Bridge- Walnut Lane Bridge- Rittenhouse Town
- Chestnut Hill
- Wissahickon Green Ribbon Trail
- Fort Washington Park
Partners:
Circuit Trails is 800 miles of interconnected trails in Greater Philadelphia in the making, already one of America's largest trail networks. Once connected, the Circuit Trails will be one of the nation's premier urban trail networks and it will provide multiple benefits to neighborhoods, communities and the region as a whole.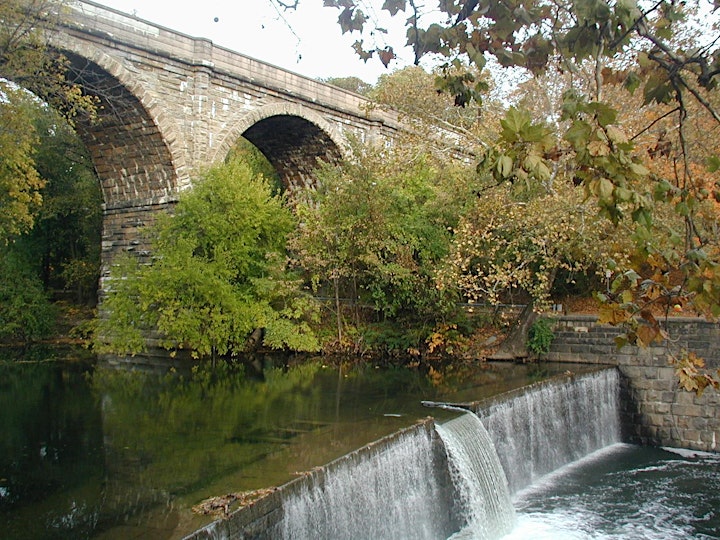 Date and time
Location
The Porch at 30th St Station
2949 Market Street
Philadelphia, PA 19104