Description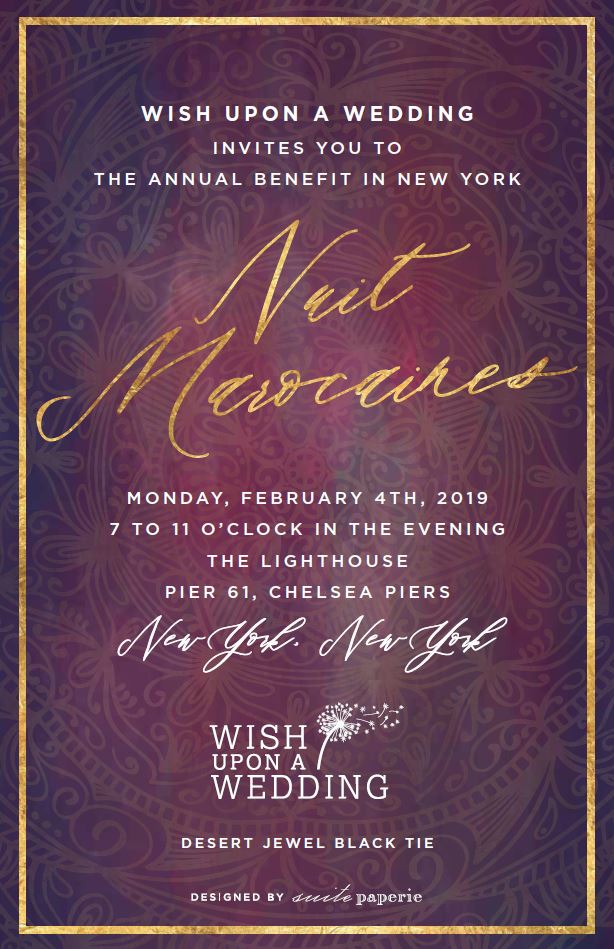 Wish Upon A Wedding
invites you to our Annual Benefit
Nuit Marocaines
Monday, February 4, 2019
7:00 - 11:00 PM

The Lighthouse at Chelsea Piers
New York, New York
This year's Benefit in an opportunity to come together to celebrate the love and determination of our wish recipients, and the selflessness of all who support our organization.

Join us for a truly mesmerizing evening. Our event will feature live entertainment and exciting performances from The Eleven Band. Brilliant decor and exceptional food will transport you to Morocco. Our auction will showcase incredible items from The Four Seasons, The Little Nell, The New York Knicks, HigherDose and Barry's Bootcamp.

Tickets can be purchased individually, or in bundles. The more you buy, the more you save.

To purchase your ticket, please click HERE.

Thank You to our Growing List of Event Partner and Sponsors:
The Lighthouse at Chelsea Piers
Abigail Kirsch
The Eleven Band
5th Avenue Weddings & Events
KVL Audio Visual Services
Suite Paperie
Atlas Floral
Brian Dorsey Studios
Craig Paulson Studio
Cody Raisig Photography
dani. fine photography & image studio
Epic Filmmakers
Beautini
321 Chillz
1947 Beer
Andrea Freeman Events
Donation and Auction:
We are always looking for great items for our silent auction. If you are interested in donating a good or service to our auction, please contact Maya Jain at newyorkpresident@wishuponawedding.org and Alyssa Todtman at event@wishuponawedding.org.
If you would like to partner or sponsor with us for this event, or if you have any questions, please reach out to Maya Jain at newyorkpresident@wishuponawedding.org and Alyssa Todtman at events@wishuponawedding.org.
Tickets are nonrefundable but may be transferable with printed ticket. You will use your ticket receipt as your tax deduction form.
For updates on Wish Upon a Wedding, and the upcoming benefit, follow us on Instagram by clicking here.
Thank you for your support of Wish Upon a Wedding and your consideration; we look forward to including you!

Mission Statement:
Wish Upon a wedding is a 501(c)(3) nonprofit that grants weddings and vow renewals to couples facing serious illness or a life-altering circumstance.