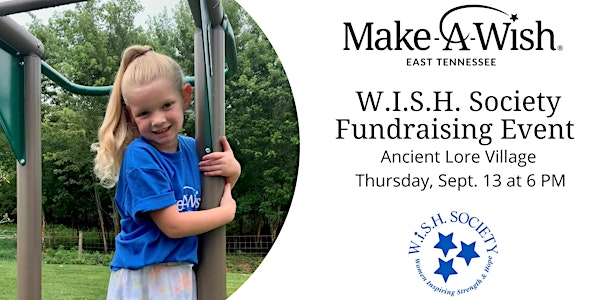 W.I.S.H. Society Ladies Fundraising Event at Ancient Lore Village
W.I.S.H. Society Ladies Fundraising Event at Ancient Lore Village Make-A-Wish East Tennessee
When and where
Location
Ancient Lore Village 7107 Sevierville Pike Knoxville, TN 37920
About this event
The W.I.S.H Society invites you for socializing, axe throwing, and archery! Join us for food, fun, door prizes, and socializing!
Make-A-Wish Mission: Together, we create life-changing wishes for children with critical illnesses.
The W.I.S.H. Society is a group of Women Inspiring Strength & Hope coming together for fellowship and to support the Make-A-Wish East Tennessee Foundation's mission to help grant wishes for children battling critical illnesses in our community.
As a result of the pandemic, our waiting list has grown to over 200 children awaiting wishes in East Tennessee. Our W.I.S.H. Society will be an opportunity for women to not only participate in fellowship but also create significant movement on the number of wishes granted this upcoming year.
Registration for the event is a $50 donation that will go directly to granting wishes in East Tennessee. There will be an opportunity to network and learn more about how W.I.S.H. Society will help make wishes come true!
THANK YOU to Ancient Lore Village for providing the venue and refreshments.
A special THANK YOU to Michael McCurry for donating his time and graphic design skills to creating our invitation.
Make-A-Wish East Tennessee is a 501c3 not-for-profit organization. Your contributions are tax deductible as allowed by law.
For more information contact Sarah Gault, Development Coordinator, at 423-551-3270 or email sgault@etn.wish.org.
Make-A-Wish E. Tennessee, 6700 Baum Drive, Ste. 7, Knoxville, TN 37919
Last March we had a great time with Nancy Barger, owner of Swank Floral and the Pavilion at Hunter Valley Farm. She provided beautiful flowers and the stunning lakefront venue. Our ladies arranged the flowers in a bouquet or vase as they socialized, ate, and had fun! Thank you Nancy and to all the ladies that attended - you helped wishes come true!